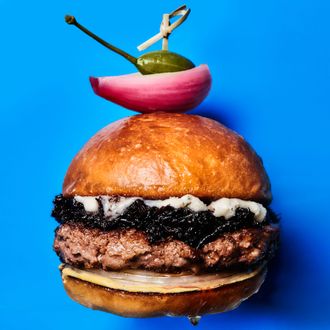 Café Altro Paradiso's radicchio burger.
Photo: Bobby Doherty/New York Magazine
Once a month or so, the Underground Gourmet takes stock of all the excellent (and not so excellent) food we've shoveled down our gullets to bring you this — our slightly random, completely subjective, 100 percent delicious top-ten new things to eat and drink.
1. Burger at Café Altro Paradiso
234 Spring St., at Sixth Ave.; 646-952-0828
A fish-sauce-lacquered Wagyu-blend patty topped with Gorgonzola and radicchio mostarda on a brioche bun, plus a caper-berry garnish ($22, including fries). On paper, it sounds terrifically misconceived, the culinary equivalent of one of those great Broadway flops that open and close after a single performance. In actuality, it's eye-poppingly good, the best burger we've had all year. And the year before that.
2. Smoked Eggplant Carpaccio at Nur
34 E. 20th St., nr. Park Ave. S.; 212-505-3420
Holland eggplants get roasted beyond recognition over open flames; smashed down into soft, thin rounds; squeeze-bottled with raw tahini, date honey, and rosewater-spiked olive oil in logarithmic spirals; then blitzed with herbs and feta "snow." A kaleidoscopic treatise on sweet, smoky, salty, earthy flavors almost too cool-looking to eat; $17.
3. Egg Sandwich at Du's Donuts & Coffee
111 N. 12th St., at Wythe Ave., Williamsburg; 718-215-8770
Wylie Dufresne's toothsome new griddle-toasted bacon-egg-and-cheese ($4.75) is a cheap, sleek, extra-wieldy retort to the the current vogue for supercolossal gourmet egg sandwiches.
4. Sweet-Potato Bread and Burned Leaf Butter at Hemlock
65 Rivington St., nr. Allen St.; 646-649-2503
The increasingly feeble argument against restaurants charging for bread takes another hit with this stupendous loaf made from a mix of flours and starchy white sweet potatoes. One bite and five bucks seems like a steal.
5. Popcorn-Cheddar Frico at Public Kitchen
215 Chrystie St., nr. Stanton St.; 212-735-6000
Jean-Georges Vongerichten's new restaurant at the Public Hotel delves into bar food with what you might call a kind of '80s-fusion suavity. Not least among the snacks is this take on the Friulian fried-cheese crisp called a frico. One side is sprinkled with chives and crushed chiles, the other thoroughly embedded with popcorn; $8.
6. Schnitzel Dinner at Dizengoff
75 Ninth Ave., at 15th St.; 646-833-7097
You have to dodge an army of Chelsea Market zombie tourists, sit on a stool, and book way in advance (though you may get lucky just walking in like we did). But the hummus specialist's $60 set-menu dinner (served Thursday to Saturday) is completely worth it. It's a ton of grub, all of it great, especially the cavalcade of seasonal vegetable meze called salatim. The current main, a za'atar-crusted veal schnitzel, is crisp yet tender, and as good as schnitzel gets.
7. Salado Verde at Atla
372 Lafayette St., at Great Jones St.; no phone
In an often-too-sweet cocktail world, Yana Volfson's savory salados (one red, one green, echoing the house salsas; $15) provide thirst-quenching relief. The verde is powered with mezcal, spiked with serrano water, flavored with cucumber and lime, and garnished with chopped nopales–part green juice, part snack, part pick-me-up.
8. Bulgogi Steak Sandwich at Oppa at Canal Street Market
265 Canal St., nr. Lafayette St.; 646-694-1655
Bulgogi beef meets American cheese and sautéed onions on the flattop, plus pickled chiles and spicy mayo on a toasted brioche bun. Think Korean cheesesteak or uptown chopped cheese, but about ten times more savory and addictive; $9.75.
9. Pizza Romana at Chefs Club Counter
62 Spring St., at Lafayette St.; 646-438-9172
Magnus Hansson's current contribution to the pop-up spinoff of the revolving-superchef restaurant Chefs Club is not what we think of as Roman-style pizza. It's more like a cross between focaccia and grandma-style, and it is superb: soft and yielding with a slightly tangy flavor that speaks of long fermentation. Skip the pepperoni slice, which is thin and top-heavy, and get the springy tomato and stracciatella; $6.50.
10. Feltman's Hot Dog at McSorley's Old Ale House
15 E. 7th St., nr. Third Ave.; 212-473-9148
The oldest saloon now griddles the original frankfurter. If there's a more atmospheric place to tuck into a tube steak (Coney Island excepted), we don't know about it; $5.50.