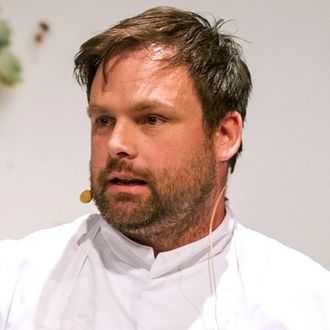 Thorsten Schmidt says Barr's new digs are "like the biggest honor ever."
Photo: Lennart Preiss/Getty Images
Noma's departure from its home base on Copenhagen's waterfront earlier this year left an empty space haunted by legendary cooks. Even the building itself, a very Nordic-looking old warehouse, is inextricably linked with René Redzepi, who for six years also ran his entire Nordic Food Lab from a houseboat docked mere feet from the entrance. But today, Noma's website posted news that Denmark's most famous chef believes he's found a worthy replacement: Thorsten Schmidt, a longtime friend of Redzepi's, is moving in with a new restaurant called Barr, the Old Norse word for barley. It's set to open July 5, which is incredibly soon, with a 17-item à la carte menu.
The chef tells The Wall Street Journal that the partnership was actually in the works for 18 months. The many months Schmidt ("not a big beer drinker") had to spend researching beer nearly gave their secret away, but the risk sounds worth it: As a result, the restaurant will have an on-site brew master who does gypsy-style collaborations with the top breweries in Denmark and other Nordic countries, plus the U.S., England, and Iceland. The cuisine is still New Nordic, but Schmidt says it's a "casual thing, nothing snobby." He promises a restaurant that carries on Noma's "spirit of experimentation and knowledge" by "serving our versions of traditional dishes, along with a great selection of beers and aquavit." There will be pork meatballs, proteins made from grasshopper, and Schmidt's take on Marmite ("Barmite," as it's known).

In Noma's blog post, Schmidt explains that his vision for Barr is that it's a place people will "visit regularly with [their] family and friends." (As compared to, he seemingly implies, a place where a meal costs almost $500 a head with wine.) He's added 30 additional bar seats to the Noma layout, says the restaurant will serve a family-style Sunday lunch, and welcomes walk-ins who don't have reservations, although the only thing Barr's website is set up for right now is take bookings.