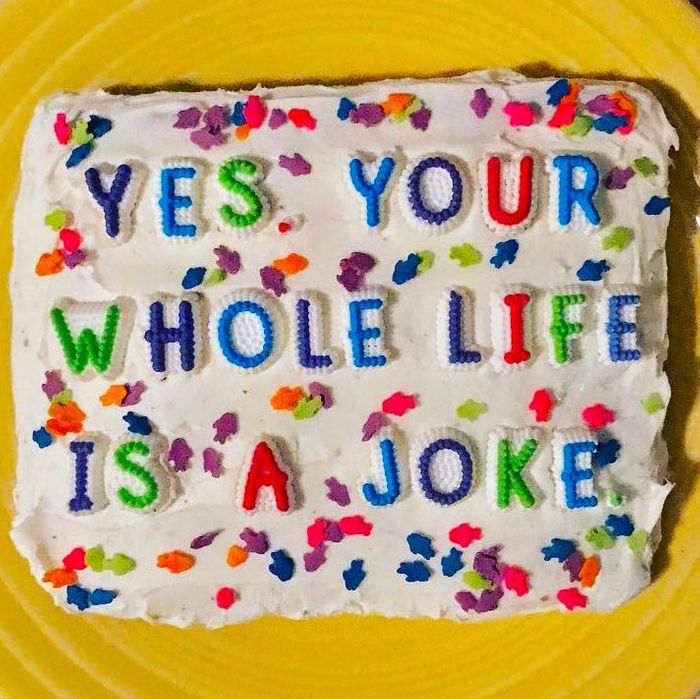 Some of her fine work.
Photo: Courtesy of Troll Cakes
Who hasn't dreamed of making mean internet commenters somehow eat their own words? Well thanks to Troll Cakes, that karmic reckoning is no longer one that only plays out in your head. This New York bakery, run by Kat Thek, the woman behind other online gems like Inedible Arrangements, will create a chocolate-brownie cake for that person in your life who leaves nasty Instagram comments or neo-Nazi Facebook posts. All it takes is $35 and a message that's embarrassing enough that they'll potentially wince at seeing it again. Thek will write it out with frosting, sprinkles, fondant, and whatever typos were in their original, then mail it directly to the perpetrator's home. If the person lives in New York City, there's also the option for next-day, in-person delivery.

They might look mean and juvenile, but Thek assures people that they "taste nice":

Of course, few can troll like the sitting U.S. president, so Thek also tells NPR that she'll happily mail orders to the White House, Mar-a-Lago, or "wherever else Trump is hanging out." It seems like he's received a couple of them already: