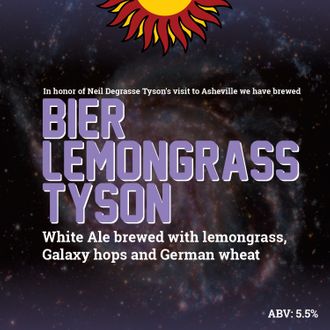 Out of this world, no doubt.
Neil deGrasse Tyson can't complain about his week. The beloved astrophysicist became the first American to win the Stephen Hawking Medal for Science Communication on Tuesday, and now comes the even more prestigious distinction of getting his very own beer! Asheville Brewing Company, a microbrewery in North Carolina, has created Bier LemonGrass Tyson, a 5.5 percent ABV white ale that has lemongrass, coriander, and a real stretch of a name.
Asheville Brewing's president Mike Rangel proudly notes that, like all beer, creating it required a good deal of science that he hopes will be appreciated by Tyson, who once proclaimed his love for German weissbier, Belgian beer, local beer, and Blue Moon in a video for National Geographic:
Leaving nothing to chance, Asheville Brewing basically tried to fuse all of those styles he lists off together: They concocted an American-style Belgian wit brewed with German wheat and Belgian yeast. They also dry-hopped it with Galaxy hops, because, since such a type of hops exists, how could they not?

Rangel says it's a beer meant "to celebrate science and to honor one of science's rock stars." Bier LemonGrass Tyson is available on draft and in a very limited number of 22-ounce bottles starting June 13, not coincidentally the same day that Tyson's in town for his "An Astrophysicist Goes to the Movies" talk, where he calmly spells out the scientific inaccuracies found in films like Star Wars and Close Encounters of the Third Kind for two and a half hours.