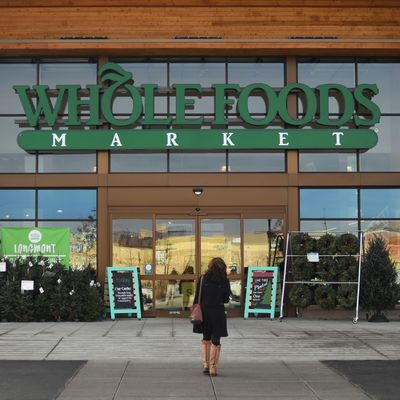 Does this mean more robots?
Photo: RJ Sangosti/Denver Post via Getty Images
Amazon announced today that it will buy Whole Foods. The online retail giant declared that it would acquire the company for $42 a share, or a total of $13.7 billion, in an all-cash transaction. This comes just a couple days after CEO John Mackey ripped into Jana Partners, the activist investors who'd taken a 9 percent stake in the company, and called them "Ringwraiths" and "greedy bastards."
It's been a tumultuous period for the organic grocer, which has lost market share to more affordable competitors; saw "staggering" declines in foot traffic, according to analysts; and announced it would downsize for the first time in a decade. Those activist investors wanted Whole Foods to explore a sale, and Kroger, Albertsons, and Amazon were all tossed out as potential purchasers. The Amazon purchase makes sense, considering that the tech company is making a big push into IRL grocery shopping.
Not unsurprisingly, the news has sent the stocks of Whole Foods competitors tumbling. During trading today, Kroger's stock has dropped by as much as 14.5 percent, Supervalu 17 percent, Costco seven percent, Sprouts Farmers by 12.7 percent, and United Natural Foods 15 percent. Grocers haven't been the only ones affected, either. Target's stock has dropped as much as 10 percent and Walmart seven percent, while Kellogg and General Mills have fallen as low as two percent and three percent.
Those numbers have fluctuated and rebounded a bit, but they're all still down. Meanwhile, Amazon's stock is up nearly three percent and Whole Foods' nearly 28 percent.
Here's the announcement from Amazon:
SEATTLE & AUSTIN, Texas–(BUSINESS WIRE)–Jun. 16, 2017– Amazon (NASDAQ:AMZN) and Whole Foods Market, Inc. (NASDAQ:WFM) today announced that they have entered into a definitive merger agreement under which Amazon will acquire Whole Foods Market for $42 per share in an all-cash transaction valued at approximately $13.7 billion, including Whole Foods Market's net debt.

"Millions of people love Whole Foods Market because they offer the best natural and organic foods, and they make it fun to eat healthy," said Jeff Bezos, Amazon founder and CEO. "Whole Foods Market has been satisfying, delighting and nourishing customers for nearly four decades – they're doing an amazing job and we want that to continue."

"This partnership presents an opportunity to maximize value for Whole Foods Market's shareholders, while at the same time extending our mission and bringing the highest quality, experience, convenience and innovation to our customers," said John Mackey, Whole Foods Marketco-founder and CEO.

Whole Foods Market will continue to operate stores under the Whole Foods Market brand and source from trusted vendors and partners around the world. John Mackey will remain as CEO of Whole Foods Market and Whole Foods Market's headquarters will stay in Austin, Texas.

Completion of the transaction is subject to approval by Whole Foods Market's shareholders, regulatory approvals and other customary closing conditions. The parties expect to close the transaction during the second half of 2017.