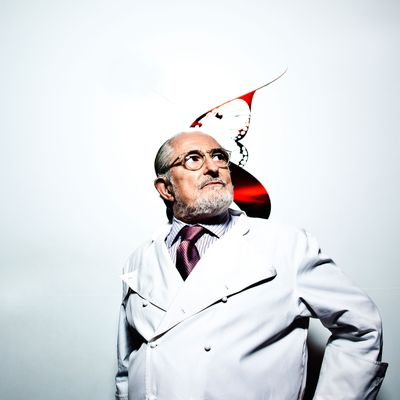 Senderens, who passed away this week, photographed in 2011.
Photo: Stephane Grangier/Corbis via Getty Images
Alain Senderens was always interested in forging his own path. In 1958, four years before he joined the line at La Tour d'Argent, the ancient Parisian food landmark, Senderens headed for the foothills of the Pyrenees to apprentice in the countrified kitchens of Lourdes, where he was given high marks for intelligence. Later, he developed an uncanny knack for absorbing the most esoteric dicta of Auguste Escoffier, who was — is — the godfather of haute cuisine.
Senderens, who died this past Sunday at the age of 77, liked to claim that this particular detour, a move supported by his parents, was crucial to his outlook as a chef. "They thought that the principal things in life were eating well and reading," he told Craig Claiborne in 1981, three years after his restaurant L'Archestrate was awarded three Michelin stars. Bypassing the soul-crushing rigors of old-guard brigade kitchens, the chef explained, allowed him freedom to engage in a kind of recipe archaeology he found so captivating.
"Chefs didn't have the right to change one iota of any recipe," Senderens said. His bookish impulses won out in the form of Archestrate, his first restaurant, which opened in 1968 with a name borrowed from an ancient Roman recipe collection. Four decades before Heston Blumenthal excavated fusty old British food culture with Dinner by Heston, Senderens adorned his menu with delightful glacé molds, and reinvented a 2,000-year-old duck recipe no one had bothered with for at least 1,600 years.
A decade later, nouvelle cuisine took hold, defined by its lighter, more graceful approach to cooking. The movement was led by the "Three Musketeers" — Michel Guérard, Alain Chapel, and the Troisgros brothers (they counted as one) — who considered Senderens the fourth. Plates trended toward less baroque presentations, and chefs unfriended butterfat in all forms; an entire meal at Archestrate might have involved two sauces, total, neither one fussy. "To eat you must kill — a cow, a chicken. And if you then kill the primary matter by overcooking or overdosing with sauce, you're a double assassin — you're killing an animal and, ultimately, killing a man with empty calories," Senderens once told the New York Times.
After consulting trips to Japan and India, Senderens soon loosened the knot on the traditional French larder, too, employing ingredients like lemongrass and curry powder. The experimentation was so expertly calibrated that Henri Gault and Christian Millau — who founded the influential Gault Millau restaurant guide — called Senderens the "Picasso of French cooking," which didn't seem like much of a stretch, considering the persistent rumor that Salvador Dalí once offered the chef a painting in exchange for meals.
He took more creative leaps: In late 1982, Senderens's peer Roger Vergé announced that 1983 would be a year for "less tortured, less affected" food; Senderens pledged to forego sauces altogether. That didn't quite happen, but the ones he did favor delivered a vinegary punch coupled with the caress of sugar, which felt like something both new and ancient. Eventually, Senderens debuted lobster with vanilla-bean sauce, which remains his best-known recipe. It soon spread everywhere from Tribeca to Tokyo, along with other unconventional dishes that married ingredients such as foie gras and licorice root. (That approach directly informed the style of mentees such as Alain Passard and Pierre Gagnaire, and it's hard not to draw a line from that style of cooking to the inventive modernist dishes of the early-aughts. Senderens was also an early advocate of slow and controlled sous-vide cooking, which is now commonplace.)
In 1985, Senderens took over Lucas Carton, where he had apprenticed from 1963 to 1965. There, he made one of his biggest contributions to the world of fine dining: offering wine pairings for each menu item (the lobster with vanilla went with a Côte de Beaune Meursault). In truth, the chef had been handpicking wines to pair with multicourse meals for VIP guests for years, but three months after their official launch, about 80 percent of all diners opted for them. Three decades later, the idea of carefully selected pairings seems obvious. In the 1980s, it was seismic.
In 1981, Senderens told New York he had set his sights on the city. Maurice at the Parker Meridien followed. The "hotel chain pioneered the consulting-celebrity-chef strategy in the early 1980s," Times critic Bryan Miller noted. Senderens soon ceded control to Christian Delouvrier, his chef de cuisine, who went on to make a career for himself. Other employees in New York and beyond included François Payard, Laurent Gras, Ed Brown, Eberhard Muller, Craig Hopson, and Sottha Khunn.
In 2005, at the age of 65 and in a well-publicized move, Senderens "returned" his Michelin stars at Lucas Carton in favor of a "new way of being." He renamed the space, replete with Corian and curvy neo-futuristic touches, after himself. "When I thought about what the stars represented" he said in 2005, after returning his Michelin accolades. "I realized they were really just supporting my ego, and that was stupid."
Perhaps taking an international cue from restaurants like Tom Colicchio's Craft, Senderens ditched pressed white tablecloths. His wine staff continued to highlight younger wines from far-flung regions, and then some: At the start of meals, sommeliers poured sherry with fried anchovies, and paired smoked Scottish salmon with Brittany langoustines with peaty Talisker. ("I am 65 years old, and I want to have some fun," the chef said.)
By 2014, Senderens was semi-retired, and consulting for hotelier Cyril Aouizerate in Paris and Istanbul. "I was always attracted to non-mainstream locations and non-mainstream people," the then-73 year-old said in 2012, at the opening of Maimonide of Brooklyn, an offbeat vegan spot in Brooklyn. At the time, Senderens admitted to a kind of quasi-retirement, which for the chef was less about cutting back on work, and more about reinvention. For anyone else, the move might have seemed curious. For Senderens, a chef who had built his career on finding beauty where other people weren't looking, it was just the latest move that pushed him outside the mainstream and into a category of his own making.