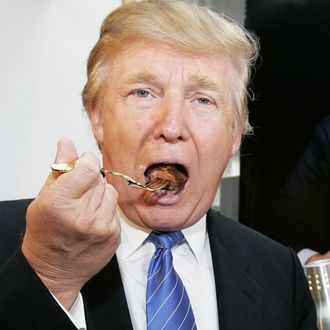 Ready to try all the international variations on steak with ketchup.
Photo: Corey Sipkin/NY Daily News Archive via Getty Images
Donald Trump leaves America today for the first time as president, and White House aides are reportedly sweating how to please the man-child-in-chief while he's stuck in weird, non–Trump Hotel places for nine whole days. He's making five stops, which means five times they'll have to instruct chefs on the proper procedure for cooking steak so it "rocks on a plate." (How about this as a backup plan, guys: All five cities have a McDonald's. A brand-spanking-new one even just opened across from St. Peter's Square in the Vatican, Trump's third stop.)

If it's not readily apparent, the sitting president is kind of a homebody, and his diet is already pickier than a gluten-free Raw Paleo vegan's. Therefore, the upcoming combo of multiple time changes, local "delicacies," and limited access to chocolate cake is such an ominous one that two officials actually tell the Associated Press that they're worried Trump will assign all future foreign-travel duties to Vice-President Pence. The AP contrasts this with Mar-a-Lago, the weekend getaway he's obsessed with because of its familiarity as much as anything else: He doesn't even have to order there because staffers know his meal preferences by heart. (Even Jean-Georges Vongerichten, whose flagship restaurant is in the Trump International Hotel, makes the president ask for the special off-menu meal he prepares him.)
Suffice it to say that Trump's hosts on the upcoming tour realize keeping him happy will be a tall order. But they're apparently going to try: When Trump stops tomorrow in Riyadh, the capital of a country under Sharia law, the man who thinks "Islam hates us" will be greeted with his signature meal of well-done steak with ketchup. As of now, the plan is also to give him lamb and rice that he can push around with a fork and pretend to take bites of. Surely, Saudi caterers can make a steak as leathery as the best of them, but, as a nice side of irony, there's one culinary rule they won't violate: Like it or not, Trump will be enjoying his first halal steak that's been butchered according to the requirements of Islamic law.