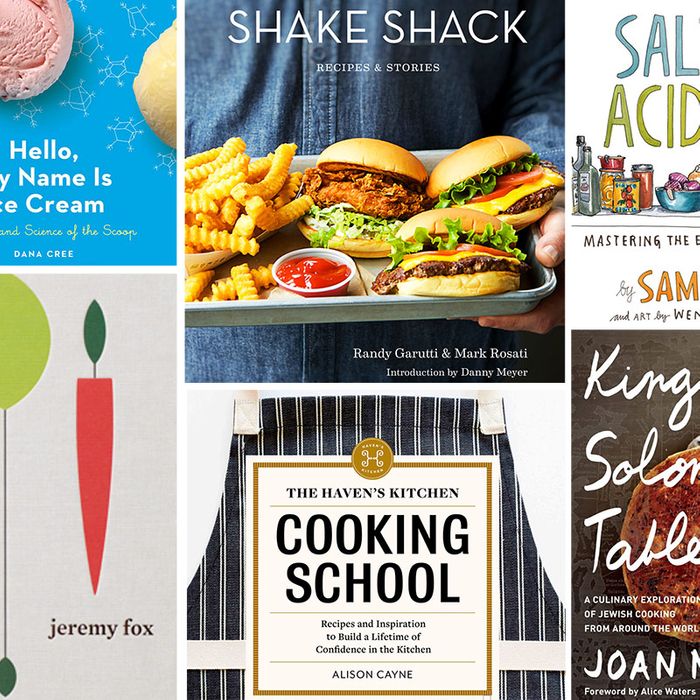 Also, good Mother's Day presents.
Once again, it's cookbook season! That means an influx of new releases, all promising to teach you something novel about scrambled eggs, cacio e pepe, or granola. Deciding which cookbook to purchase is a little overwhelming — especially if your shelf is already toppling over (it happened to Grub) — so here are 15 highly recommended picks, for cooks with various appetites and skill levels.
If you're new to this whole cooking thing:
The Haven's Kitchen Cooking School: Recipes and Inspiration to Build a Lifetime of Confidence in the Kitchen
By Alison Cayne
Cayne opened a recreational cooking school in New York, to share her knowledge with others in a way that's approachable and stress-free. In her debut cookbook, each chapter focuses on an essential lesson, step by step — eggs, grains and beans, sauces. This makes cooking feel much less overwhelming if you're a novice, or just want to get out of your roast-chicken rut and learn new techniques. Many cookbooks aimed at beginners are infantilizing; the language and tone here is smart and direct.
Salt, Fat, Acid, Heat: Mastering the Elements of Good Cooking
By Samin Nosrat
The philosophy here is simple, but the way that Nosrat distills the building blocks of cooking will make you think critically about the science and flavor of even the simplest ingredients, like salt. Before you even cook 1 of 100 recipes, read this book cover to cover — it's also part science lesson (if you enjoyed The Food Lab, buy this) and part memoir. Plus, the charming illustrations are a refreshing break from glossy food photography. There's a reason why Michael Pollan trusted Nosrat to teach him how to cook.
Dinner: Changing the Game
By Melissa Clark
For a cook at any level, juggling multiple dishes (especially in a tiny New York kitchen) can be tough. Clark to the rescue; the New York Times recipe maven has created a book full of one-dish (and often one-pan) dinners that stand alone as impressive. She's a real pro at writing recipes, which means, if you follow along, they'll always work.
If you'd like to bring your favorite restaurant home with you:
Tartine All Day: Modern Recipes for the Home Cook
By Elisabeth Prueitt
Prueitt, the co-founder of San Francisco's Tartine Bakery, translates that ethos to all-day recipes. This book has a little bit of everything — crab bisque, a perfect springtime risotto recipe, and cornmeal-ricotta upside-down cake. Prueitt is gluten-intolerant, so there are actually 45 gluten-free recipes (pancakes, gougères) naturally mixed into the book, with none of the diet jargon.
Shake Shack: Recipes & Stories
By Randy Garutti, Mark Rosati, and Dorothy Kalins
Thirteen years after Shake Shack first opened in Madison Square Park, the team is unveiling the secrets to a perfect ShackBurger and crinkle-cut fries. But there's more — each time Shake Shack opens a new location, the team works hard to create items using local ingredients and purveyors — which means lots more recipes. For fans of Danny Meyer's best-selling Setting the Table, this cookbook also offers lessons about hospitality and business-building.
If you're a vegetarian … or just cooked too much from the aforementioned Shake Shack book:
On Vegetables: Modern Recipes for the Home Kitchen
By Jeremy Fox
Fox — formerly of Ubuntu in Napa Valley, and now cooking at Rustic Canyon in Los Angeles — is a real chef's chef, celebrated for his creativity and innovative techniques. (David Chang's blurb for the book: "It is not an understatement to say that Jeremy Fox makes the best-tasting vegetables on the planet.") This book (Fox's first) isn't easy to cook from, as there's a strong emphasis on fine dining, but it's gorgeous and thought-provoking.
Naturally Nourished: Healthy, Delicious Meals Made With Everyday Ingredients
By Sarah Britton
The popular blogger behind My New Roots recently published her second cookbook — the antidote to Fox's. This book is straightforward and simple, filled with quick recipes made with ingredients you can easily find in any grocery store. At a time when wellness has become a luxury, it's nice that a healthy-eating cookbook is prioritizing accessibility.
Kale & Caramel: Recipes for Body, Heart, and Table
By Lily Diamond
Food blogger Lily Diamond's debut cookbook focuses on cooking light, fresh vegetarian recipes with herbs and flowers. If you're growing herbs this summer — even on your fire escape — it'll give you plenty ideas of what to do with that enormous mound of rosemary.
If you want to master one skill:
All About Eggs: Everything We Know About the World's Most Important Food
By Rachel Khong and the editors of Lucky Peach
Egg curry! Huevos divorciados! Spaghetti alla carbonara! This hyperfocused cookbook, a strong finale to Lucky Peach's series, not only offers helpful how-tos — it teaches you about different international cultures through the lens of the humble egg.

Salad for President: A Cookbook Inspired by Artists
By Julia Sherman
What constitutes a salad? Julia Sherman goes far beyond what's expected, with 75 recipes broken down into relatable categories like "salad in sweatpants." These aren't spa dishes — there's flank steak and bean sprouts with miso-kimchee dressing, and even a Bloody Mary recipe. A trained artist, Sherman also visits sculptors, painters, and musicians in their homes, making salad feel fresh and inspiring, and far from just something you should eat.
Back Pocket Pasta: Inspired Dinners to Cook on the Fly
By Colu Henry
You know when you've got a bag of dried pasta in your pantry, and a whole slew of random ingredients in the fridge? Henry, a skilled home cook, will empower you to make the most of it — whether it's through pasta with pickled peppers, or rotini with Feta and walnuts. This reads like a good friend telling you how to cook, and avoids the common cook pitfalls of hard-to-find ingredients and multiple complicated steps.
If you love tahini:
King Solomon's Table: A Culinary Exploration of Jewish Cooking From Around the World
By Joan Nathan
Long before Michael Solomonov or Alon Shaya made it big, Nathan played a major role in popularizing Jewish cooking in America (she's previously won the James Beard Award and the IACP Award for best cookbook of the year). King Solomon's Table is named after a biblical figure, and her 170 recipes are globally inspired (so not just Israeli). How about Sri Lankan breakfast buns with onion confit, or Syrian meatballs with cherries and tamarind?
The Palomar Cookbook: Modern Israeli Cuisine
By Layo Paskin and Tomer Amedi
This award-winning London restaurant specializes in Middle Eastern cooking, and their cookbook is another great resource for anyone who believes in the power of za'atar, labneh, and tahini.
Matzo: 35 Recipes for Passover and All Year Long
By Michele Streit Heilbrun and David Kirschner
Haven't you heard? Matzo is so hot right now. If you're inspired to make matzo dishes beyond Passover (matzo granola!), this is for you. But note: It's not a manual on how to make matzo yourself.
If you're ready for dessert:
Hello, My Name Is Ice Cream: The Art and Science of the Scoop
By Dana Cree
This James Beard Award–nominated pastry chef worked at Blackbird in Chicago, and now she's focusing on her own line of ice creams. Like Salt, Fat, Acid, Heat, this is the rare ice-cream book that actually explores the why of optimal textures and flavors. Even if making your own ice cream seems like a hassle, it's worth reading just to learn about what you'll be eating all summer long.