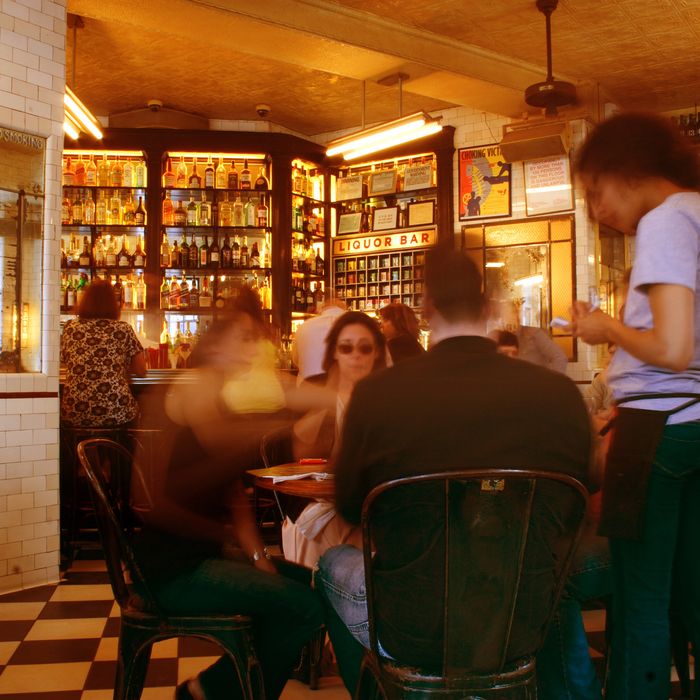 McNally's vision of New York is the city everyone seems to want.
Photo: Gavin Thomas
Keith McNally had very little left to prove when he opened Schiller's, on the corner of Rivington and Ludlow, in 2003. He'd already shown an oracle's feel for the turning point of gritty downtown neighborhoods with the openings of the Odeon (Tribeca, 1980), Lucky Strike (Soho, 1989), Balthazar (Soho, again, 1997), and Pastis (Meatpacking District, 1999). Perhaps oracle is the wrong word, though: He didn't so much see the future of those neighborhoods as he did push them into hyperdrive, creating a shorter path between a block in transition to its inevitable appearance in guide books, everything lined in battered-white subway tile and tarnished mirrors. Even in 2003, McNally's touch was legendary.
Of course, as the story goes, McNally did have something to prove. Steve Wynn had come along and asked him to open a Balthazar in Las Vegas, an even glitzier version of the Soho celebrity magnet, and he reacted to the idea with such revulsion that he decided to do the opposite. Schiller's would, for once, be more bar than restaurant. McNally's Francophilic instincts would still make appearances — the steak-frites, the onion soup — but this would be an homage to his working-class British roots, not a striver's leap away from them.
You know the rest of the story, and you probably also know by now that Schiller's is closing, in August, when its lease runs out. It's probably time. Schiller's is no longer the best bar or restaurant on the Lower East Side, and it hasn't been for years. The city will go on. But during its heyday, it pulled off something quite rare: It was accessible across income lines, an entry point into McNally Land — the same thing those Vegas investors were drooling over — designed expressly for walk-ins and neighbors.
When I first visited Schiller's, the streets around it had already been fully gentrified, and the bar attracted a healthy evening crowd that was a mixture of locals and models and slumming uptowners. I was 22 and had just moved to New York, for an internship at New York Magazine. I would cut out of the office with another intern, Amber, at 6:15 and rush over to Schiller's before happy hour ended at 7. At that point, and for another year or so afterward, the happy-hour special included $4 appetizers and half-priced drinks (that put their Manhattan, made Jerry Thomas–style, with Grand Marnier, at $5.50). Can you imagine? We made peanuts, but could eat well and drink serious cocktails, like real adults, for less than 20 bucks.
Over time, Amber and I became regulars there, and our bill rounded down, regardless of what we ordered, to around $11. I was working two jobs, seven days a week, so this nod from the bartenders struck me as just about the kindest thing in the world. I now recognize it as the McNally special, an obsession with making regulars feel like regulars (and, yes, making itinerant celebrities also feel like regulars), regardless of the impact on the bottom line. One Saturday night, in 2010, I showed up with my father, who was visiting, and a few friends. The restaurant was packed to the brim, but Dean, the host (who now owns Jack's Wife Freda), pulled a table out from the back and wedged it into the center of the room for us, seating us immediately and plying us with drinks. I probably still owe Dean a kidney or something for helping me impress my dad that spectacularly.
That was what Schiller's was to me. But it was a lot of things to a lot of people (and most of the appeal had nothing to do with the food, which tended to vary in quality). To late-night party kids, it was a place to find sustenance without having to go home. For locals who made it there during happy hour, it was a great, cheap place to grab a drink before heading elsewhere. For people who loved steak-frites while hating the Soho hordes and the Meatpacking's B&T scene, Schiller's was, well, a very good place to get steak-frites. For about six, maybe seven, years after it opened, it kept all those plates spinning at once, seemingly out of necessity, as if the split personality was also the only thing keeping the place together. But that's not the case anymore. If you're in the area and you want a good cocktail, you've got Bar Goto, or Attaboy. If you want those cocktails viewed through the prism of a working-class Brit theme, you've got Suffolk Arms. If you want nightlife, you've got Bushwick. And if you just want a bar steak or French onion soup, well, the New York McNally empire still runs restaurants all over downtown.
That Schiller's is now a victim of the transformation it helped enact is not rare in New York. Frankly, it's not even rare for Keith McNally's restaurants. And yet, Schiller's impermanence may just become the most important thing about it: For 14 years, on a corner of the Lower East Side, Keith McNally had a very charming place to eat and drink. A lot of people loved it, and now it will close because the rent got too high, which feels like a fittingly understated ending for this no-frills bar.