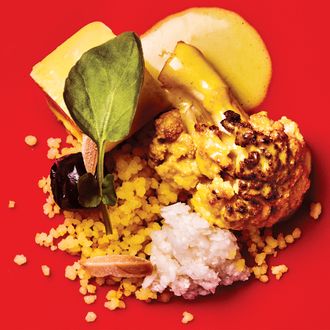 The curried cauliflower at Made Nice.
Photo: Bobby Doherty/New York Magazine
Once a month or so, the Underground Gourmet takes stock of all the excellent (and not so excellent) food we've shoveled down our gullets to bring you this – our slightly random, completely subjective, 100 percent delicious top ten new things to eat and drink.
1. Curry Cauliflower at Made Nice
8 W. 28th St., nr. Broadway; no phone
Many have tried to make healthy food fast, casual, and craveable, and many — make that most — have failed. Which is why we were gobsmacked by a visit to Daniel Humm's new quick-service joint. Every dish was beautifully plated and mind-bogglingly good, including this mingling of curried cauliflower and fluffy cous­cous, with soft tofu, fat raisins, and slivered almonds ($11; pictured). It's too early to say — and scalability, if that's the plan, is another matter — but this place already feels like a game changer.
2. Cheesecake Babka at Breads Bakery
18 E. 16th St., nr. Union Square West; 212-633-2253
It's a cheesecake disguised as a babka. Or is it a babka that thinks it's a cheesecake? If you can stop at one slice, you possess superhuman self-restraint or you just hate cheesecake and also babka; $15; limited run, available through May.
3. Fried Chicken Biscuit at A&E Supply Co.
548 Fourth Ave., at 15th St., Gowanus; 718-635-3388
The fried thigh meat is crisp and juicy, and the biscuits are made with pedigree lard from acorn-snarfing New England pigs. But the key to these hangover quashers might be the housemade bread-and-butter pickles that provide the kind of tangy accent that makes all the difference; $9; brunch only.
4. Porchetta Mac 'n' Cheese at Porchetta pop-up at Porsena Extra Bar
21 E. 7th St., nr. 3rd Ave.; 212-228-4923
Just in time for swim-suit season: good, grippy maccheroncini with bits of porchetta baked in a sauce of Fontina, Jarlsberg, and Grana Padano that walks the line between creamy and cheesy. Surprisingly, this seemingly soporific stuff does not induce food comas and may be even better than bacon mac 'n' cheese; $12; lunch only.
5. Grandma-Style Pan Pizza at Loring Place
21 W. 8th St., nr. Fifth Ave.; 212-388-1831
This is the only grandma pie ($16) we know that's made with such a fancy-pants mix of flours: organic white, locally grown (and house-milled) emmer, and heirloom red winter wheat. The crust is crisp but springy with an intensely fresh flavor and might be the best we've ever had. Sorry, Grandma.
6. Pistachio-Butter Cookie at Café Altro Paradiso
234 Spring St., at Sixth Ave.; 646-952-0828
Pastry chef Natasha Pickowicz's sticky buns get all the attention, but we're partial to her pistachio-butter cookies ($4) that are crisp on the outside and fudgy within and will forever ruin you for the peanut-butter variety.
7. Short-Rib Steak at Mettā
197 Adelphi St., at Willoughby St., Fort Greene; 718-233-9134
Norberto Piattoni studied under Argentine flame-whisperer Francis Mallmann, who is to open-fire cooking what Joël Robuchon is to mashed potatoes. At Metta, Piattoni grills short ribs over hot coals and serves them with chimichurri, vinegary collards, and a swipe of fresh mayo. Brooklyn gaucho cuisine at its finest; $28.
8. Nigella Seed Potato Crisps at De Maria
19 Kenmare St., nr. Elizabeth St. ; 212-966-3058
Grated potato cut with quinoa and black caraway seeds, shaped into perfect rectangles that look like little railway ties, then deep-fried and served with spicy chorizo and a turmeric-poached egg. They're like McDonald's hash browns, but even better and roughly twice as nutritious; $15.
9. Aebleskivers at n'eat
58 Second Ave., nr. 3rd St.; 917-892-6350
Most aebleskivers, those delicious Danish pancake-batter doughnut-hole things, are hollow-centered. These have braised duck inside; $7.
10. Margherita Pizza at Zia Esterina
112 Mulberry St., nr. Canal St.; no phone
On a recent visit, the much-talked-about fried calzones at this outpost of Neapolitan superstar pizzaiolo Gino Sorbino tasted like they were cooked in oil that had been around since the Giuliani administration. But the margherita pie was terrific — light and tender and perfectly chewy in all the right places; $9.50.
*This article appears in the May 15, 2017, issue of New York Magazine.