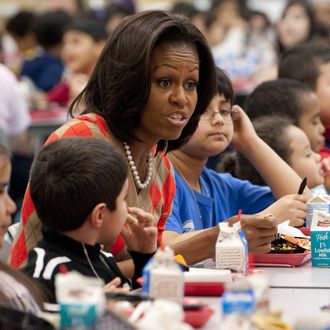 Time for Michelle to prepare for more pizza and fries.
Photo: Saul Loeb/AFP/Getty Images
Sonny Perdue has been USDA secretary for barely a week, and yesterday, he announced a plan from a Virginia elementary school to undo Michelle Obama's school-lunch standards that limit salt and require cafeterias to use breads and pasta that haven't been heavily processed. "We know meals cannot be nutritious if they're not consumed, if they're thrown out," he apparently told reporters after eating the school's chicken nuggets and a salad. "We have to balance sodium and whole-grain content with palatability." The rules affect school breakfasts and lunches served to more than 31 million students every day.

A lifelong Georgian, Perdue is especially not fond of the National School Lunch Program's whole-grain requirements. "A perfect example is in the South, where the schools want to serve grits," he said yesterday. Obama-era grits have "little black flakes in it," he complained, and "the kids won't eat it." The official line is that they're wresting power back from the nanny state and "restoring local control" of school-lunch guidelines. (They're okay with that empowering people like Sid Miller, the self-described "potbellied" ag commissioner of Texas, who reinstalled deep fryers in the nation's fifth-fattest schools and granted something he calls "cupcake amnesty.") Republicans often claim that the healthier food doesn't taste as good, so students end up malnourished regardless because they just throw it out.
It's important to note that these changes still leave much of the Obama-era framework in place. Kids still have to take some form of vegetable or fruit on the lunch line, for example. The major difference involves the sodium content of meals, which was being reduced each year under Obama. Under the new rules, school cafeterias won't have to remove any more salt for the remainder of Trump's term.
Of course, the flip side to empowering local governments is that they're free to keep using the Obama administration's guidelines. That's apparently what L.A. public schools — America's second-largest school district — are planning to do. "Nourishing children to achieve excellence is our core mission," the district official in charge of food services said in a statement. "We will continue to direct all efforts toward serving healthy meal options, providing nutrition education to families, and upholding nutrition standards that meet or exceed federal regulations."