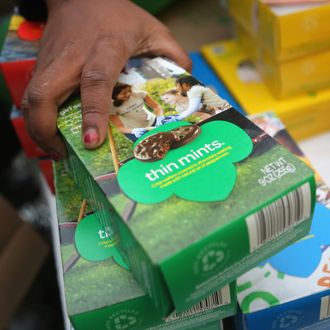 Have you seen this box?
Photo: John Moore/Getty Images
Authorities in Kentucky say a Girl Scout leader broke the law and all sense of decency by stealing about $15,000 worth of cookies from the youth organization. Troop leader Leah Ann Vick was indicted last week on a class-C theft charge, a felony that carries a ten-year max sentence. Police in Pike Commonwealth say the local Scouts council reported the theft back in February, and it became clear that this 26-year-old troop leader picked up not just her own troop's cookies, but also the cookies for other troops as well. "It looks like she picked up the cookies and, now, she and the cookies have disappeared," the local DA tells the Appalachian News-Express. According to the official Girl Scout record books, she hasn't sold any of them.
The DA admits they found this situation "a little confusing" at first. (Translation: Who steals Girl Scout cookies?) The state also suggests that Vick put some forethought into the heist — so far, she's foiled attempts to track her down by using "several" addresses spread across multiple towns. An officer "familiar with the areas" has been tasked with locating her, but the whereabouts of both Vick and the pilfered cookies remain unknown.
It seems pretty clear that if she committed a crime this heinous, Vick understands she's no longer welcome back in society. In all likelihood, she retreated to a cave in the Kentucky wilderness, where she now lives on foraged berries and Trefoils. (She blew through that last box of Samoas by early March.)