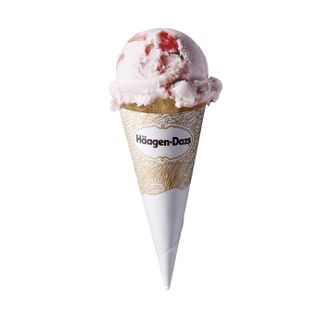 On the house.
Photo: PRNewsfoto/Haagen-Dazs Shops
A "Free Cone Day" is basically the cost of doing ice-cream business nowadays, but at least Häagen-Dazs schedules its annual giveaway for an appropriate month of the year (looking at you, Dairy Queen and Ben & Jerry's). The company is giving out free cones from 4 p.m. to 8 p.m. today at participating stores around the country. The deal is good for one scoop of either ice cream or sorbet, and you can have it in a sugar cone, cake cone, or cup.

In addition, this year the company is using Free Cone Day — which it views as something like a customer-appreciation day — to help save the honeybees "who also support us year-round." People who eat free ice cream are asked to go plant some native wildflowers in return. Häagen-Dazs is hardly the first brand to suggest saving bees by planting more flowers. Cheerios did it a few months ago, in fact, but Häagen-Dazs's attempt might work out better: Cheerios accidentally mailed customers a few billion seeds that are banned in states in the Northeast and mid-Atlantic. Häagen-Dazs decided not to provide customers any seeds directly, but to tell them to research what's indigenous to their region using the Xerces Society's website.
As another part of its new bee boosterism, Häagen-Dazs will also release a special virtual-reality film in June. It's shot from the bee's perspective, to help people better understand why "honey bee populations are disappearing at an alarming rate." So start looking forward to that.