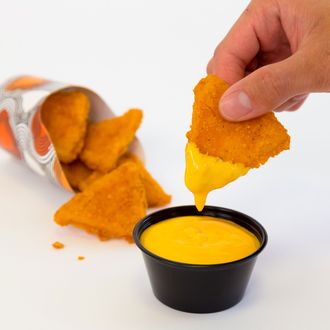 Could have fooled us.
Photo: Taco Bell
The tricksters at Taco Bell are pulling a fast one on you yet again: On May 11, the chain will release a shape-shift-y, new side item that could appear to be a bag of normal chips and some nacho-cheese sauce. Upon closer examination, though, you'll discover that, no, those tortilla chips are in fact pieces of exactly what you'd already suspected they were: very flat fried chicken.

Obviously, this more triangular version of a nugget picks up where the Naked Chicken Chalupa left off — that item's curved fried-chicken disc was Taco Bell's biggest breakthrough yet in tortilla substitutes. Also, the idea probably owes a serious hat tip to Burger King, on account of the fact that BK Chicken Fries have existed for well over a decade. A press release says the chips are made from "marinated, all-white-meat chicken" that's been "kicked up with bold Mexican spices and seasoning." They come in a 6-piece for $1.99, a 12-piece for $2.99, or as part of a $5 box, all with Taco Bell's "beloved Nacho Cheese sauce."
At this point, other things chicken has come disguised as without anybody asking for them include a bun, pizza crust, and ice cream. Pessimists may have a healthy new fear of the phrase "tastes like chicken," and the future probably is that dystopian. But at least at this rate, it's a pretty safe bet that people will finally get to experience eating a burrito wrap made from one continuous mass of fried chicken.