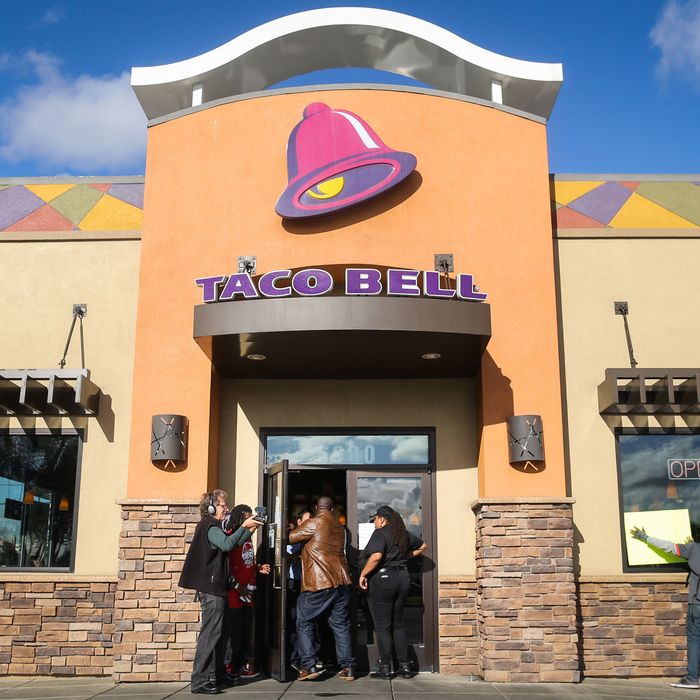 Soon, all food will come wrapped in an inexpensive flour tortilla.
Photo: Elijah Nouvelage/Getty Images
Soon, no woman, man, or child on this planet will ever be more than a few minutes away from chicken DoubleDillas and 7-Layer Burritos. Taco Bell has just unveiled a new, extremely ambitious five-year growth plan, and the big takeaway is that the world is on the cusp of getting many, many more Taco Bells.
By 2022, executives predict the number of stores will grow to 9,000 worldwide locations (which is about 2,500 more than are currently in existence), and the chain will pull in $15 billion in annual sales. The strategy involves targeted growth in India, Brazil, China, and Canada, which will each get a minimum of 100 new locations. "We're really focusing in on four big countries," Taco Bell International's president Melissa Lora tells Bloomberg. "They're big economies, they're youthful populations." Expansions are also underway in Spain, Guatemala, South Korea, and England. Meanwhile, the company also plans to break into 18 new markets — Peru, Romania, Finland, and Sri Lanka are four it mentions by name — meaning Taco Bell's particular brand of Tex-Mex-ish fast food will be available in 40 countries worldwide.
And, in case you were wondering about the situation here: The U.S. is indeed "becoming increasingly saturated" with Taco Bells, so the company will put a special emphasis on the Cantina locations that serve "tapas" and have full liquor licenses (and also, when necessary, employ bouncers). There are fewer than a dozen of those shops right now, but a report in Bloomberg indicates that number will grow to "at least" 300 in just five short years.