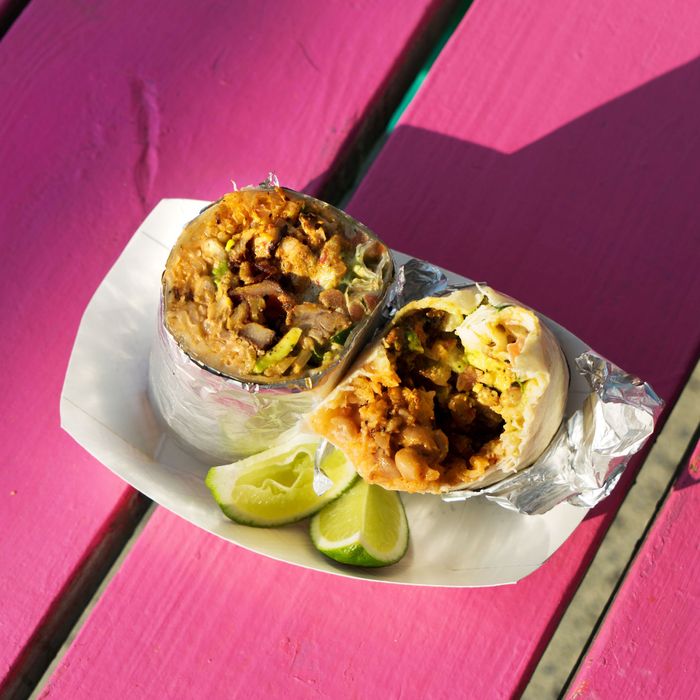 The perfect beach food.
Photo: Sophie Fabbri
There are California transplants who won't stop talking about the foods they miss from the Golden State. And there are those who do something about it. After years of living in the Rockaways, and three summers of flipping burgers and hosting burrito pop-ups at nearby Rippers, Eugene Cleghorn and Sam Neely will open Super Burrito today, located at Rockaway Beach's 97th Street concession stand.
The duo became friends in high school, when they'd walk to the nearby Mission District taquerias for burritos. When they moved to New York as adults, they couldn't find anything like the original: stretchy flour tortillas that wound meat, Spanish-style red rice, pinto beans, sliced avocado, pico de gallo, sour cream, salsa, and Monterey Jack cheese into compact foil-wrapped rolls. No superfluous additions like corn. No football-shaped blobs cradled in a basket. When squeezed, it should feel firm, without the wobble of a water balloon. If the center is soupy with smushy ingredients like guacamole, the fillings will tumble out in a hot mess.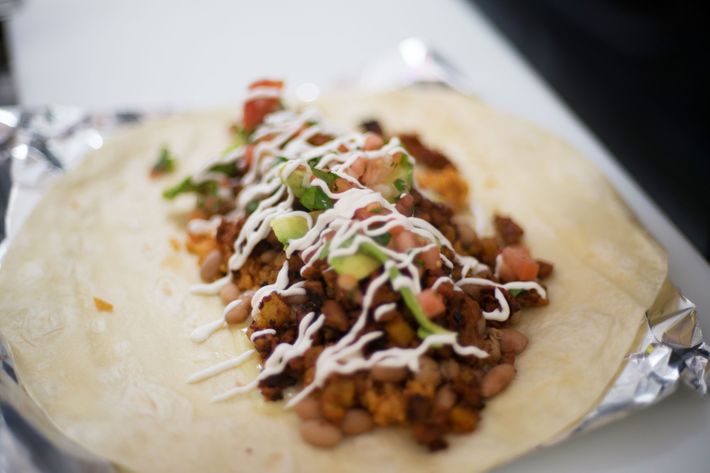 The fillings are pretty classic — pork al pastor, carne asada, grilled chicken, and a vegetarian poblano chile relleno — and a Super Burrito with all the fixings runs $12. (The "regular," without avocado, sour cream, or pico de gallo is $9.) "These burritos aren't authentic unless they're coming from the cooks in a taqueria in the Mission District," Cleghorn, a Spotted Pig alum, says. And, like good native Californians, they agree that the produce just isn't the same out here. Neely adds, "We're just trying to create burritos that remind us of childhood, that take us back home." They tweaked each element endlessly, comparing the recipe-testing experience to producing music at a mixing board, sliding the knobs up and down to get the song to sound right.
Finding the right tortilla was a challenge: They started by searching for not-too-thick, not-too-thin flour tortillas and ended up discovering them at a New Jersey distributor whose name they want to keep secret. To get the disks stretchy and soft, they steam them with special-ordered slices of Monterey Jack. (The flat squares ensure an even blanket of cheese.) The sofrito trio of tomato, onion, and garlic binds the long-grain rice, while the kernels stay fluffy and loose. Just enough lard slicks the creamy beans. Flatiron steak from Pat LaFrieda develops crackly bits on the grill. Chicken thighs stay juicy from a marinade of beer, bay leaves, and Mexican oregano.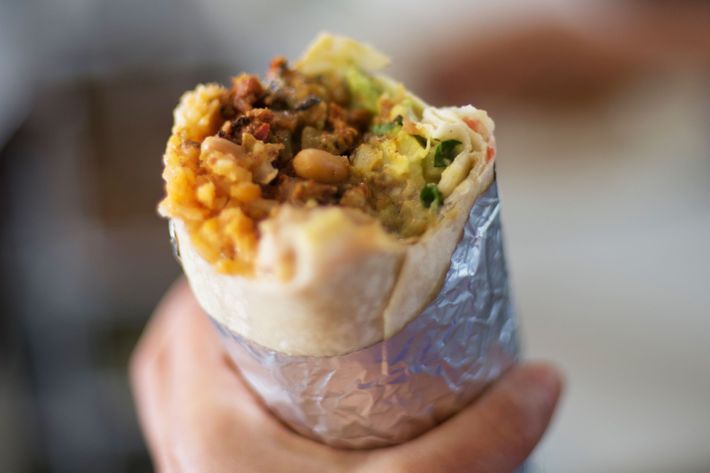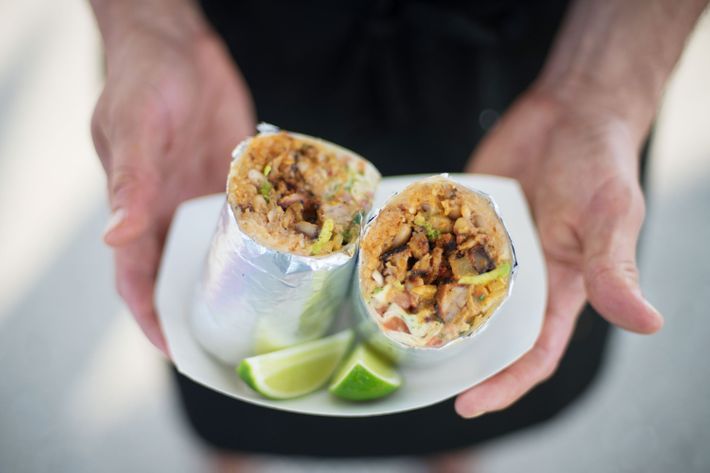 But the real star is the al pastor. "Our al pastor is unlike any other we've ever eaten — in San Francisco, in Mexico, anywhere," Cleghorn says. They marinate hunks of Heritage Acres pork shoulder and butt in chiles, achiote, and pineapple; skewer and grill them until smoky; and then chop them with a cleaver and sear the pieces with diced pineapple on the smoking hot griddle until caramelized. Hot, sour, salty, sweet porky heaven.
With that inspiration, Cleghorn and Neely pooled their savings, got microloans from family and friends, and reached out to their tight-knit Rockaway community to secure a spot at the 97th Street concessions stand. You can find them both at the stand, sharing responsibilities. Cleghorn comes with restaurant-kitchen chops; Neely was a one-man craft-service operation when he worked for Spike Lee, and applied his years in the film industry to create a moving short of Super Burrito's journey across the country.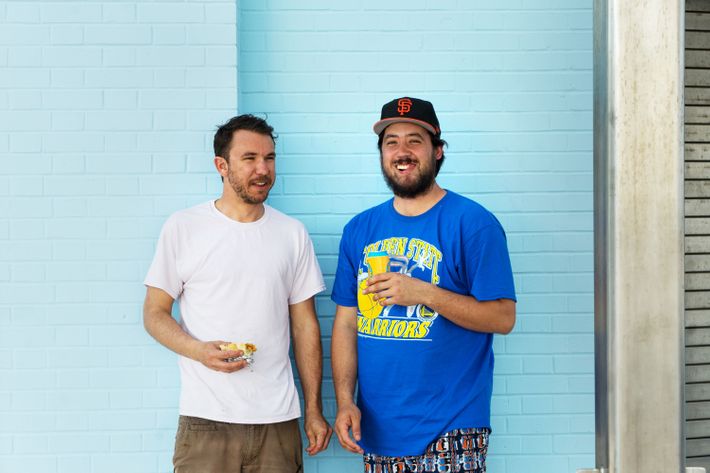 To uphold their high standards, they're assembling each burrito to order. Their menu also includes chilaquiles for breakfast and griddled quesadillas. "We're also serving bowls because people will ask for them," Neely adds. "There's room in life for bowls." But the burrito is really everything you want to eat on the beach — a riot of spice and fat and freshness, crisp and creamy bits, all in a tidy foil pack.
Super Burrito, 97-01 Shore Front Parkway, Rockaway Beach
Open Sunday to Thursday, 11 a.m. to 9 p.m.; Friday and Saturday, 11 a.m. to 10 p.m.