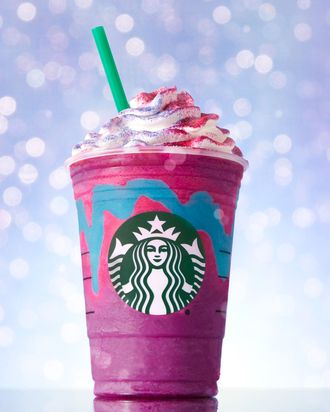 Unicorn fight.
Photo: Starbucks
In April, Starbucks unleashed its Unicorn Frappuccino, a drink inspired by what its Strawberries & Crème Frappuccino would look like if you took too many shrooms. But one New York café is crying foul over the chain's attempt to cash in on the unicorn-food trend, an unholy alliance of wellness and Instagram bait, and not because Starbucks's version contains vanilla syrup instead of spirulina extract.
The End — which, as you can almost certainly guess, is located in Williamsburg — has filed a lawsuit against the coffee behemoth, claiming trademark infringement. The Brooklyn café introduced its own Unicorn Latte back in December, and says it has had a trademark pending since January. In its lawsuit, the End accuses Starbucks of not only knowing what it is but also designing "the size and scope" of the Unicorn Frappuccino's launch to "eclipse the Unicorn Latte in the market."
However, aside from the fact that neither drink is coffee-based, it's comparing Granny Smith apples to Jolly Rancher's sour-apple flavor. Starbucks's drink is made with white mocha, three kinds of syrups, whipped cream, and colorful powders. The End's Unicorn Latte is a wellness potion made with cashews, cold-pressed ginger, spirulina extract, spirulina powder, and maca root. When it was launched, T magazine suggested having the "restorative drink" prior to a "deep yoga session or meditation." Meanwhile, drinking Starbucks's Unicorn Frappuccino before a deep session would probably make you throw up. Still, the End is seeking unspecified compensation, as well as a public apology from Starbucks, hopefully while a member of the R&D department is forced to drink one of the technicolor beverages.