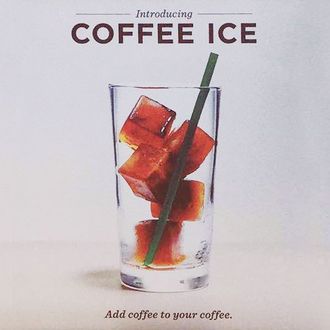 Iced coffee, Inception-style.
Nothing ruins a refreshing iced coffee like the ice cubes — give them time, and they give you slightly cool, coffee-flavored water. So hats off to Starbucks, which is trying to end that crime by testing its own coffee ice at about a hundred Baltimore and St. Louis cafés. For now, customers at these participating stores can add the cubes to any iced drink for an 80-cent up-charge.
Per usual, the cat got out of bag on Reddit, where owlcitizen44, a barista, posted that their store is already hacking Frappuccinos (which, per the company, are blended beverages) by swapping normal ice for coffee ice, writing that the substitution "really made it better. The coffee taste was stronger and it was a lot smoother." The user also explained that, thankfully, the cubes aren't frozen by staff — a task that makes the brain cycle "through nightmare scenarios," another barista noted. Instead, the ice comes frozen as one big, prepackaged block that baristas then break into separate cubes. It doesn't sound like Starbucks has busy-proofed this system yet, though, because at that store, the finished cubes are stored in a back-of-house fridge. "So we have to run to the back every time a customer orders it," owlcitizen44 writes. That might not be super often yet, but just wait till word spreads and it gets to 90 degrees out.
In a statement to Cosmo, a Starbucks rep didn't say much else about the cubes, outside of them being part of a limited-time test to "gather feedback from our customers and partners." Not surprisingly, customers seem pretty psyched about them so far: