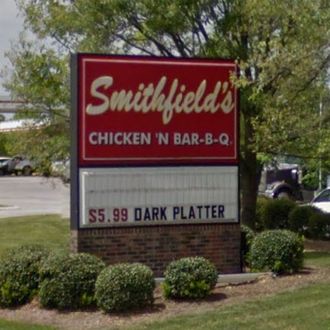 The location that's now on lots of angry people's ban list.
Photo: Google
A police union in Raleigh has some explaining to do after falsely accusing workers at a North Carolina barbecue chain of singing N.W.A.'s "Fuck Tha Police" while officers ate there. The group's president made the claim last week, writing in a Facebook post that workers at the Garner location of Smithfield's Chicken 'N Bar-B-Q, which has about 30 locations statewide, did the rendition knowing several cops were in earshot, and that the manager on duty even joined in, too. The manager promptly apologized, and the restaurant promised to investigate the matter and terminate anyone involved.
It turns out that the union exaggerated things just a tad. Yesterday, Raleigh PD issued an official statement saying that, in fact, "There was no singing." Two officers "witnessed one employee make eye contact with them and mouth the words 'F… the Police,'" the release says. "There were no other employees involved. Because of the subtle nature of this act, it was not witnessed by anyone else in the store."
In the union's (now deleted) Facebook post, the group's president sarcastically thanked the location's employees for their "class and professionalism as you sang 'F- the police' as my brothers at Raleigh Police Department attempted to eat at your restaurant … Do you really feel that was appropriate?" He added: "This is something that, unfortunately, officers have to deal with now on a regular basis."
That much was true — it is an all-too-frequent occurrence. Last October, a dishwasher at another barbecue spot in Houston blasted the same song, which is certainly among any police force's least favorite tunes, to greet a group of officers who'd entered his establishment. That stunt didn't go unpunished, but neither did the incident that allegedly went down at Smithfield's. The restaurant received an immediate onslaught of negative Facebook comments, many in the vein of this guy's: "May you MOFO's roast in hell. If you had the best food in the world and it was free, i would walk 1,000 miles to eat something else. Drop dead!!!" Its Facebook page fell to a 1.4-star rating after 737 one-star ratings, and still hasn't budged.
As Gizmodo pointed out, "cops, relatives of cops, people who like the idea of cops, and bandwagoning racists" set up shop in the comments section of just about every post on the page. Most ended up looking similar to this: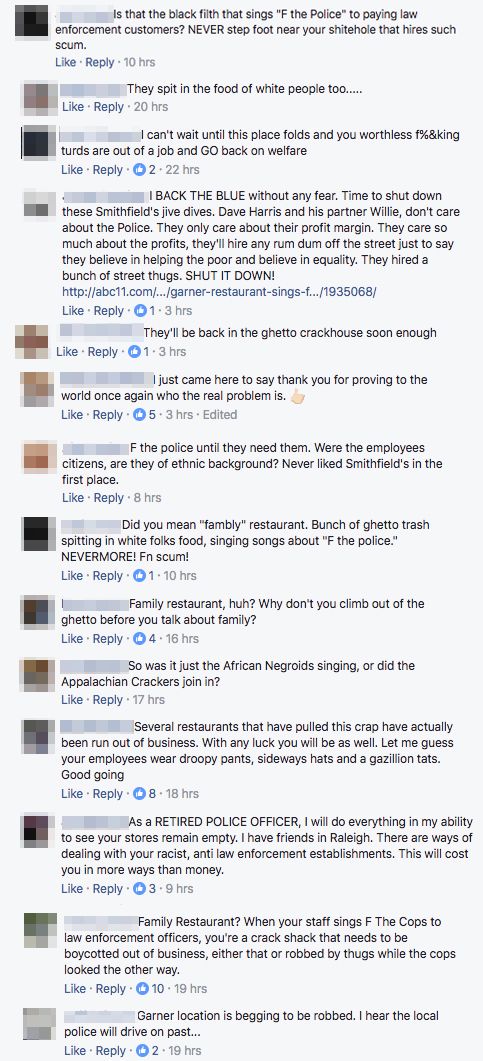 The location's owner, David Harris, says they fired the singular employee dumb enough to mouth the N.W.A. lyrics, but that now he's gotten "very emotional" about the thought that "there are law enforcement officers who think we allowed or condoned this."
This post was updated throughout after police called B.S. on the union's story.