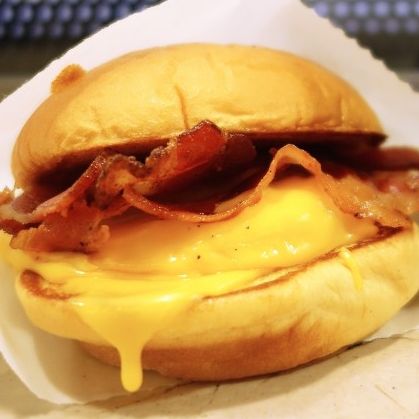 You will no longer have to go to Grand Central Terminal or JFK for your Shake Shack breakfast!
Photo: Shake Shack
Could Shake Shack want a bigger piece of the breakfast pie? Breakfast is big in fast food right now: It's been the only thing that's really worked for McDonald's, which has found itself in a bacon war with a Taco Bell intent on taking over America's mornings. It's a little surprising that since introducing it three years ago, Shake Shack has only served the morning meal at locations in airports and train stations. Starting on May 22, that will no longer be the case.
Starting at 7:30 a.m. on weekdays and 8:30 a.m. on weekends, the burger chain's original Madison Square Park stand will start serving coffee and breakfast sandwiches in your usual bacon, sausage, or just egg-and-cheese varieties. It will also introduce a seasonal sour-cream coffee cake from Daily Provisions, the café from Shake Shack's Danny Meyer, and Shack apple turnovers, a collaboration with Four & Twenty Blackbirds. That's either an homage to McDonald's fried apple pie, one of its customer favorites, or a way of picking a breakfast fight.