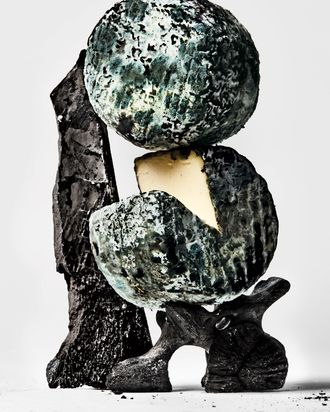 Bone Char Pearl cheese and Blue Hill at Stone Barns's bone charcoal.
Photo: Bobby Doherty/New York Magazine
Pound for pound — or, at a quarter-pound each, make that ounce for ounce — Saxelby Cheesemongers' new Bone Char Pearl might be the poster cheese for this particular caseo-culinary moment. It's got a chef collaborator (Blue Hill's Dan Barber, who commissioned it), a dedicated affineur (Crown Heights's Crown Finish Caves, which takes in fresh, malleable young cheeses like, in this case, Seal Cove Farm's goat's-and-cow's-milk Pearl and transforms them through time and applications into edible works of art), and a coating of charcoal, that au courant ingredient in everything from cocktails to ice cream. Here, though, the charcoal ash isn't applied for New Age–y wellness reasons but for ecofriendly ones. For years, Barber and his Stone Barns crew have been carbonizing kitchen waste into grilling charcoal, both to adhere to their nose-to-tail principles and to elicit diverse flavor profiles in their cooking. The Bone Char Pearl is the latest in a line of charcoal-rinded cheese experiments, but the first available outside the restaurant setting for retail purchase ($16 at Saxelby Cheesemongers).
Ashed rinds are nothing new, of course: The treatment, which, according to Anne Saxelby, began as a deterrent for flies, is credited with altering cheese's pH and inducing beneficial microbial activity. The contrast also happens to look quite striking (see France's Selles-sur-Cher and Sainte-Maure de Touraine, and California's pioneering Humboldt Fog). But cheesemakers have traditionally used wood or vegetable ash, not pig- and lamb-bone charcoal. Does this mean you should expect bacony undertones in your Pearl's bouquet? Not quite. Saxelby describes the flavor as "really, really earthy," and Barber claims the ash "adds a rich tannic-ness to younger cheeses." To us, the cheese tastes creamier than an all-goat cheese, with a whiff of mushroom and a grassy note or two. It should appeal to all cheese lovers, flies and vegetarians aside.
*This article appears in the May 29, 2017, issue of New York Magazine.