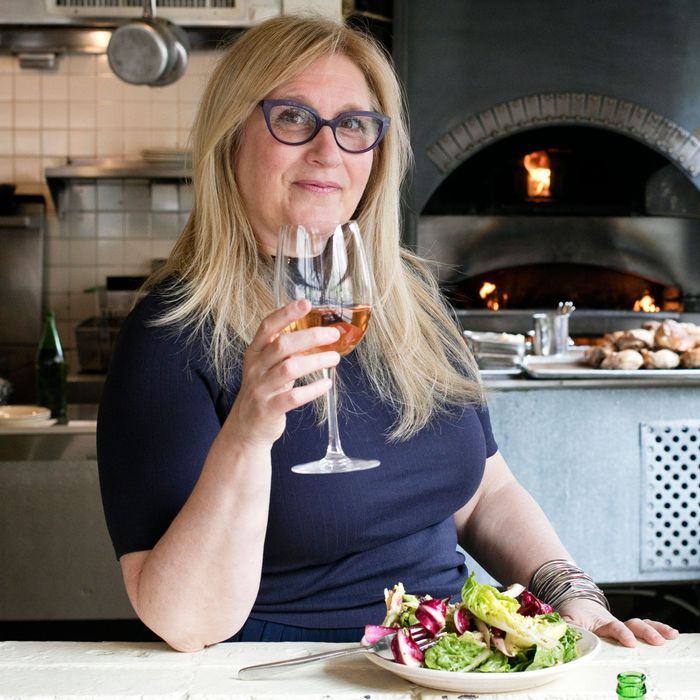 At her "home away from home," Barbuto.
Photo: Melissa Hom
As the owner of a small New York City food empire — Cookshop, Hundred Acres, Vic's, and Rosie's — Vicki Freeman spends much of the time at her own businesses, doing quality control with her chef-husband, Marc Meyer. (Freeman first met Meyer when she hired him to be her chef in 1993.) Still, she goes out of her way to try new places, and this week, they included Hanoi House (where she loved the congee) and Daily Provisions (where the cruller didn't impress). Read all about it in this week's Grub Street Diet.
Thursday, April 27
Breakfast with my oh-so-cute brother Harry, at the kinda weird breakfast staple Noho Star. I've been going here for 20 years and still find it so strange. For years, most of the servers were Russian and wore short skirts and knee socks. Were they channeling Britney Spears?
Breakfast is consistently good. So consistent, I wonder if they've had the same chef for 20 years. I have a goat-cheese-and-spinach omelette, no toast. I have one month until I go to Paris! If I give up carbs, that should be plenty of time to lose 30 pounds, which would make me feel a whole lot better about walking around Paris. Okay, so I'll be happy with 5 pounds.
I get a haircut by wonderful stylist Stephen Thevenot at Eva Scrivo Salon. It's amazing how he can take this mop of frizzy gray hair and turn it into silky locks of blonde. I get a green tea; it comes with this little savory cookie. Yes, I eat it. When I'm in this hood, I love to have lunch at Ootoya, a Japanese restaurant on West 18th Street. I always sit at the counter. I have the miso salmon, and it comes with seaweed, miso soup, pickles, and some egg-custard thing.
On my way to my restaurant Cookshop, I stop by Chelsea Market at a place that has been a bit of an obsession, Seed + Mill. They sell the best halvah I have ever had. My favorite is the vegan vanilla. I bought some for my husband, Marc (none for me … Paris!), as it's really the only sweet thing he likes. If you go there, get the goats'-milk soft serve with tahini and halvah. Epic.
At Cookshop, I try chef Andrew Corrigan's poached baby artichokes with pressed yogurt, mint, and pea shoots. It's spring in a bowl.
I have an early dinner with my Jamaican-music-expert brother Jeremy; his amazing wife, Japanese chef Maiko; their son Haru; daughter Teru; and friend Noi. We have the entirely new menu at Hundred Acres. We almost never sit down and eat dinner at one of my restaurants. We do tastings, but it's just way too stressful to sit in the dining room and eat, but I want to see what it's like to be a customer, and how everything is served and timed.
We order a full-on feast. We start with a table full of mezes, whipped Feta, beet hummus, fattoush salad, olives, pita, and lamb tartare. We follow that with a platter of kebabs — shrimp, swordfish, lamb, steak, chicken, and pork Adana. The meal is a wonderful combination of flavor, color, and smells. I'm happy.
Friday, April 28
Breakfast at what my staff calls my "office": Le Pain Quotidien on Bleecker. I order my usual — two boiled eggs, gluten-free crackers, and sliced avocado. I like to start my day off healthy, and I truly believe it will stay that way.
Watch the decline.
I head over to Vic's. The back booth is my second office. Then, I go to Union Square Cafe to meet friends — wine distributor Gabrielle Palay and spitfire Dr. Alexis Halpern — for Alexis's birthday. As I'm getting out of my Uber, I get a call and forget to check for cyclists, and for the first time, I take down a bike rider. Luckily, she isn't too mad at me, and she didn't get hurt.
I first decide to check out Danny Meyer's new take-out place, Daily Provisions, next door to the restaurant. I keep seeing pics of the crullers. I get a glazed one to give to Alexis. Luckily, Gabrielle made a Ressy a couple of weeks ago. I almost never make a reservation. Bad of me.
We start with a wonderful bottle of 2016 Bandol Rosé, some oysters, and steak tartare, followed by a tuna burger and the trout with mixed greens and buttermilk. We skip dessert and eat the cruller. It's good, but I like my crullers light and fluffy; this is richer and denser.
After lunch, I go to the Union Square Greenmarket. It's a piece of Mother Nature in the middle of the city. Lots of flowers, but not as much produce yet.
On my way to Rosie's, I get green juice at Great Jones Spa. Some people consider juice a meal. I consider it a supplement on a day when vegetables are scarce.
I work at Rosie's, and then I get home hungry and excited for my nightly chia-seed pudding. I open the fridge, but it's gone. Then I remember that my son Rolan was over, and he always steals the chia-seed pudding. Rats! I settle for a dinner of peanuts and dried mango. You'd be surprised how often this happens. If my younger son, Marlon, wasn't traveling through Europe, the mangoes would be gone, too.
Saturday, April 29
I get up and read the manager logs recapping last night at all the restaurants. I usually try to wait until after I've had a cup of tea and have woken up a bit, but after such a gorgeous 80-degree night, I'm excited to read them.
The sound of NPR is always in the background. Marc listens to it religiously every morning. I hope I'm learning by osmosis.
I go to Think Coffee for a cold brew. I can't drink a lot of coffee — I'm already hyper and anxious, and coffee doesn't help. But I love it. I have a deal with myself: I can have a cold brew before going to spin class. It's probably the only thing that gets me there.
Off to SoulCycle with my absolute favorite instructor, Laurie Coles. It's half cardio, half therapy. In the middle of class, someone goes down and faints. Amazing instructor Laurie, somehow with 62 people in the class, sees it coming and goes over to him right before he faints. It's kind of amazing; within seconds, there are seven SoulCycle people surrounding him. All's okay, he was just dehydrated.
I stop by Hundred Acres to taste chef Ayesha Nurdjaja's collaboration with the Doughnut Project. Blood-orange glaze, crushed hazelnuts, sesame, cardamom. It is so good. Sweet and savory. We will have it at Vic's and the Doughnut Project for the next six weeks.
Lately, we've been heading out to our house in East Hampton around 8 p.m. That way, we get to see some of the Saturday-night service and avoid the numbing traffic. We go over the new Kosciuszko Bridge. Kind of cool.
Dinner is at the bar of Nick & Toni's. A place that feels like home. After a crazy week, it's so lovely to see the fabulous Bonnie Munchin, who has run that place with an iron fist for the last … I don't know how many years, and owner Mark Smith, who really gets what hospitality means. For the last couple of Saturday nights, when we show up around 10:30, the place is teeming. Feels like the middle of summer. We start off with a half-bottle of Grüner Veltliner, some local razor clams simply prepared with a little butter, and a tardivo salad. Then, we split an orecchiette pasta with a cauliflower ragù.
I come home and indulge in a glass of mezcal from Pierde Almas. It has that perfect warming, almost burning sensation going down.
Sunday, April 30
I wake up and go to an 8:30 spin class. Marc's on a 50-mile bike ride to Montauk. I'm done in by my 45-minute spin class. Even though it's Sunday, I want a nice, healthy breakfast. I go to the Golden Pear. I see they have a Health Tuna (no mayo) sandwich. I get that, only problem is that it needs mayo, so I order a side and slather it on. Delicious!
As I walk out the door, evil of all evils, I spot doughnuts being made in the window of Dreesen's. This used to be an obsession of mine. It has been at least ten years since I've had one. I find myself crossing the street. I order a plain one, knowing it probably won't be as good as I remember. The only problem is, it is. It's hot-doughnut heaven. I take two bites and I throw it away. Paris!
I meet up with the oh-so-fabulous Bonnie Munchin, who just came from Flywheel. I don't like Flywheel and she doesn't like SoulCycle, but we decide to remain friends anyway. We go to Jack's Stir Brew in Amagansett. It's the perfect beachy coffee spot, and they sell a decent baguette. I have a chai latte; Bonnie has a cortado. While in Amagansett, I go to the very pretty Cavaniola cheese shop and buy some Cerignola olives and a piece of Danish Cabricharme.
Marc's back from his ride and makes us a lovely lunch. A frittata with kale, scallions, fingerlings, and Parmesan. We drink some 2010 Grable Chardonnay.
Dinner is where all good intentions fly out the window. Bye-bye! Marc makes a bucatini pasta with local littleneck clams, lots of garlic and chiles, a Bibb-lettuce salad, and the olives and cheese from Cavaniola, and we finish off the bottle of Chardonnay. I temporarily forget about Paris.
Monday, May 1
We have to leave East Hampton at 6:30 a.m. to be on time for a 10 a.m. meeting (crazy), so no time for breakfast. Head to Vic's for lunch: grilled asparagus, arctic char, and green olives for me (no-pasta Monday). Spaghetti with ramps and lemon for Marc.
The afternoon is spent looking for new uniforms at Hundred Acres. Four restaurants, many season changes — many, many hours searching for new uniforms.
Early dinner before hanging at Rosie's tonight. Joshua Blum, our AGM at Cookshop, has been talking about a new Vietnamese restaurant, Hanoi House, that his friends own. He's right; it's great.
We have soft-shell crab with XO sauce, spring-vegetable crêpe, coconut-grilled octopus, and grapefruit-and-shrimp salad, all so flavorful. Just when we think we're done, lovely owner Sara Leveen talks us into the clams and congee. So glad she did. It's a standout dish.
We walk into Rosie's and taste the guacamole. That's what all managers, chefs, and partners do. It's the one item in all the restaurants that 95 percent of the guests order. It has to be right.
Tuesday, May 2
Spin class. Oh, joy, I get to have a cold brew from Think. Then, the usual Le Pain Quotidien breakfast.
Tuesdays are meetings, meetings, meetings days. I barely have time for lunch, but I do a quick bite with my son Rolan, as we needed to catch up at my "home away from home," Barbuto.
Nothing fixes a bad day, bad week, or bad whatever like a hug from my little dumpling Jen Davidson (who runs it), and a nasty crack from grouchy faux brother Jonathan Waxman. I have a little gem salad with oranges, pistachios, and tardivo. So tangy. Rolan has the famous JW chicken, and we share the best crunchy, salty potatoes with Pecorino and rosemary.
I have a very early dinner with Marc at Via Carota. I have been obsessively eating Jody Williams's food for years. This meal is one of the best: seafood salad; fava beans with escarole, mint, and Pecorino; pasta with pesto; followed by baccalà and chickpeas. We drink a vibrant 2012 ValCerasa Etna Bianco. A perfect meal from beginning to end.
Marc rides his bike home; I want to walk a little and stop by the restaurants. On my way, I pass Grom, which has my favorite ice cream in the city — espresso gelato. I keep walking, pass it by, turn around, and head in. I get a small cup, and eat it on the way. Worth it!