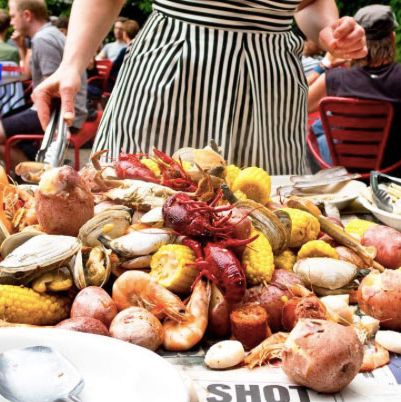 Celebrate the weekend with some crawfish.
Photo: Courtesy of Rose's
If you're having early onset FOMO about not being able to escape to the beach this weekend, reconsider: The great thing about New York during Memorial Day is that everyone else bounces, emptying the city. But the city's many great restaurants and bars, obviously, aren't going anywhere — and while some close, many others serve specials, extend hours, or throw parties for everyone left behind. (Grub will update this post as we become aware of more specials and events.) Here, where you'll want to go.
Nowdays
Wish you could hang out in your friend's suburban backyard, but can't escape the city? Head to this Ridgewood outdoor spot, which will host a holiday edition of its Mister Sunday party, and on Monday, extend hours from noon to midnight. Crucially, there will be ice-cream sandwiches.
Rose's
From 3 to 7 p.m., the bar will host its second Memorial Day Low Country Boil (tickets are $45), with crawfish, steamed clams, collards, salad, and all-you-can-drink Narragansett and rosé.
Salvation Burger
April Bloomfield's burger spot recently opened an outdoor courtyard, and will be serving a special of a hot dog and a Coney Island Mermaid Pilsner for $15.
Insa
The Korean barbecue will throw a party on Sunday from 11:30 p.m. until late, with free karaoke ("Boys of Summer," anyone?) and tunes from resident DJ Sasha Couture.
Ops
For those who really want to feel American, the Bushwick pizzeria will serve a special cheeseburger square pizza ($32).
Surf Shack
On Saturday and Sunday from 2 p.m. to 5 p.m., the Arlo Soho's seasonally themed rooftop bar will serve (for $65) unlimited tacos, hamburgers, and hot dogs, alongside rosé, cocktails like a frozen and spiked Arnold Palmer, and beer.
Houseman
All weekend long, the Tribeca neighborhood spot will offer its popular burger and a beer for $20, or $0 for veterans.
Il Buco Alimentari
On Sunday and Monday, the Italian restaurant is offering a four-course meal ($55), with dishes like housemade orecchiette with tarragon pesto, grilled Calabrian sausage, and blueberry-and-thyme sorbeto.
Maison Premiere
Memorial Day in Williamsburg means Maison Premiere's annual throwback party, when the restaurant will serve barbecue specials to live jazz. It's open from noon to 2 a.m.
The Dutch
For those who can't choose between barbecue styles, the New American restaurant will offer a barbecue plate with smoked brisket, pulled pork, and pork ribs, to be washed down by punch bowls like the Watermelon punch with pineapple, gin, and lime.
Rockaway Beach Surf Club
Head to the beach without leaving the city. Along with Rockaway's Locals Surf School, the surf shack and home of Tacoway Beach is throwing a party with tacos, a DJ, and live music.
The Commodore
On the extremely likely chance that you productively take advantage of a third weekend night by getting hammered, the Williamsburg bar will be there to save you with brunch (fried chicken to the rescue!) starting at 11 a.m. on Monday.
Roberta's
The pizzeria will serve brunch on Monday, offering Italian combos, smoked-chicken salad, cornmeal pancakes, and more.
Midnights
During its second annual L Train Shutdown BBQ, the restaurant's owners will sub in for their staff by grilling burgers and serving drinks.
Covina
For those seeking a classy meal, this restaurant will also extend its brunch service to Monday. Head here for Hungarian potato fry bread, lemon and ricotta pancakes, shakshuka, and more.
Pig Beach
Following renovations, the outdoor barbecue spot returns with holiday-appropriate grub like baby back ribs and a whole new drinks list, with cocktails like the Gowanus Shandy (frozen lemonade, beer, and an Underberg float).
Rosie's
More Monday brunch: For all your tomatillo Bloody Maria and huevo-ranchero needs, head to the East Village restaurant.