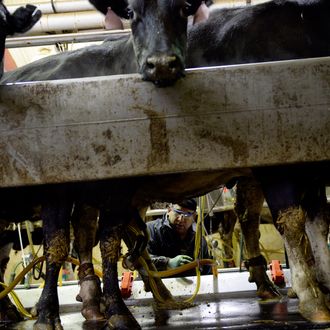 "Know where we might find some good grass?"
Photo: Craig F. Walker/Denver Post via Getty Images
Even though it's one of the few food terms whose usage is regulated by the government, believing something is, in fact, "organic" requires accepting a lot at face value. A new exposé by the Washington Post gives you reason to be more cautious, at least when the word's on a jug of milk: Reporters spent months investigating Aurora Organic Dairy, one of the country's biggest organic-milk producers, and came away suspicious of the certified "USDA Organic" label on the cartons it makes — which just so happen to include Walmart's Great Value, Costco's Kirkland Signature, and the house brands at other supermarket chains.
Organic food has ballooned into a $40 billion-a-year industry — way too massive for the USDA to inspect every producer by itself anymore. To keep up, the agency now lets farmers outsource their own inspections to a third party. If this sets off alarms, the Post says that's probably because it should. The story points to the issue of grazing, something certified-organic farms must let their cows do:

But during visits by The Washington Post to Aurora's High Plains complex across eight days last year, signs of grazing were sparse, at best. Aurora said its animals were out on pasture day and night, but during most Post visits the number of cows seen on pasture numbered only in the hundreds. At no point was any more than 10 percent of the herd out. A high-resolution satellite photo taken in mid-July by Digital Globe, a space imagery vendor, shows a typical situation — only a few hundred on pasture.
The Post's reporters sometimes hung around for as long as ten hours, and sometimes circled back twice in one day, never to the sight of very many cows. On that satellite image, though, lots of cows "were seen in feedlots."
The Post also had Aurora's milk, two convention milks, and five organic milks analyzed. Tests for linoleic acid — a good indicator of whether a milk cow has eaten grass — matched Aurora's product to the conventional samples, not the organic ones. Then, as sort of the final nail in the coffin, reporters asked Aurora's inspectors for proof that the cows met the USDA grazing requirement. The inspectors couldn't provide it because they audited the farm in November, after grazing season ended. As the Post puts it, that made them "poorly positioned to know" whether or not the cows were grazing. (It's also in violation of USDA policy.)

Aurora dismissed pretty much all of the Post's gumshoeing out of hand. The site visits were nothing but "drive-bys," and the lab tests were "isolated." The story builds a pretty damning case against the producer in particular, but the point is that this issue goes beyond just one sneaky dairy. Problems at Aurora suggest that "even large, prominent players can fall short of standards without detection," and the growth of "mega-dairies that may fall short of organic standards and produce cheaper milk," it notes, "appears to be crushing many small dairies."