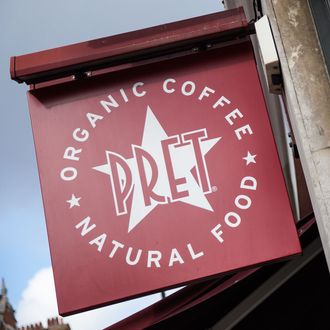 Coming for Peoria next.
Photo: Jack Taylor/Getty Images
Pret a Manger, the British sandwich chain that already feels ubiquitous in Manhattan, is reportedly headed for an IPO on Wall Street. Bloomberg and the Financial Times both report this morning that its parent company — private-equity fund Bridgeport Advisers — is working with several big investment banks to set up the stock-market launch, which could happen sometime this year. Of course, Pret's ubiquity in New York (42 locations) is laughable relative to its presence in the U.K., where media half-seriously write headlines like, "Every Building in London to Be a Pret a Manger by 2020." It's on an expansion tear over there, saying it intends to start colonizing train stations and hospitals, and has also announced plans to add 500 more locations worldwide over the next year. It has about 30 more U.S. stores in Chicago, Boston, and D.C., and a Wall Street debut could mean a higher valuation for the company, given England's bad market right now.
Pret has been experimenting with a range of concepts to keep it competitive in the upmarket-ish grab-and-go arena — making some shops vegetarian, testing out table service, serving booze, and letting employees dispense free food to their favorite customers. Adding U.S. locations would also help insulate the chain from any post-Brexit fallout, Bloomberg points out. Pret made headlines earlier this year when it publicly blasted the U.K.'s upcoming exit from the European Union. The company says 98 percent of its current job applications come from immigrants, and that this is because British citizens no longer consider Pret a "desirable place to work." It can't get a worse welcome from the American workforce, so executives probably figure, why not try their luck over here?