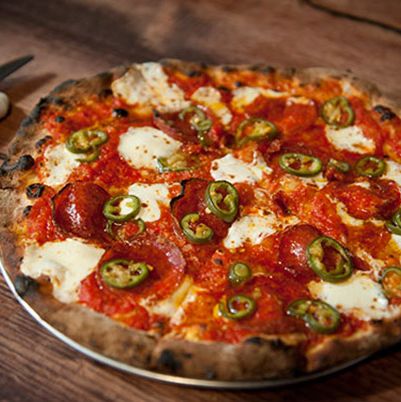 Clinton Hill's Emily has been a big hit.
Photo: Liz Clayman
In just three years, Matt and Emily Hyland have become big names in Brooklyn pizza, first with their Clinton Hill favorite Emily, and then its sister restaurant, Emmy Squared. Now, the Hylands are working on their first Emily outpost in Manhattan, and a rep for the restaurant says they're on pace to open very soon, targeting a June 7 debut.
The Hylands will move into the West Village space that had been the longtime home of Blue Ribbon Bakery. With it, they've gotten their tomato-sauce-stained hands on the storefront's ancient oven, a 14 by 18 feet giant that dates back to the 1860s. The original Emily serves wood-fired pies, so you can surely expect more of the same here, plus — almost certainly — the sandwiches and burgers that the couple has also become known for. Given that the restaurant is still a couple weeks out, the menu hasn't been finalized — but there has even been talk of unleashing curly fries.
Emily, 35 Downing St., nr. Bedford St.