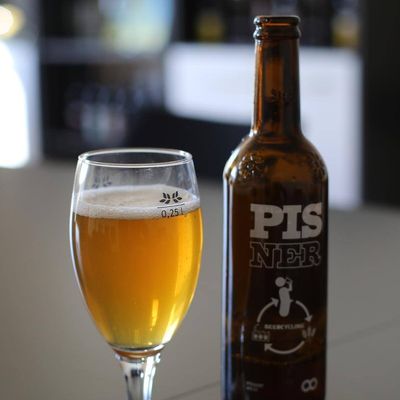 Buyer beware.
Photo: Nørrebro Bryghus
As the global issue of food waste has received more attention, brewers have started using recycled ingredients in their beers. There's English beer made with leftover bread, American beer made with waste water, and now, Danish beer made with recycled piss.
Danish microbrewery Nørrebro Bryghus has released "Pisner," which is made with, um, 50,000 liters of urine collected from urinals at Northern Europe's largest music festival. The human waste isn't actually filtered and used in the beer per se, but to fertilize fields of malting barley in place of animal manure or factory products.
Denmark's Agriculture and Food Council is calling it "beercycling," and the brewery's chief executive Henrik Vang tells the International Business Times that "we wanted to test our brewers ability to make recycled beers." There is, however, hope yet. Only 60,000 bottles of the beer were brewed, so hopefully someone can buy every last one and destroy them all.