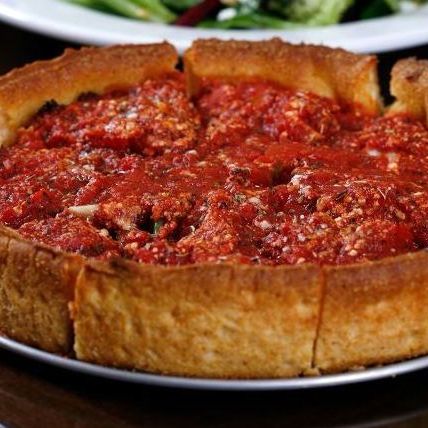 One of its Chicago-style pies.
Photo: Pi Pizzeria/Twitter
If you use the internet, you probably heard that a reporter for The Guardian was "body-slammed" this week by Montana congressional candidate Greg Gianforte, who last night won a race to fill a seat vacated by one of Trump's cabinet members. Gianforte broke Ben Jacobs's glasses, and has understandably since been charged with assault, the latest in a troubling string of attacks on journalists. But in an act of surprising generosity (and, let's be honest, a fair amount of PR savvy), the owner of deep-dish-pizza chain Pi Pizzeria yesterday offered the best type of moral support: the edible kind.
Chris Sommers declared it was "Love a Journalist Day" at Pi's eight St. Louis, D.C., and Cincinnati locations:
Pi promised to hook up anyone with press credentials, a business card, or some other form of identification. Sommers included a statement of support in his tweet that read: "In light of the physical and figurative assaults on our journalists and real news, we at Pi want to thank the hardworking reporters, producers, editors, photographers, videographers and all those who deliver us critical and round-the-clock news."
Alas, even this seemingly straightforward story doesn't have the happiest of endings. While it was a nice gesture, in theory, some members of the media pointed out that they aren't allowed to accept gifts.

Sources