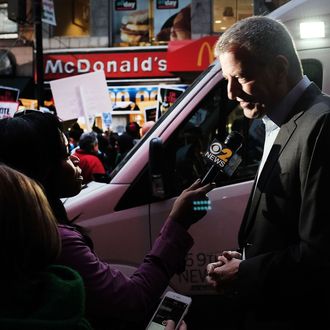 "Predictable schedules and predictable paychecks should be a right, not a privilege," de Blasio said.
Photo: Spencer Platt/Getty Images
Mayor de Blasio signed a bill yesterday that makes New York the country's largest city with laws entitling fast-food employees to more predictable work schedules. Called the Fair Work Week legislation package, it's meant to offer a safety net to a class of workers who regularly get screwed by their schedules — not given hours they requested; asked to come in last-minute; or stuck with the dreaded "clopening" shift, the industry's term for closing a store, then promptly returning to open it back up. Altogether, the package is a set of four laws targeting the city's restaurant chains, which de Blasio contends show "a disdain" for the 65,000 New Yorkers they employ.

The first law requires employers to offer employees their work schedules at least 14 days in advance. Changes inside of two weeks are still possible, but each one now incurs a penalty of $10 to $75, depending on the situation, paid to the worker.
The second ends the practice of back-to-back shifts. It stipulates that workers have to get at least 11 hours off in between. Employers can ask an employee to clock back in sooner, but they'll have to give that person an extra $100.
A third law requires chains to offer shifts to existing employees before hiring new workers. This law is intended to give part-time workers "a path toward additional hours and full-time employment," should they want it. Now, chains can only hire additional workers once they've given current staff the chance to turn down open shifts.
The last one — the first of its kind anywhere in the U.S. — allows workers to deduct part of their salary and donate it to a nonprofit. This might seem strange to include in labor-rights legislation, but it actually represents a big victory for unions. Employees can now earmark money that goes directly to a group that fights for them, and the employer has to pay it on their behalf.
Naturally, not everybody supports the laws. The New York State Restaurant Association, for one, says they'll raise costs and saddle franchisees with additional layers of record-keeping. "This legislation unfortunately is going to hurt these quick-service establishments, many of which are franchises and are owned by what you would deem small business owners," the group's regional director tells Reuters.
Seattle and San Francisco already have fair-workweek laws on the books, so New York joins them as the nation's third city. The package goes into effect in 180 days.