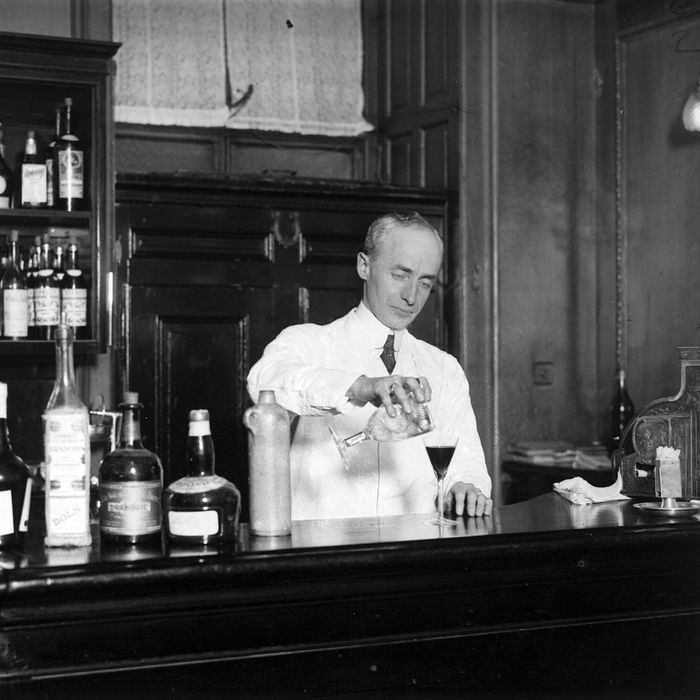 A bar that might as well be in Brooklyn, circa 2016.
Photo: Topical Press Agency/Getty Images
New York's cocktail culture is balanced, elegant, and luxurious. It's a masterful exercise in well-crafted, standard-bearing sophistication. It is the Brooks Brothers of the cocktail world. Sit down at any of the city's top-tier bars, and service will be gracious, you'll be comfortable, and the product will be refined and reliable — too reliable.
"Mixology isn't coming to terms with [its future]," says Don Lee, a widely respected industry figure. "Mixology holds the past on a pedestal. Mixology wants to go back to the 1800s." Indeed, the tenets of "mixology," and the details of the speakeasy aesthetic, are now so ingrained in the city's bars that they've become rote, and a creeping sense of monotony has made New York City feel like a much less interesting place to drink.
"I keep seeing the same cocktail with different names, because everyone's making the same thing," says Nick Wright, a bartender who worked in London before arriving at New York's Suffolk Arms. "It's just throwing together — oh, I dunno — gin, basil, and lime. They're just pulling cards out of a hat. There are no 'holy fuck' cocktails." He gives another example of a mix that's starting to feel overworked: "Mezcal and amaro are trending, so basically every New York bar has a cocktail with mezcal and amaro in it." (Take, for example, the Belfry's Pass/Fail or Mayahuel's Hidalgo.)
Damon Boelte, co-owner and head bartender at Grand Army, agrees: "You have a lot of newcomers here who think they're rock stars for mixing gin and cucumber. Maybe they throw cayenne in it or something. And it won't taste bad. But will it be new or original? No. It's safe."
There are exceptions here and there (every bartender interviewed for this story pointed to the NoMad as one bar where creativity is on display nightly), but there is no longer a citywide boom of new ideas like there was several years ago. Of course, saying that New York's cocktail scene is in a creative slump is like saying the Super Bowl is a letdown. It's still the Super Bowl. Expectations here are high, and we've been spoiled for a long time — from the explosion of the neo-speakeasy movement, a focus on high-quality (and often fresh-made) ingredients, and the somewhat-recent embrace of advanced-level tiki influence. Yet around the city, bartenders now seem to have settled into a drink-making ethos that's all about sticking to, and honing, the classics, or creating gentle riffs that offer mixed results. In the end, New York doesn't lack good drinks; it lacks conceptual variety.
"There is some interesting shit happening now," says Suffolk Arms co-owner Giuseppe González. But "the creativity is shifting away from the cocktail to different atmospheres and purpose." He adds, "NYC ain't making crazy drinks, though. I don't really think it's our thing."
What gives? New York is supposed to be the country's hub of artistic innovation, yet bars in Chicago (GreenRiver, Lost Lake), Miami (Broken Shaker, Drunken Dragon), San Francisco (Bourbon & Branch, Smuggler's Cove), and Washington, D.C., (Himitsu, Iron Gate) regularly turn out drinks that manage to surprise in ways New York's bars don't. At Broken Shaker (which will expand to New York), the vodka-based Sowing Circle combines citrus cordial with green-bean juice. At Himitsu, the Japanese Michelada balances cold-brewed green tea with soy sauce and togarashi. At Wilson and Wilson Private Detective Agency, the bar-within-a-bar at Bourbon & Branch, one winning drink matches gin with sparkling wine and sesame oil.
Xavier Herit, who worked as a bartender at the shuttered Experimental Cocktail Club, explains his view of it: "New York bars are like a tree," he says. "It can branch, yes, but the root is the same. Every branch gives the same fruit — I wouldn't mind seeing more." That root, at the moment, can be traced back to bartenders like Gary "Gaz" Regan and Audrey Saunders — hugely talented, influential figures in the bar world who made a point of emphasizing quality technique over flash and gimmickry. Their approach is in lockstep with the late Sasha Petraske's Milk & Honey, the faux-speakeasy that launched a million imitators. The model was so successful that it's been difficult for anyone to try something completely new. A focus on the finer points is imperative, but not if it comes at the expense of innovation and experimentation.
"The Sasha Petraske style is so staid that it's problematic," says Dave Arnold, the author of Liquid Intelligence and the man behind Booker and Dax, which is now closed, but was for many years New York's nerve center of experimental mixology. "You'd never want a Little Branch to change, of course," Arnold continues, referencing one of the much-loved bars that Petraske opened in the mid-aughts, "but how many Little Branches do you need? How much can you revisit the same success?"
In many ways, the Petraske approach was perfect for mid-aughts' New York: Eschewing flash and gimmickry for an experience that's rooted in authenticity and attention to detail, it was hipster before hipster lost all meaning. It is the approach that has made New York's bars among the best in the world, and something — like the farm-to-table movement in restaurants — that is now understood to be the standard among premier venues. "We are spoiling ourselves," Herit says. "We're all pretty much doing the same thing. We're happy, but not growing — what kind of happiness is that? We are not in love anymore. This is not love or even art. It is habit."
That sameness has a lot to do with offering customers the experience they expect. New Yorkers, Arnold says, "want a very particular kind of luxury. It's surprisingly limiting." There isn't much creative wiggle room, especially when innovation gets dismissed out of the gate as novelty. "If you're not on point, New Yorkers are vicious," Arnold continues. "Anytime you're sticking your neck out in New York, it's likely to get chopped off." The New York bartenders who spent more than a decade refusing to make Cosmopolitans and piña coladas — popularizing the idea of "bartenders' choice" that focused on time-honored combinations of ingredients — created a vocabulary for drinkers that now feels like cliché and jargon.
"It's very hard work to make a novel combination of the crap we all have," Arnold says. "Maybe we should be more Willy Wonka. Maybe we should be more Disneyland. But you know what? Disneyland doesn't have regulars. The focus is always going to be on regulars, on whatever brings in regulars. That's where the money is, to be frank."
The bottom line is always looming in New York. Owners want guaranteed sellers, not experimental drinks that might only move a few orders a night. What good is a critical darling if it's a commercial flop? Common wisdom in the industry has it that bar owners need their beverage sales to equal about five times the amount that it costs to make those drinks. (As one industry site warns, "When your beverage cost goes above 21 percent of your beverage sales, something is very wrong.")
"Keep in mind that doesn't include labor or electricity or other costs involved," says Lee, who notes that high-end bars aim to keep drink costs — which include beer and wine, in addition to liquor — at between 13 and 18 percent of drink sales. (Lee's seen what he calls "vanity cocktails," however, where that ratio is closer to 30 percent. That's an immediate red flag for owners who need to pay the bills.)
"You don't get much creativity that way," Arnold concedes. "You get two-for-one margaritas and bottomless mimosas. You get bottle service. But you get paid, too."
The problem isn't just costs, since smart operators will make whatever sells. Bartenders will also pull inspiration from anywhere they can find it — Bar Goto's maraschino-kissed Sakura Martini, for example. But too often, New York cocktails employ a strict adherence to a similar menu template: "house originals," a couple drinks served with oversize boulders of ice, coupe drinks that are gently misted with a twist of citrus, etc. Innovations, when they arrive, tend to land with the artificial urgency of an iOS update: coffee cocktails, smoked cocktails — everyone adds a blue drink to the menu. Very few people have the influence to rethink the entire enterprise, but there is at least one bar in the country right now that offers drinks in a truly innovative, unique way — and it's in Chicago.
Arnold and Lee both agree that the Aviary, famously opened and operated by the team behind Alinea, is the bar that's currently leading the conversation, as far as cocktail innovation is concerned. "The only place in the U.S. that's really trying to do the fine-dining style of cocktails is the Aviary," Lee says. "And they're not a bar. There literally is no bar where you can sit or stand and talk to a bartender."
The service, recipes, and presentation at the Aviary all break away from the mold that now feels so familiar in New York. One of the bar's signature drinks is a combination of rum, passion-fruit purée, Dijon mustard, horseradish, and egg whites. There is, of course, the famous Porthole service piece that manages to offer an entirely new view on cocktails. Other drinks are served in custom Spanish stemware that's shaped like a bird, with wide, flat wings that can hold bites of food. These ideas manage to transcend gimmickry, largely because they often adhere so well. After calling it a bona fide "whoop-de-do," a New York Times report clarified the bar's appeal: "It's evident that considerable thought goes into every aspect of the Aviary, but it never seems like an intellectual exercise. The cocktails are calibrated and complex; they are also, to use a straightforward word, tasty."
Micah Melton, the Aviary's beverage director, welcomes the venue's frequently elaborate presentation because, he says, "then the flavor of the drink is even more under the microscope. It keeps us on our toes in a way that serving classics doesn't."
The Aviary will expand to New York this summer, with its first new outpost since the original opened in 2011. Melton explains why they thought now was the right time to arrive in Manhattan: "New York is just the speakeasy capital of the world. Milk & Honey and all that followed put not just New York on the map, but the U.S. on the map," he says. "It created the standard for excellence. But we're not looking to compete with PDT or Attaboy, because they're the standard now. Why would we want to go against that? We want to do something different."
Hopefully, the Aviary's arrival will inspire more of New York's bartenders to try to do something that the city's drinkers have never seen before.