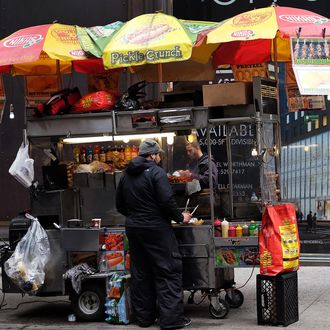 Inspectors, do your worst.
Photo: Jewel Samad/AFP/Getty Images
So far, so good, officials say of their plan to stick letter grades on New York's 5,000 food carts. The City Council's Health Committee voted yesterday on the bill Queens councilmember Karen Koslowitz introduced back in January, and the Post reports that the committee's nine members have passed it unanimously. The legislation would require the Department of Health to post A through F sanitation grades, just like with restaurants, on all mobile food vendors around town.
Backers argue that food-handling rules should apply as much to ice-cream trucks and halal carts as they do to brick-and-mortar spots, and it doesn't seem like anybody really disagrees — Health Committee chair Cory Johnson says no vendors have shown up to oppose the bill yet, and the Street Vendor Project gave its backing early on, saying it's a way to prove carts "provide the same quality of food as restaurants."
The next steps are a vote before the entire council, where it needs a majority, then it goes to the mayor's desk. De Blasio will have 30 days to either sign or veto the bill, but weirdly, even if the city somehow fails to turn this measure into law, there's a separate bill working its way through Albany, and it also got the all clear from the Senate yesterday.