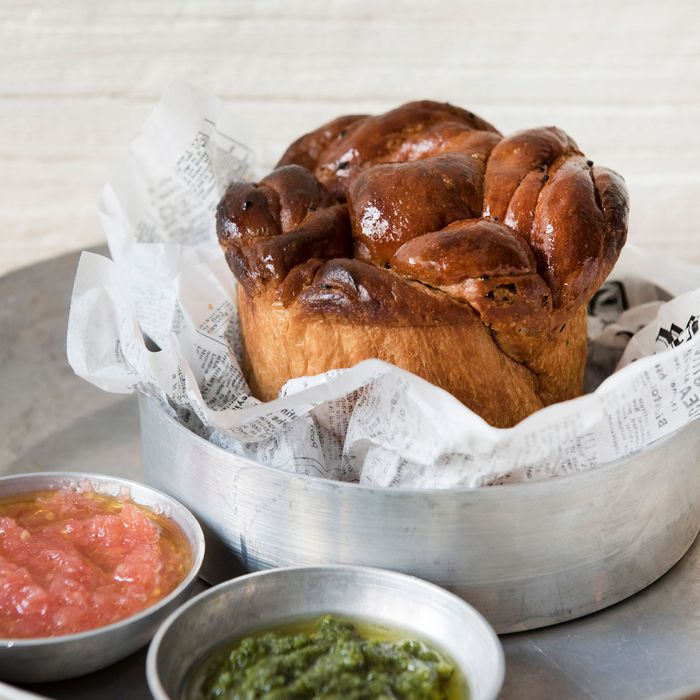 Nur's kubaneh.
Photo: Liz Clayman
New York is a great town for carb freaks, a place where you can munch on a baguette while walking down the street to score roti or lard bread. In other words: There's tons of great loaves, from all over the world, across the five boroughs. But great bakeries and restaurants with top-shelf bread keep cropping up, so there's always a new loaf in town for the bread obsessed to check out. Here, eight to investigate:
Kubaneh
Where: Nur
Price: $11
Briochelike kubaneh, a Yemenite bread, is rare here in New York. So its presence on Nur's menu is particularly exciting, as chef Meir Adoni served it at his Tel Aviv restaurant Mizlala, while the carb masters at Breads Bakery have been tasked with baking it. It's served with zhug, the Yemeni hot sauce, and grated tomato.
Flatbread
Where: Mettā
Price: $9
At the buzzing Fort Greene restaurant, the kitchen serves a flatbread that's charcoal grilled, so it gets crackery on the outside while staying tender. That's served with tzatziki, and if all that isn't enough for you, the kitchen also turns out some very satisfying loaves of sourdough.
Lard Bread
Where: Corner Slice
Price: $3.50
For those who like their bread speckled with prosciutto instead of caraway seeds, Ivan Orkin and Michael Bergemann's square-pizza stall has you covered.
Brioche
Where: Otway
Price: $4.50
Claire Welle is baking everything in-house at this Clinton Hill spot, including the new lunch menu's brioche, accented with bittersweet chocolate.
Salted Caraway Rye
Where: Daily Provisions
Price: $10
Up your at-home sandwich game with a loaf of the bakery's caraway rye, which is given an extra oomph of salt.
Bagels
Where: Bo's Bagels
Price: $1.25
If Absolute Bagels is out of range for your uptown brunch, head to this new Harlem bakery that's turning out bagels that are a real upgrade from whatever the closest bodega's serving.
Corn Bread
Where: Gloria
Price: $5
The pescatarian restaurant in Hell's Kitchen serves a fine version of jalapeño corn bread, crispy on the surface, but pleasantly coarse and moist on the inside.
Naan
Where: Badshah
Price: $4
A former executive chef from Babu Ji (which, after critical acclaim, was torpedoed by wage-theft issues) is at the helm of this Indian restaurant in Hell's Kitchen. He's serving naan (which was excellent at his old restaurant) in three variations: plain, garlic, and onion seed.