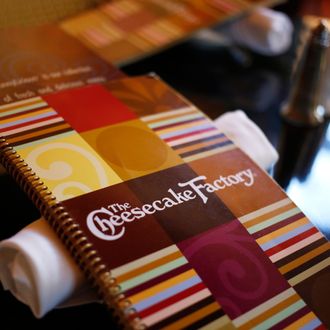 He better start resting his voice now.
Photo: Luke Sharett/Bloomberg via Getty Images
Neil Gaiman, world-famous author of American Gods and a person who calls sushi a "comfort food," has agreed to read all 8,000 pages of Cheesecake Factory's menu onstage for charity, bringing that classic work of American literature to life — Glamburgers, SkinnyLicious entrées, the Toasted Marshmallow S'mores Galore cheesecake, and all. It wasn't Gaiman's idea initially, but he's given his word to fellow writer and comedian Sara Benincasa, who asked him out of the blue, and seemingly halfway in jest, on Friday to do a dramatic reading.
Because this is the War and Peace of chain-restaurant menus, Gaiman's yes is contingent on people making good on that $500,000 contribution to a charity of his choice:
Fans are already replying to the tweet to find out where they can donate money, and Benincasa says she's on it. Half a million dollars is, quite frankly, an insane amount — insane enough that Gaiman double-checked the fundraising rules:
To go ahead and assume Cheesecake Factory contributions aren't barred, if the company is even half as generous as it is with calories on the menu, this thing is definitely going to happen.