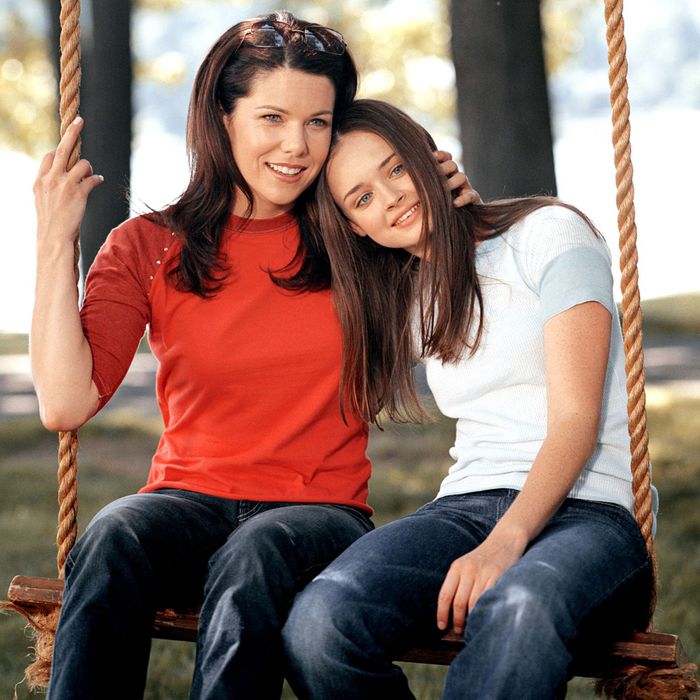 Treat your mom.
Photo: Warner Bros/courtesy Everett Collection/Everett Collection
If you are a good person, you probably live every day like it's Mother's Day. But, once a year, there comes a time to say thank you to mom for dealing with your childhood shenanigans — or thanks to the mother of your own child, who no doubt also deals with plenty of shenanigans — by taking her out to a fancy brunch or dinner. (Or, maybe both?) New York has more than enough options for you to go somewhere new every year, and many of them celebrate the holiday with special dishes, new menus, or extended hours. Here, 25 options where you can't go wrong.
Bar Boulud
Price: $34 for three courses
The Daniel Boulud restaurant's brunch is a relative steal, with dishes like pork rillettes, lobster omelette au plat, and blueberry clafoutis.
Benoit
Price: $60, or à la carte
Along with its regular dishes, New York's top bistro will serve a special three-course menu of green-pea velouté, roasted halibut with white asparagus, and a strawberry-and-rhubarb dessert.
Bouley
Price: $165 for six courses, and $120 for an optional wine pairing
If your mom is the type that digs surprise menus and upscale dining rooms, take her to David Bouley's flagship restaurant.
The Breslin
Price: À la carte
At April Bloomfield's hotel restaurant, they'll serve salmon eggs Benedict with curry-cured fish, plus a pastry basket with glazed chocolate doughnuts, chocolate-cherry scones, and more. (All moms will exit the building with a candy bag, too.)
Daniel
Price: $175 for three courses, and $95 for an optional wine pairing
The upscale spot will serve a fancy menu with wagyu-beef sirloin, Scottish langoustines, and milk-chocolate crémeux with roasted banana and caramel ice cream.
DB Bistro Moderne
Price: $59 for three courses
Brunch on pâté en croûte, lemon sole amandine with brown butter, and chocolate mille-feuille with caramelized puff pastry.
Diner
Price: À la carte
In Williamsburg, cool moms can eat smoked sturgeon with caramelized onions and toasted miche, fried polenta with brown-butter mushrooms, chocolate-walnut coffee, and more.
Fowler & Wells
Price: À la carte
At celebrity chef Tom Colicchio's latest restaurant, the brunch menu will include its foie graffle with strawberries, baked eggs with leeks and black truffle, and strawberry-rhubarb pie.
Gabriel Kreuther
Price: $135 for a three-course prix fixe, or $160 for a four-course prix fixe
In addition to its prix fixe, the midtown restaurant will offer kid-friendly dishes from 11 a.m. to 6 p.m. Those who make reservations get a 10 percent discount on chocolates from Kreuther Handcrafted Chocolate.
Hart's
Price: À la carte
From 11 a.m. to 3 p.m., the cozy restaurant will serve its new brunch menu, including seafood platters and a lamb burger, while selling bouquets of flowers right outside.
Il Buco Alimentari
Price: $50 for a three-course prix fixe, or $30 for children
The special brunch menu will feature fried artichokes with preserved lemon, poached lobster, and desserts like dark-rum cheesecake.
Kingsley
Price: $65 for a four-course prix fixe
In the East Village from noon to midnight, they'll serve house gravlax with potato galette, diver scallops with bacon, and desserts like chèvre cheesecake with lavender.
L'Amico
Price: À la carte
Along with its normal menu, the restaurant will offer specials like lobster eggs Benedict and meringue with an orange-blossom diplomat.
Lupulo
Price: $42 for a three-course meal, or à la carte
At Georges Mendes's Portuguese-style beer hall, the prix fixe will feature dishes like grilled asparagus, fava beans, and morcela sausage; salt cod scrambled with egg; and Portuguese egg-custard tarts.
Marea
Price: $75 for a three-course prix fixe
Michael White's seafood restaurant will serve dishes like grilled white asparagus, its famous fusilli with braised octopus and bone marrow, seared wild striped bass, and maple doughnuts.
Meadowsweet
Price: $45 for a two-course prix fixe
There will be baked goods, French toast, and steak-frites for brunch.
Noreetuh
Price: À la carte
The Hawaiian restaurant will serve a special salmon-teriyaki oyakodon with salmon roe.
Nom Wah Nolita
Price: À la carte
The second branch of New York's oldest dim-sum parlor will open for brunch just for the occasion, with classics like scallion pancakes alongside sausage, egg, and cheese baos.
Otway
Price: À la carte
From 11 a.m. to 3 p.m., the Clinton Hill spot will serve its new lunch menu along with lots and lots of rosé. To make it festive, a dessert-and-cheese cart featuring a special cake will patrol the room.
Paowalla
Price: À la carte
If your mom prefers her fried eggs to come with dosas, take her to Paowalla, where she can eat one of those along with lobster bucatini with coconut curry, a ghee-roast-chicken frankie, and other dishes.
Rebelle
Price: À la carte
For the oenophile mom, there's this neo-bistro. It will serve its usual brunch menu, so expect steak and eggs and cod confit with a Spanish torta, but all wines under $400 will be offered half off.
The Red Cat
Price: $45 for prix fixe
The Chelsea neighborhood spot's prix fixe will include a smoked-trout salad and soft-shell crab among its appetizers, a Spanish torta with saffron aïoli and tagliatelle with ramps for entrées, and chocolate-banana puddin' tartlet for dessert.
The Ribbon
Price: À la carte
The Bromberg brothers Upper West Side spot will offer specials like cheddar pancakes with hot chicken, and potato latkes with smoked chicken.
Salvation Burger
Price: À la carte
Like everyone else, sometimes mom just wants a burger. Maybe even a special pimento burger with a fried egg.