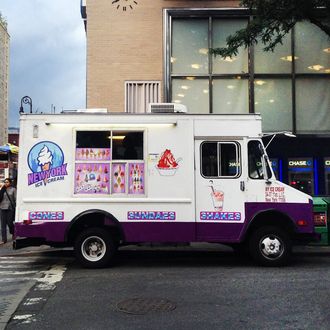 Lying in wait for Mister Softee.
Photo: Konstantin Sergeyev
Mister Softee and New York Ice Cream Company — the city's bitterest enemies, at least if you limit it to vendors cruising the streets with "watch for children" signs — are starting off the summer of 2017 right where 2016's left off. The two soft-serve foes have been pulling bats and other shenanigans on each other ever since disgruntled Mister Softee franchisee Dimitrios Tsirkos broke off and started NYICC in 2013, but the Post reports that Mister Softee is pursuing a new strategy this year that stresses brains, not brawn: It's hired a detective agency to spy on NYICC drivers, who are notorious for doing everything from decaling their trucks with "Master Softee" logos and playing their rival's trademarked jingle, to telling Mister Softee employees "there will be problems" if they venture onto their alleged turf.
"There are least five or six detectives that have worked on this case," Darrin Giglio, chief investigator for North American Investigations, tells the Post. His team trails NYICC trucks with cameras to "keep tabs" on them. Giglio, who's ex Marines and has worked with the Secret Service, says it's like being part of "a Mafia turf war." He notes that NYICC employees who realize they're being followed have actually physically harassed his team with metal pipes and the like. ("Of course, it didn't work — my guys are former detectives," he adds.) Giglio says Mister Softee drivers are afraid to enter midtown nowadays, which is prime soft-serve real estate, and claims he himself was assaulted by a NYICC driver he was trying to photograph, though he "never filed" a police report.

And honestly, this year's battle promises to be more intense than it was in previous years. Mister Softee presently has 126 truck permits, while NYICC now controls 46, up from just 16 back in 2014. For a time, NYICC was banned from operating in portions of midtown, but the Post says that order has now lapsed, too, which means with temperatures getting warmer, NYICC drivers, who say they "own midtown," are now free to remind Mister Softee's employees of this a little more directly.