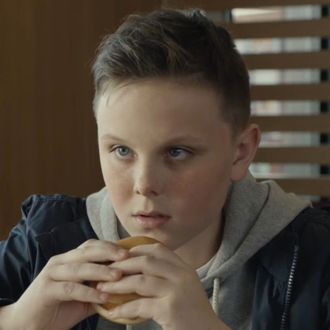 Just moments after his big epiphany.
Photo: McDonald's
McDonald's has decided to stop airing a new British TV ad that seems to insinuate a Filet-O-Fish helped a boy feel less distraught after his dad's death. The 90-second spot has been running since Friday, allowing it to accumulate a whole weekend's worth of outcries from widows and bereavement groups. For their part, reps for McDonald's U.K. claim the chain never anticipated the ad would cause "any upset," and they've put out a statement apologizing for "disappoint[ing] those people who are most important to us — our customers." They say the point was to show that McDonald's is there "both in good and difficult times."
The ad starts without much context: Just a kid digging through a box of stuff that you quickly surmise belonged, past tense, to his dad. You're then treated to a devastating litany of how little he and his father had in common — Dad's shoes were shiny (the kid rocks some gnarly Chucks). Dad was good at sports (this kid kinda stinks). Dad was popular with girls (the ladies give him eye rolls). That is, until he orders a McDonald's Filet-O-Fish sandwich. "That was your dad's favorite, too," Mom says, finally beaming at him.

A charity called Grief Encounter tells the BBC it received "countless calls" from parents saying their bereaved children didn't enjoy the memories the ad dredged up. People weren't too kind on Twitter, either, and the Advertising Standards Authority (a group that's like a U.K. industry-run version of the FCC) said it plans to "carefully assess" all the complaints it got "to see whether there are grounds to investigate":
The commercial was the work of ad agency Leo Burnett, and the chain says it's going to review the creative process to ensure that "this situation never occurs again."