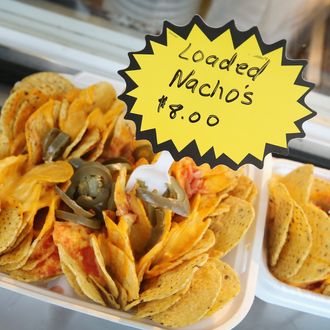 Officials say there are "still unanswered questions" about the cause.
Photo: Scott Olson/Getty Images
An outbreak of botulism — a rare disease in the year 2017 — linked to a Sacramento gas station's nacho cheese has killed a Northern California man and hospitalized at least nine others, health authorities say. It started last month after a few customers who'd eaten Valley Oak Food & Fuel's nacho-cheese sauce suddenly ended up in the ER. The store was forced to pull four batches of its sauce on May 5, and now health authorities say it's tested positive for Clostridium botulinum, a bacterium that does a lot of unpleasant things to the nervous system, causing blurry vision, slurred speech, paralysis, or even death.
The man who died, Martin Galindo, was a young father of two kids. According to a GoFundMe set up by his family, he'd been on a ventilator in the hospital for a few weeks, and eventually fell into a coma. It's unclear if his family is contemplating a lawsuit, but their crowdfunding campaign is trying to raise $80,000. Meanwhile, the partner of another sick customer, Lavinia Kelly, tells the L.A. Times they're suing the gas station for negligence. She ate the dip with a bag of Doritos at the end of April, and reportedly felt ill within hours. The next day, she started seeing double and walking with an unsteady gait.
California's Department of Public Health says it "believes there is no continuing risk to the public." Almost nobody gets botulism these days. The CDC says there are only about 20 adult cases per year, in fact. Most come from home-canned food (or prison hooch), but between 3 and 5 percent of them are fatal, even when treated with the bacterium's antitoxin. Health officials say anyone who ate the shop's nacho cheese between April 23 and May 5 should get checked out by a doctor.