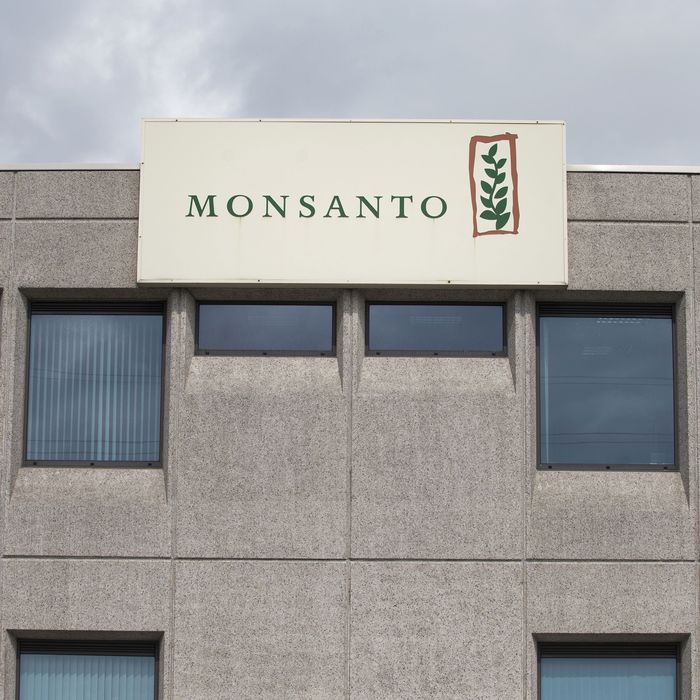 Could there be trolls hiding inside?
Photo: Jasper Juinen/Bloomberg via Getty Images
Even our agriculture wars are being waged with trolls. In the U.S. district court in San Francisco, plaintiffs in a pending lawsuit have accused Monsanto of using online trolls to counter negative posts online. The accusations were revealed after a judge ruled that pretrial documents from 50 pending lawsuits against the company could be released. The lawsuits allege that exposure to Roundup caused the plaintiffs or loved ones to developed non-Hodgkin lymphoma, while Monsanto covered up the product's risks. The risk of Roundup has been a contentious issue for a number of years, and in 2016, the FDA finally started testing food for traces of the herbicide.
In the document, the plaintiffs allege that Monsanto has an "aptly named 'Let Nothing Go' program," through which it responds to every accusation, "even Facebook comments." The company is accused of doing this through third parties with no connection to the industry, and hiring them to post pro-Monsanto comments on new articles and its Facebook posts. It's also accused of quietly backing organizations like the Genetic Literacy Project and American Council on Science and Health in the same way tobacco companies once did. Using several emails as evidence, the company has also been accused of ghostwriting studies that paint a favorable picture of its products. Earlier this year, Monsanto vice-president of global strategy Scott Partridge told Science that ghostwriting was an "unfortunate" term and "an inappropriate way to refer to the collaborative scientific engagement that went on here."