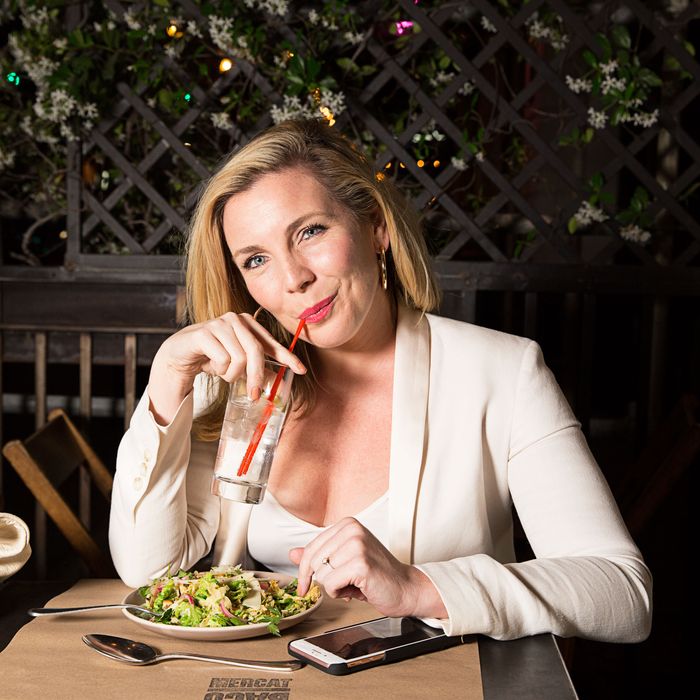 At Bäco Mercat in Los Angeles.
Photo: Bradley Meinz
June Diane Raphael is a modern-day triple threat: screenwriter (Bride Wars), actress (most recently, Netflix's Grace and Frankie), and podcast host (How Did This Get Made? with Jason Mantzoukas and her husband, Paul Scheer). She's also the mother of two children under the age of 3, which explains her recent gravitation toward grilled-cheese sandwiches (that, and Trump-induced comfort eating). This week, Raphael left her Los Angeles home to travel to D.C., where she ate at José Andrés's Zaytinya and treated herself to room-service lava cake. Read all about it in this week's Grub Street Diet.
Thursday, May 18
My oldest son wakes up at 5:45 a.m. He says he's ready to start the day. I tell him it's still night. I listen to him scream for about 15 minutes, and then I get up and immediately make a pot of Peet's Coffee.
I used to drink two cups in the morning and then fire off passionate and beautifully worded emails, write scripts, and finish a New York Times crossword. Now, I clutch my mug watching episodes of Minnie's Bow-Toons. (Not car-toons, but bow-toons. Because I guess Minnie is super into bows?)
And then I eat my breakfast. And by "my breakfast," I mean the leftovers from whatever I make for my children. Oatmeal, eggs, waffles. Here's the problem … kids' food is really good! PB&J? Yes, please! Grilled cheese? Why thank you, don't mind if I do. Plain penne pasta with butter? I'm your gal!
For lunch, I have a juice from Café Gratitude. The I Am Grace. I can only drink juices and smoothies that basically taste like milkshakes. And this fits the bill.
For dinner, I am meeting the amazing team that collaborated on the Big Hundred Instagram campaign (100 actions for the first 100 days of Trump's presidency). We are meeting to celebrate all of the unique views our Instagram feed got. I don't really know what those words mean, but mama needs a drink and an appetizer stat.
We head to Bäco Mercat. Our table of six decides we're going to eat family-style, which is fun, unless you are starving. I feel my blood sugar start to really drop like a rock, and because I want to remain the fun and positive person many of these people falsely know me as, I casually mention that the Caesar Brussels sprouts were going to be my pre-starter starter.
We eat the caramelized cauliflower, the fava fritters, the squash-blossom flatbreads, and the hamachi crudo. It's all insanely good. And I stay out too late. I will pay for it the next morning.
Friday, May 19
I wake up at an ungodly hour to head to the airport. My eating becomes very mysterious on travel days. I fill up a S'well bottle with coffee for the airport. (Damn, those bottles keep water cold and coffee hot — I don't care to understand the science behind it, I'm just so happy they exist.) I make it to the airport in time to use the bathroom and run to a Hudson's newsstand. I buy a bottle of water and a Clif Bar.
And off I go to Washington, D.C., to spend the weekend with a writer I'm collaborating with on a project. It's almost 6 p.m. when I arrive. I meet my friend at her house for dinner. She and her husband have kindly offered to cook. I've only had a Clif Bar, so again, I say a prayer that my blood sugar doesn't betray who I really am, and I show up and eat way too many of the crackers and hummus they've put out.
We sit down for dinner. They have made delicious ravioli with pesto. I will come to find out they are from the Eastern Market Grocery by their home. I eat all of my ravioli. Is there another way?
Hotel rooms are where I let my most depraved self out. I am my messiest and most glutinous inside them. I am staying at the Westin, and I order the chocolate-lava cake from room service. Room service asks if you want to pick up your order at the restaurant downstairs, or have it delivered on a tray or in a cardboard box. The prices correspond to these options, as you might think they would. I choose the cardboard box. I answer the door in my pajamas, with no bra on. I sign as quickly as possible, and eat my lava cake and watch the news.
I hear the word "impeach" on CNN. I've got a lava cake. It's not a bad night.
Saturday, May 20
For breakfast, I have coffee from the Westin. They send up a water along with the small carafe of coffee, which I appreciate. Not every hotel does this.
I hold off on food until lunch. And for lunch, we walk to Le Pain Quotidien. When I was 19 years old and living in my dorm at NYU, I wanted desperately to go there, but was too nervous to pronounce the name aloud. I order a zucchini-noodle Thai salad, which is quite good, and an Arnold Palmer, which is not. (Way too much lemonade!)
For dinner, we head to Zaytinya and it's … amazing. My only complaint is, I am an old woman and the upstairs dining room was a little loud for my taste. But when you want to eat the entire meal with no breaks, you don't really need conversation. My only regret about my meal is, I may have peaked on fried foods too early. Which I've done before. I get so excited about fries and falafel that I overdo it, and then don't have room for the more delicate items. Actually, what am I talking about? I find plenty of room.
I have the peynirli pide flatbread, with Turkish tomato sauce and halloumi cheese. I like flatbreads because they are pretty much pizzas, as far as I can tell. Plus the Ottoman-style roasted eggplants and the cauliflower. It's a tapas-type situation, which can be tricky for me.
Last time I was told it was a "tapas-type situation," I ordered everything on the menu.
Sunday, May 21
Again with the Westin coffee in the morning. This time, they forget the cream. I have a tough moment with the gentleman who delivers the coffee because he looks at me and says, "So do you want me to go back and get it?" And I say simply, "Yes."
For lunch, I have an amazing salmon salad from Sweetgreen. I order extra avocado because in these troubled times, why the fuck not?
I leave for the airport a bit early, hoping to fly standby on the 8 p.m. flight. I arrive there by 6 p.m., and I am fifth in line for a seat. I don't get on the 8 p.m., and realize I've got more time to kill for the 10 p.m. I treat myself to the United Lounge, where I have a giant, soft, hot chocolate-chip cookie. It hits the goddamn spot.
Because of the late lunch, I'm not sure what to do about dinner, since I'm not hungry yet, but I've got a five-hour flight ahead of me. I buy some trail mix and hope for the best.
The man sitting next to me on the plane takes off his shoes and almost knocks me out with the odor of his feet. I will not be able to eat for the entire flight.
Monday, May 22
Wake up with the kiddos. Because I didn't get back to the house till 2 a.m., my husband lets me sleep in (till 7, but for us, that's an act of total sacrifice). He makes me coffee, and I stumble through the day eating children's food until dinnertime.
Because my head is foggy from the time change and exhaustion, I have a Bud Light, which is my favorite. I will not apologize for this. I love Bud Light. It gets even worse, too. My favorite is Bud Light Lime. This is embarrassing. What I love about it is, it doesn't ask a lot of you, flavor-wise. If I just want to have one drink a night, a good glass of wine will make me want more. This doesn't. That's a horrible ad. And I'm going to say something controversial: I think Bud Light Lime is better than a Corona with lime in it.
We do bath time/bedtime with the kids, and then we head to dinner at Speranza with friends. I eat a giant bowl of penne checca, and it hits the goddamn spot.
Paul is definitely more of a foodie than I am. I leave all of the curating of our food experiences to him. I'm not going to research restaurants, because he's so good at it; I just sort of use him as my own Grub Street.
Tuesday, May 23
Coffee, doy. I make myself some avocado toast in the morning. I feel like a queen. I head to a table read for Grace and Frankie, and scope out the offerings by the coffee and water. Not great.
After, I head to the Coffee Bean & Tea Leaf with Brooklyn Decker, and eat some of the potato chips she's bought, and have an iced vanilla latte. Brooklyn pays for it. I'm pretty sure I've "left my wallet in the trailer" the last few times we've gone. Oh, well.
I eat an early dinner with the family; 6 p.m. is turning out to be the best time to eat dinner. And, yes, my descent into grandmotherhood is happening.
We have a simple salad with lemon vinaigrette and pumpkin seeds, and tofu Marsala, made by Paul. And a Bud Light, of course.