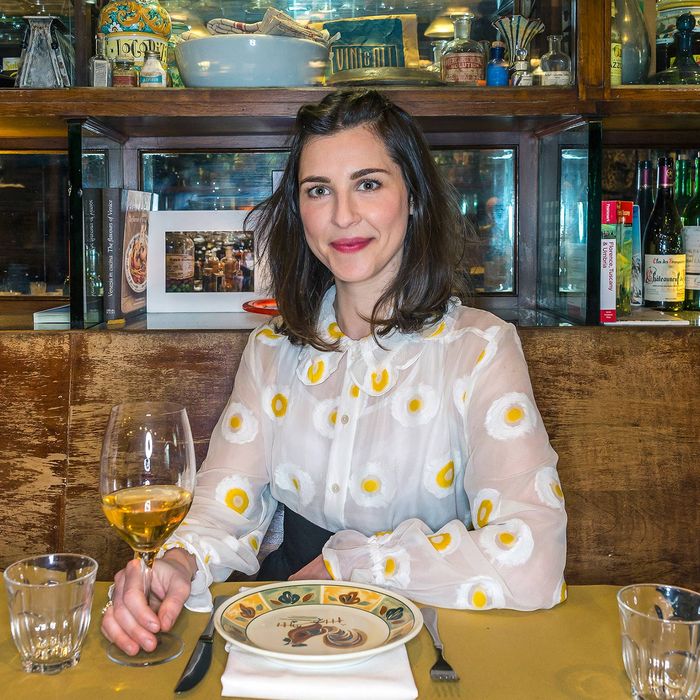 At Locanda Vini e Olii, one of her neighborhood favorites.
Photo: Noah Fecks
Artist Julia Sherman first turned her love of greens into a blog, Salad for President, and as of next week, her recipes (along with interviews with creative professionals like Laurie Anderson and Alice Waters) will be available in her debut cookbook. Sherman, who also works as Chopt's creative director, split her time between New York and Los Angeles this week — roasting carrots, simmering chicken stock for breakfast, and making good use of the thriving pea-shoot crop in her garden. Read all about it in this week's Grub Street Diet.
Thursday, May 4
I wake up early. I need caw-fee. The roast date on the fancy beans tells me to wait until next Thursday to enjoy, but whoever packaged this clearly doesn't know who they are dealing with — I rip the bag open, instead of cutting along the dotted line, and I grind the beans. This is my least favorite part of the morning. Please, someone, invent a silent coffee grinder. It's a million-dollar idea, and I don't even want a cut.
I have some sheep's-milk yogurt, strawberry-rhubarb compote, and granola for breakfast. I let Lucy, the dog, lick the bowl before I pop it into the dishwasher.
I log a couple of hours of computer time, planning upcoming events for my book tour, responding to emails, and finishing a piece I am writing. If I don't get my writing done in the morning, it's never going to happen. Suddenly, I am late for work. I throw on my clothes and wonder what wisecracks this outfit will garner from my co-workers (all in good fun), and I head to the 17th Street Chopt restaurant for a tasting. I am Chopt's creative director, and tastings are my favorite part of the week. There's always some wild new ingredient or challenge to solve, like how to prevent the vegan chicharrónes from getting soggy in the salad, or whether or not our customers are ready for the Vietnamese herb sawtooth to be the star ingredient in a dressing.
Back in Brooklyn, I do more writing before dinner. Angela Dimayuga and I have a date tonight. We are calling it a business meeting, so we have to go to just the right place. Both shamefully picky, we spend all afternoon texting, unable to decide where to eat until the very last minute. She finally suggests Ootoya, a set-menu Japanese joint on 18th Street that is apparently a chain like Denny's in Japan. I really don't eat out often, so when I do, I have to make it count. I read Angela's book proposal on my phone on the train ride to the restaurant, and I'm antsy to get into it with her over dinner.
We sit at the bar and order pretty much one of everything: chirashi bowl, grilled mackerel with pickled veggies, and chawanmushi (a silky egg custard served in a tiny little, covered bowl). There's an unfamiliar gelée over the top. (I say that in French to make it sound less gross; it was slimy, but definitely not gross.) Angela explains that they make these ahead of time and keep them in a warming oven. The gelée prevents a skin from forming over the surface as it sits. Genius. This is my new favorite spot. (Thanks, Angela!) We take the train home together and plan to work on a Fuck Brunch event (it's a hotel-buffet-breakfast theme).
Friday, May 5
At 7 a.m., Lucy wakes me by licking my face, ear to ear, chin to forehead, and I know that means I have to take her to the park. I make a smoothie to take on the road — Seed + Mill tahini, frozen banana, ice, hemp seeds, and raw cacao nibs tossed in at the end. I add a teaspoon of Sun Potion anandamide powder, which is mostly cacao and ashwagandha. I have no idea what ashwagandha is supposed to do for me, but Sabrina De Sousa told me to buy it last time I was at Dimes Deli, so I did. It's delicious, and makes me feel better about eating chocolate for breakfast. Lucy and I walk to Fort Greene Park, while I listen to podcasts. This is my version of a meditation regimen, until I am mature enough to sit still and breathe.
Back from the park, I have the day to put my life back together after my book launch last week. The party was at my local Key Foods. I worked with Chopt to turn it into a Supermarket Sweep–style food drive to benefit Wellness in the Schools. Having a party in a supermarket means bringing everything into the store for the night, and all that décor, furniture, and catering equipment ended up in my bedroom post-party. They have remained there ever since.
I have a glut of leftover microgreens from the party to eat, and about six pounds of fennel that I need to cook today (high-class problems). I am going to cook the fennel down until it's super soft and sooo sweet. I break down each bulb, sweating Vidalia onions with a little minced anchovy, salt, garlic, and marjoram. I toss in some red-chile flakes, and add the fennel and a glug-glug-glug of olive oil. When the fennel is soft, I add fancy tomato paste, a handful of golden raisins, and a little preserved lemon. I set it to low heat and just let it do its thing, feeling pleased with myself for avoiding food waste, something that drives me out of my gourd.
I work from a little guest room off the garden, so I go down to my desk, and I churn out a bevy of over-caffeinated emails. I have a Skype call with my friend Clara, the designer of a brand called Batabasta in Barcelona. We are developing plans for new Chopt uniforms at the moment. I try to explain to her why we need to steer clear of phallic vegetables in these prints — she seems to exclusively want to draw Japanese eggplant, cucumbers, and zucchini. She honestly doesn't get it. Bless her heart.
Suddenly, it's lunchtime. Trying to make a dent in my leftovers, I pull out a large salad bowl, and I trim approximately five to six servings of living shoots. I toss them in. I squeeze lemon juice on top; coat them in some really fancy olive oil; season with some brand-new Bitterman flaky sea salt; and grate a bunch of Brabander, crystal-like-hard goat cheese on top. Bam! That's one perfect salad. I grab a fork, but end up eating the whole thing with my hands, while reading the New York Times.
My friend Alexis Rose and her new boyfriend, a soon-to-be OB-GYN, are coming over for dinner. I am obviously going to probe him with questions about childbirth and vaginas all night, so I know I have to offer something in return. I roast some French radishes in butter, adding their greens at the end to crisp. I make roasted-beet salad, and top it with a lemony, chunky pepita dukkah, and date dressing that I have been making in large batches and eating constantly (recipe is on my blog). I love this one because you can make the dry spice-and-seed mix, store it for about a month, and then just add oil, lemon, and minced dates when it's salad time. I serve some coconut turmeric rice with fried mustard seeds on the side. The meal is a bit all over the place, but that's what happens when you are trying to clear out a post-party fridge.
I have a little piece of Chocolove XOXOX chocolate before going to bed (okay, more than a little piece). I am loyal to this brand, cheap as it is, and will never tire of the chilies-and-cherries flavor. I pop a melatonin to balance it out. I have to get up at the crack of dawn to go to L.A., and I haven't packed!
Saturday, May 6
My husband and I are closing on a house in Pasadena today, and I am determined to have our first night as California homeowners be spent together. I bring one change of clothes, towels, and bedding. Unhappy about the idea of an empty kitchen, I run upstairs and grab a chef's knife, an extra cutting board, a spatula, two juice glasses, and a small cast-iron pan at the last minute. I am turning into a caricature of myself.
Delta actually started serving food again, but when I see the menu, I skip it. Whose idea was it to serve smoked-turkey sandwiches with cinnamon cream cheese? Delta! Stop it right now! Luckily, I brought an apple and two hard-boiled eggs. I furtively peel and eat the eggs with a pinch of chile salt now stuck in the corners of the Ziploc bag.
I make my way across town to Pasadena and open the door to our house. I call it home for the very first time. It's a mess inside, but the sun is shining. I am happy and nervous to be here. Adam and I celebrate by driving over to get tacos in a strip mall in Highland Park. Overexcited, I ask for carnitas, before I remember that I recently swore off them. On my last trip to Mexico, I learned how to make carnitas with a street vendor on the side of the road. We spent six hours stirring a cauldron of bubbling pork fat by the light of a single headlamp. The result, eaten as the sun came up, was crazy delicious, but I am convinced that just witnessing the process added permanent blockage to my arteries.
Anyway, this is a special occasion, and we only have five minutes to eat. I load up at the condiment station (I call this a Mexican salad bar) — charred jalapeño, salsas, radishes, cilantro, and escabeche — and I enjoy the tacos like they are my last meal. Adam gets an horchata for the road. On our way to his office, we stop for a fancy coffee at Paramount Coffee. I get two shots of espresso over ice and pour them into his half-full cup of horchata. And just like that, he falls in love with me all over again.
After work, we stop at a health-food store and grab some basics for breakfast. I get some yogurt, granola, and fresh strawberries. I find store-bought granola way too sweet, so I make my own mix of puffed quinoa, sesame granola, and the goji-berry, antioxidant trail mix. (Yup, I am that person.)
That night, we are too exhausted to even consider eating in a restaurant and have no kitchen utensils to cook with, so we get takeout from Zankou Chicken, an Armenian rotisserie concept that I am secretly craving at any given moment of any given day. This is a treat, since I can count the number of times we have gotten takeout in our ten-year relationship on one hand. I get a quarter rotisserie chicken with hummus, pita, pickled radish, and spicy peppers.
Back at the house, we make a big fire. We set up our mattress in the middle of the empty living room to stay warm, and eat dinner in bed, since we don't have a single piece of furniture yet. It's funny and romantic, and yet all I can think about are my plans to gut-renovate the kitchen.
Sunday, May 7
The next morning, we wake up early, still on New York time. I am surrounded by trees. At first, I have no idea where I am, but when I realize, I wonder if we should keep our bed in the living room forever.
We eat yogurt and that "custom blend" granola. We go to the local café, and I try to forgo coffee and order a matcha. I gulp down the matcha and get a cappuccino to go. We drive out to the Pasadena farmers' market, going through the motions of what will one day be a normal Saturday routine in a new place. Since we are returning to New York tomorrow, I don't really need to go shopping, but Adam indulges me, as usual, and agrees to have some friends over that night to christen the place.
Accounting for the free space in my suitcase where bedding once was, I figure I can fit in a decent haul of citrus and avocados. I buy 20 avocados, a huge bag of Pixie tangerines, some Meyer lemons, and a quart of kumquats. I pick up some of the local Medjool dates. I've never found anything that comes close to the dates you get at the California markets, so I always bring these back with me to New York.
We scour the area for estate sales with little luck, laughing at our purchases: one colander, one plastic silverware organizer (we have no silverware), and a pair of hand-embellished oven mitts. We spend the rest of the day tinkering around the house, changing light bulbs to feel productive.
That night, we have friends over for Champagne and snacks. I make a super-easy dish from my cookbook: avocados stuffed with Meyer-lemon gremolata. I find a stash of paper napkins and plastic spoons in the cupboard, and I serve the avocados as halves, so we don't even need plates. We put out some cheese and crackers. Again, we all end up sitting on the mattress on the floor, crumbs in the bed for sure.
Monday, May 8
Another flight — that was really fast. I pack some cheese and crackers for the plane, a bag of strawberries, and these weird Korean seaweed snacks that I love to death. We drive to the airport before the sun rises.
On the plane, I get straight to work, answering emails and ironing out the details for my Food Book Fair breakfast at the Ace this coming Sunday. I will be serving a menu from the book. I am working with Good Water Farms to make gift boxes of its magic compost, full of germinated seeds, so people can take it home, add water, and see what grows. You would be amazed by how many emails it takes to coordinate the making and transportation of a box of dirt.
Back at home, I put on a face mask I bought on a recent layover in Seoul, while I take a conference call, and I pray that the computer camera doesn't turn on and expose my midday beauty regimen. I am grateful for these days when I don't have to change out of my pajamas until 5 p.m. I have some poached chicken, left over from when I made chicken stock — and I eat that with sorrel; arugula; tons of herbs; and purple, flowering chives. The salad practically makes itself in this house.
I need to do a little recipe testing. I am working on a collaboration with Farm to People, a produce-delivery service that will be featuring some recipes from my book. They sent me these fascinating raw Sevillano olives from California to try, a different varietal than the Castelvetrano olives I call for in my book, so I have to make sure they work. I heat some citrus rind, black peppercorns, bay leaf, and tarragon in a small saucepan of olive-and-grape-seed oil. I add the olives, jar them, and set them aside to marinate.
Tonight, I have a much-anticipated event. Editor Christine Muhlke's annual clothing swap. Her friends are much more fab than I am, so I am sure to come away with some choice finds. I stop to buy her a bottle of dry Muscadet. She set up a rack in her West Village apartment, and we eat burgers, veggies, and some kind of brown-rice dish ordered in from Superiority Burger. We finish it all off with black-sesame gelato and rhubarb sorbet, all of us wearing one another's clothing by this point. Completely made over by genius stylist Laura Ferrara (she only donates clothes, never seems to take), I am far fuller and better dressed than when I arrived.
Tuesday, May 9
Lucy is sleeping in, but the sound of a raw egg cracking into her metal bowl brings her prancing into the kitchen. She does a victory lap around the kitchen island. I like feeding her more than I like feeding myself, but I don't prepare food especially for the dog. Instead, I use her as a living composter, a happy receptacle for high-quality kitchen scraps. Today, I am giving her cooked carrots and kombu, strained from a big pot of stock I set to simmer overnight. No complaints.
I strain the stock, feeling accomplished, as it's not even 8 a.m. My friend Gillian once told me our place always smelled like chicken soup. At first, I was offended — it made me think of how the hallways in prewar Upper East Side apartment buildings always have a lingering smell, like brisket meets school cafeteria. But I've grown to kind of like the image of my house with something always simmering on the stove.
Chicken stock is the foundation of my favorite breakfast. I add about two cups to a saucepan, with a tablespoon of white miso and a Thai bird chile. When that's hot, I crack an egg right into the pot to poach. I remove it with a slotted spoon and transfer it into a bowl with a handful of mizuna. I toss some leftover brown rice into the soup and pour it all over the egg and greens. I grab a few chives from the deck, snip them on top, and that's breakfast. I leave the ingredients portioned out for my husband to do the same when he gets up (our version of a Blue Apron). I take my breakfast into the garden, stealing sips and bites between light repotting efforts, and checking on the progress of my first sprouting seeds. I am pretty sure my neighbors are witness to my morning rituals, so let me take this as an opportunity to formally apologize: I am not Grey Gardens cuckoo! I just love to garden in my pj's and eat standing up.
I work with my assistant on some edits of that carnitas post, parsing through the transcript and color-correcting the photos. I pick out a few salads from my book for a piece on Vogue.com, and think of some interesting facts to share about each one.
Tonight is my husband's last night in New York for three weeks. He will be heading to Durham, North Carolina, for his music festival, Moogfest. I know he will be eating pizza and veggie burgers as soon as he is out of my sight, so I pull together a nice meal. I slice some fat asparagus on the bias and shell a bag of peas. I sauté them in ghee and olive oil, adding a little chicken stock and vermouth to deglaze the pan. I sprinkle the whole mess with chile flakes and sea salt, and finish it off with some chopped toasted almonds and fresh mint. I roast some ramps and sear off some wild coho salmon from my buddies at Sea to Table. We have some more pea shoots, so I toss those with shaved ricotta salata, lemon, and olive oil. Dinner is served.