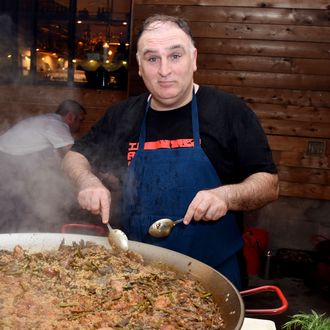 Plenty of room for giant paella.
Photo: Vivien Killilea/Getty Images for PRE Brands
Apparently absolutely bored now that the sitting U.S. president is out of his hair, José Andrés has decided to fill that free time by giving New York City an enormous Spanish food hall. Per the New York Post, he's signed a deal for the 35,000-square-foot space at Hudson Yards that initially was Danny Meyer's baby.
The rumors were always that Andrés was joining Thomas Keller, Costas Spiliadis, and the rest of the site's all-star lineup in some capacity. It looks like that will be to create "a Spanish-style Eataly" that the Post's insiders ambitiously sell as "more than a food hall." The story says Andrés will fill the expanse with plenty of Spanish tapas, wine bars (plural), and at least one "slightly formal" concept. Expect him to also bring Spanish chef and artisan friends over to collaborate. It will occupy 10 Hudson Yards, the tallest building finished so far in the development project, and the space could open as early as next year, which might cause minor panic for the team behind Anthony Bourdain's market up the road at Pier 57.