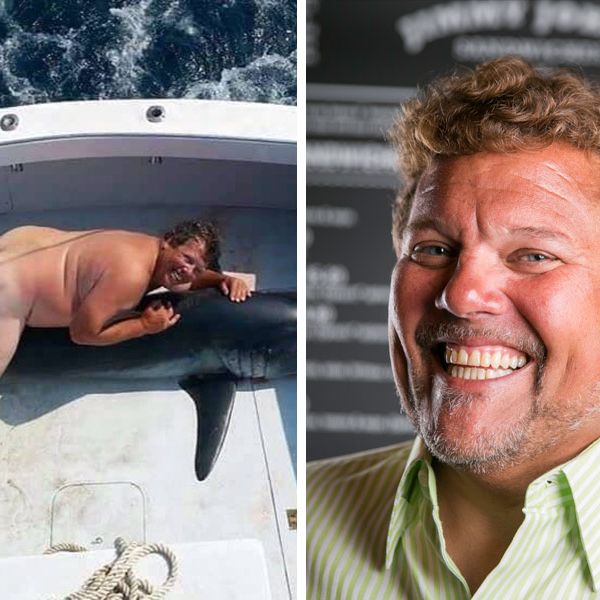 Maybe Jimmy John is being framed?
Photo: Anneka Svenska/Twitter; Jimmy John's
Today in Things Jimmy John's Never Imagined It Would Officially Deny in a Press Statement: There's a picture going around the internet this week of an angler posing buck naked on top of a shark he's just killed. Your guess why is as good as any, but the image went viral after conservationist Anneka Svenska tweeted out a call to locate this mystery man and ask him what's funny about "humiliating slaughtered animals."

Deadspin, which is doing its part to help, asked the sandwich chain if by chance the naked man is its founder Jimmy John Liautaud. As patently absurd as that sounds, Liautaud is a big-game hunter who's been photographed on a number of occasions with his trophy kills. He also looks a hilariously lot like the grinning shark-hugger in question:

Jimmy John's didn't so much release a full statement per se, as it did deny the allegation and move on. A spokesperson was paraphrased as saying that the man in the photo "was absolutely not Liautaud, and had nothing to do with Jimmy John's." Deadspin seems convinced, and notes that as far as it's concerned, the search continues.

Update, May 12, 2017, at 4:25 p.m.: David Pingalore, a sports anchor at WKMG in Orlando, says he can prove the mystery man is an ex-NYPD officer named "Shawn," not Jimmy John Liautaud, despite the indisputably uncanny resemblance. Pingalore says a friend of Shawn's passed along additional pictures, but he needs permission to say more because the man now "fears for his life."