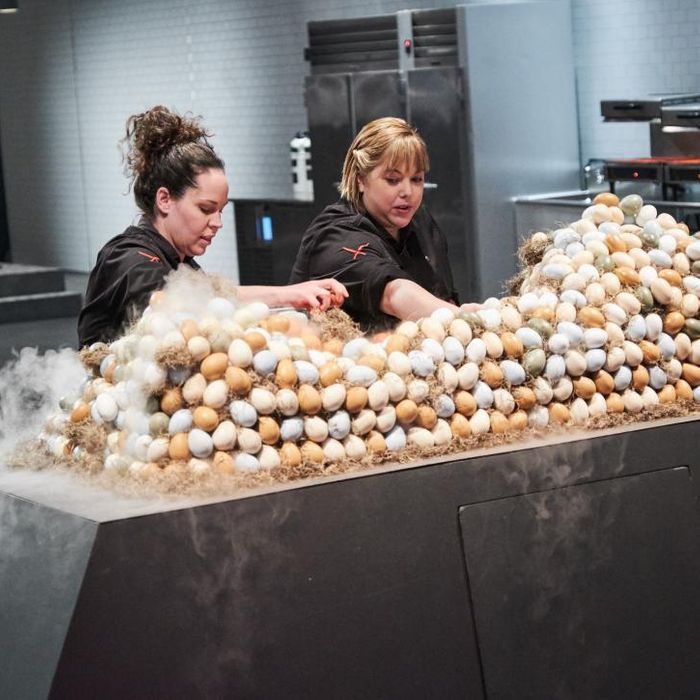 Eggs!
Photo: Eddy Chen/Food Network
Dun dun dun. Did you hear that? It is the sound of tension rising. Chef Izard is here tonight for one reason, and one reason only: revenge. Last week, chef Dady sentenced her to face off against the fallen chef Nakajima, and though she prevailed, she has not forgotten. "Chef Dady put me in that position," she says. (The music swells.) "I'm going to go kick some ass." (The gong gongs.) Tonight, there will be blood.
"Some people fear change," menaces chairman Brown, bathed in the fiery light of hell. "But I think change should be embraced." As a viewer, I'm unconvinced. Like, usually I buy whole-wheat sourdough, but today I bought regular sourdough, and I have been regretting it for hours now. Probably, I will regret it all week. As far as "change" goes in regard to the show: The twist in this episode is that one of the three remaining chefs will be eliminated immediately after the Chairman's Challenge. I rest my case.
The theme of tonight's challenge is simplicity! As a great man who was Leonardo da Vinci once said, "Simplicity is the ultimate sophistication." With this revelation, Alton Brown reveals a trio of empty wire shopping baskets, which the chefs will then get to fill with any five ingredients of their choice. Then, they'll create a sophisticated dish using only those five ingredients. What could be simpler?
Chef Grueneberg is pumped, because Italian food is "all about simplicity," and she is all about Italian food. But when she hits the pantry, she grabs eggs, flour, milk, butter, lemon, and Parmesan — which, you might notice, is six ingredients. Not so simple after all, is it, chef Grueneberg? She ends up ditching the butter and gets to work on some pasta. Chef Dady, too, is leaning into his strengths, which are modern and American in nature, so he's going for a classic salmon-and-asparagus combo inspired by the state of California, and then rounding it out with salmon eggs, regular eggs, and lemon. Chef Izard, on the other hand, is taking a different tact, which is to make something she has never made before, since that's what real Iron Chefs do. It's chawanmushi, or savory Japanese egg custard, and she's going to serve it with lumps of crabmeat. Live on the edge, that's what I say!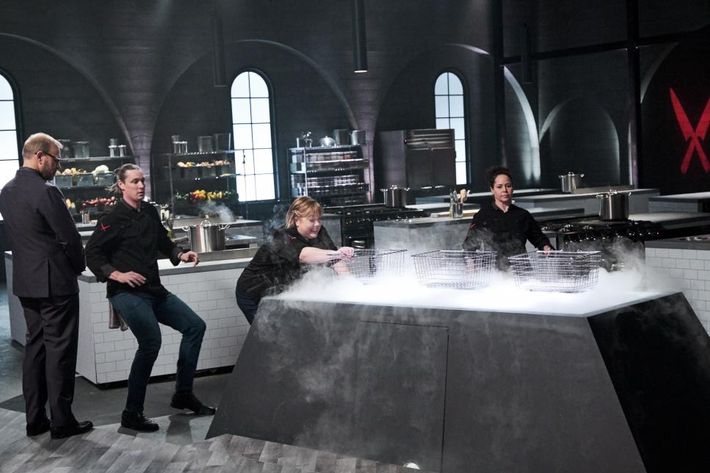 Here's where things get really crazy. Since poor chef Grueneberg sacrificed her butter so her Parmesan might live, she's making fresh ricotta expressly so that she can use the whey in its place. "No … whey!" gasps Alton Brown, who is very intrigued. Yes. Yes, whey. The other, more pressing issue is that chef Izard's experimental custards aren't setting, which is the one thing custards really have to do. She keeps opening the potlid to check on them, that's the problem. Impatience will be the death of us all.
Whose cuisine reigns supreme? First up: chef Izard and her chawanmushi topped with zesty crab salad, sabayon, and a quick meringue. It is perfect, it turns out! If Alton has a quibble, it's that the sabayon wasn't quite as acidic as you might want from a sabayon, but "the jiggle was just right." When he leaves, she tastes it, too, and humbly agrees that it is great. I also agree, and look forward to her becoming an Iron Chef.
The other two dishes are notably less successful. Chef Grueneberg's pasta is delicious, obviously, that's a given, but Alton Brown will never understand why she didn't use egg yolks to make a carbonara-type sauce. It is impossible to truly know another person. Also, it's too salty. Meanwhile, the smoked-salmon portion of chef Dady's one-two, asparagus-salmon punch gets the chairman's blessing — "I believe this salmon was born to be smoked" — but the dish just needed more lemon zest in the sauce to really bring it together, you know?
It is time for the moment of truth. Now that he has stared deep into the chefs' culinary souls, Alton Brown is ready to swiftly and unceremoniously eliminate one of them. That one is chef Dady. Some things cannot be forgiven, and underutilized lemon zest is one of them. "I wanted to be the first Iron Chef from Texas," chef Dady explains sadly. "I hate losing. I hate it. It's the worst."
Chef Izard was the winner (obviously), and the generally underestimated chef Grueneberg was not the loser, so the two chefs from Chicago are moving on together to the final Secret Ingredient Challenge, featuring … eggs. Brown eggs and white eggs and duck eggs and quail eggs and emu eggs, which are dark blue-green and very unctuous. Arguably, it might have been better for chef Izard had she not just made an egg dish, but then, isn't hindsight always 20/20? For a change of pace, chef Grueneberg will make pasta.
With 60 minutes on the clock, both chefs begin separating bowls and bowls of eggs, which goes on for a very long time. There are many eggs. Many must be separated. "The hardest part is going to be separating all the eggs," chef Grueneberg says, while separating eggs.
Chef Grueneberg was really hoping to do a giant raviolo filled with a single emu-egg yolk, but, as she is bereft to discover, all the emu-egg yolks are broken. There are no local emus, that's the problem. She will have to settle for duck. Also, she is working on meringue to go with her dessert, which is a coincidence, because chef Izard is also working on meringue to go with her dessert.
"I'm nervous," the chairman murmurs, as the clock ticks down and the time to ratchet up the tension arrives. Usually, they'd be plating by now. Why isn't anyone plating? Luckily, they do plate, eventually, and here is what they made.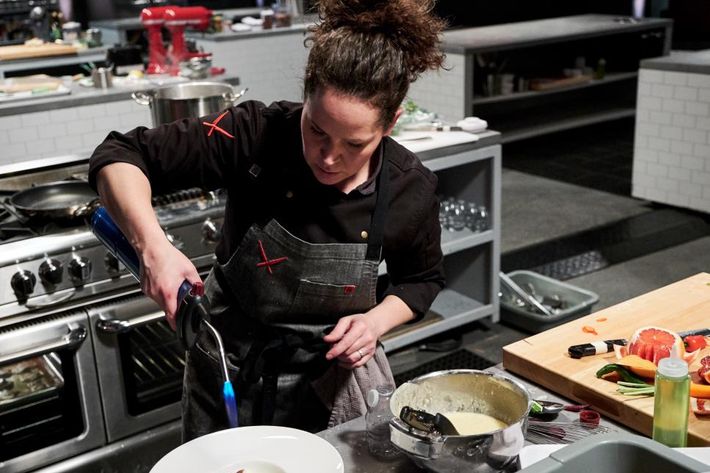 Chef Grueneberg: Roman stracciatella with porcini mushrooms; duck-egg raviolo with pesto, very (very) loosely inspired by childhood classic Green Eggs and Ham; and green-cardamom ice cream served with the aforementioned meringue.
Chef Izard: fried-quail-egg salad with blueberry nuoc cham; okonomiyaki with duck egg, cabbage, and nori, and topped with a different duck egg; for dessert, it's yuzu lemon curd with two meringues ("burnt" and cocoa).
So who will it be? That is up to tonight's judges, official celebrity chef Ching-He Huang, and licensed Iron Chef Alex Guarnaschelli. It is a roller coaster from the get-go: Alex feels chef Grueneberg's stracciatella had an "Iron Chef–like texture" (point), but chef Ching objects to the lack of swirly eggy bits, which are essential to the integrity of any egg-drop soup (counterpoint). On the other hand, the raviolo is an unequivocal delight. "Your use of the egg here is beyond reproach," declares Alex. "I mean, this is like a mermaid on a couch. It really is." The highest praise there is! The twist is that the judges may like the cardamom ice cream even better.
Chef Izard is up next, and her meal gets off to a rocky start: It's not that there's anything objectively wrong with her fried-egg salad, it's just that Alex was hoping for "a little more of an exploration of the egg." The egg feels like it was at a "vegetable party," when really, the vegetables should have been at an egg party. I don't know what kind of parties Alex Guarnaschelli goes to, but I would like to be invited. Anyway, it's all uphill from there: Alex loves the okonomiyaki, as does Ching — "I just can't stop eating it!" — and they agree that the yuzu lemon curd with assorted meringues was "technically, a flawless use of egg."
"I'm a little worried," says chef Izard, post-tasting. Oh, I am worried, too! Ching-He Huang is blown away by chef Izard. Alex Guarnaschelli is taken with chef Grueneberg's eggy sensibility. Could there be an upset? Nope! Chef Izard is the decisive winner, with 29/40 points to chef Grueneberg's 24/40, even if her raviolo was like a mermaid on a couch. "Even though I didn't win, I cooked my ass off," says chef Grueneberg, a ray of sunshine, even with her red-rimmed eyes. "It's okay, because … there's always tomorrow."
Alas, chef Grueneberg, there is no tomorrow, as far as this show goes. Only chef Izard remains, which means she will now face off against a small army of preexisting Iron Chefs. As they say, it's time for the real Gauntlet. Will chef Izard succeed, or will the Bobby Flays of the world best her, and retroactively render this entire exercise meaningless? We'll be here next week to find out!