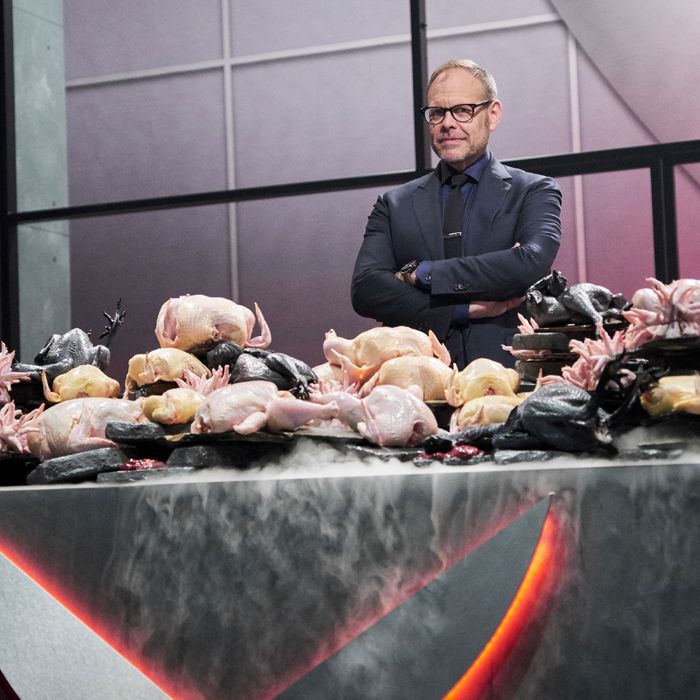 Salmonella alert!
Photo: Eddy Chen/Food Network
In the immortal words of chef Izard, "The gauntlet's getting real." Before, there were five chefs, and now there are four, and by the time the evening is over, there will be only three. "I'm feeling the pressure," says chef Izard. That makes two of us, chef.
Tonight finds chairman Brown in a contemplative mood. "Finding something new out of something old is a chef's unrelenting mission, in a way," he muses, before revealing the theme of the night's first challenge: classic combinations! Each chef, he explains, will get a classic ingredient combo — sour cream and onions, lime and coconut, honey and mustard, or peanut butter and chocolate — which they will have to showcase, but also completely reinvent. But who will get which combo, you may be wondering? Well! Alton Brown is glad you asked. It's going to be very democratic, he says, by which he means they're going to draw numbered cards. Just like the Founding Fathers imagined!
Chef Dady is really angling for the coconut-lime combo, but — the tragedy of democracy! — he's stuck picking last, so he is very nervous that someone will steal the pairing of his dreams. Unlike real democracy, though, everything works out great for everyone: Chef Nakajima gets first pick and goes for the honey and mustard; chef Grueneberg, Queen of Pasta, draws second and makes a beeline for the sour cream and onions; chef Izard takes the peanut butter and chocolate to execute her vision for peanut-butter-chocolate Korean short ribs — I will take her word for it — leaving chef Dady with his beloved coconut limes. It is rare to see so many people happy at once.
With 30 minutes on the clock, the chefs get to work, and chairman Brown presses buttons on his multiple computers. "Here's the problem: They have to respect the combination, but they also have to elevate it," he says, peering out from behind many screens.
Speaking of bold innovation, chef Dady is hard at work on his radical idea to use lime and coconut to make a Thai red curry. "Is that going to be a combo that simply reminds me of a combo I've had before, or is there any re-imagination here?" wonders chairman Brown. "I think you're going to love it," heaves chef Dady. One might note that is not an answer to the question.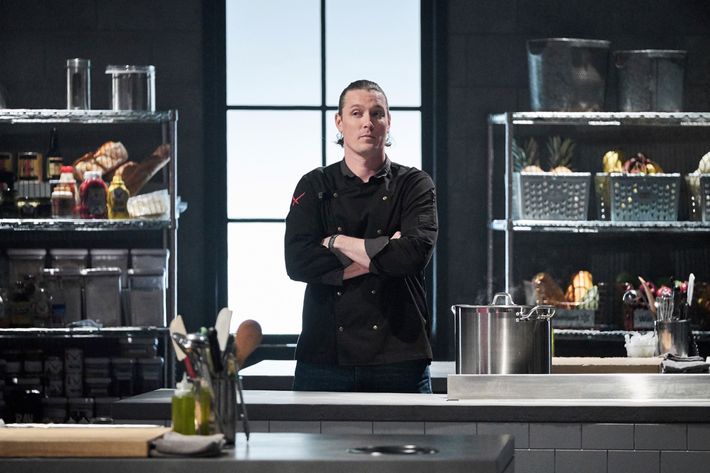 The clock, it is ticking! The problems, they are mounting! Chef Nakajima thinks he has added too much mustard to his Sichuan honey-mustard sauce and is compensating with honey. Chef Dady has realized there is nothing particularly original about coconut curry and is frantically trying to innovate. He will make a coconut foam! No, he will make a coconut ice! The cold of the ice will balance the heat of the curry! It's brilliant! (Is it brilliant?)
The verdict: It is brilliant! Despite it being, at its core, a scallop and red curry served in half a coconut — fun! — Alton Brown loves it, especially the cooling coconut-lime ice. "This is a really, really smart pairing," he declares, as chef Dady breathes deeply. As for the rest: an impressive effort all around, I think! Alton Brown does not agree. He rather likes chef Grueneberg's žlikrofi, especially the sauce and the filling, but the problem is that the saltiness of the bottarga overpowers the sour cream. "I should have left the bottarga off," chef Grueneberg says, hanging her head. We've all been there! The chairman deems chef Izard's Korean short ribs with chocolate sauce and peanut caramel inadequately chocolaty, despite being drenched in chocolate, and he finds chef Nakajima's honey-mustard Sichuan shrimp not mustardy enough.
Surprise! The winner is chef Dady, for his innovations in coconut. I am happy for him. I relate to his stress level. The loser, alas, is again chef Nakajima, for his overwhelming lack of mustard. The follies of youth! "I'm starting to get a little exhausted," he laughs, affably facing down his third Secret Ingredient Challenge. "It's starting to become a routine."
In keeping with the ancient tradition we started four weeks ago, victorious chef Dady gets to pick the chef who will duke it out with chef Nakajima for the honor of not immediately going home. After careful consideration, he woefully sentences chef Izard to battle. Sometimes, I feel like I am the only one taken with her chocolate short ribs.
For their mutual chance at redemption, the chefs will make three courses using tonight's secret ingredient, "which is … CHICKEN!!" roars Alton Brown, revealing a truly horrifying display of chicken. There are black Silkies, Cornish game hens, capons and livers and hearts, and surreal bouquets of chicken feet. "I feel like I have a slight advantage with chicken," chef Izard explains. "It's like a blank canvas." She will be the Pollock of avian proteins; she will show the judges something they have never seen a chicken do before.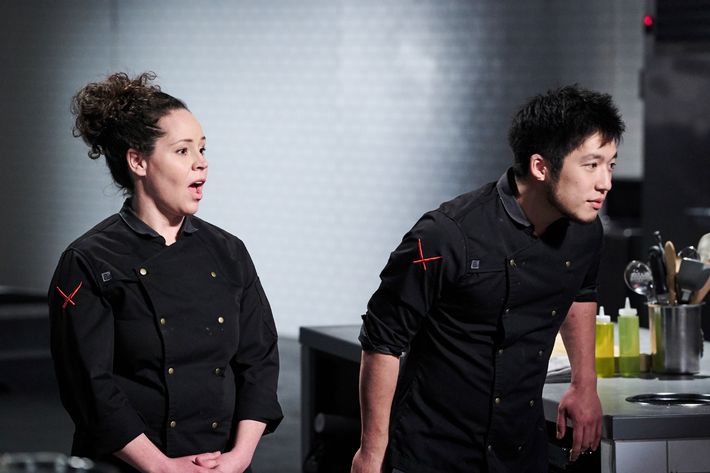 Have you ever seen dessert chicken potpie? Aha! Chef Izard didn't think so! She hasn't, either, to be honest, but it's going to be great, maybe! Also, she's frying up some dim-sum-style chicken feet, and doing something involving livers. "I feel like time's just going faster than I thought it was going to!" she mumbles, kneading chicken stock into pie dough, as one does. "I feel kind of nauseous."
Chef Nakajima is going a more conventional route, which is to say that he is not making dessert chicken potpie, whatever that is. Instead, he's grilling some chicken gizzards, yakitori-style, which he'll garnish with pickled lotus root; and mincing chicken chunks to make a meatball, which he'll serve swimming in morel dashi. Also, he is pickling the black Silkie thigh meat for a moody twist on chicken salad.
An update on the dessert chicken potpie: It goes with liver ice cream. I will let you think about that. (Apparently, it is very creamy.)
At the end of the hour, chef Izard is not at all confident about her prospects for the future. "I'm just going to go home," she says, frantically drizzling carrot sauce atop her liver ice cream, as chef Nakajima arranges tiny greens with tweezers. And time!
Their fate is in the hands of this week's judges: designated Iron Chef Cat Cora, and culinary scientist and author Ali Bouzari. Because of his familiarity with this situation, chef Nakajima's up first, leading with his gizzard yakitori with pickled lotus root. Put your best gizzard forward, that's what I say! Everyone likes it. The judges are also blown away by his Silkie-chicken salad. "I really am loving this!" enthuses Cat Cora. "Really, really love the texture!" agrees Ali Bouzari. What they cannot resolve are their feelings about the chicken meatballs in dashi: On the one hand, Ali says the morel dashi was brilliant. On the other hand, Cat Cora feels the meatballs were unforgivably dense. It is hard to know what to think anymore!
For her first offering, chef Izard serves dim-sum-style chicken feet, which Cat Cora feels are a "bold choice," on account of how they are the feet of chickens. The flavor is good; the presentation is boring. Onward! Chef Izard's second dish, Kou Shui Sichuan chicken thighs, is not particularly inventive, Ali says, but Cat would totally pay for these thighs in a restaurant. Who cares, though, because it's time for the moment we have all been waiting for: dessert chicken potpie with liver ice cream and carrot cream. Is it … good? It's good! In fact, they love it. It is everything one could hope for in a dessert chicken potpie with liver ice cream, and then so much more.
In the end, the winner is clear: Chef Nakajima gets 24/40 points. Chef Izard and her dessert livers get a whopping 33/40. After rising from the ashes twice before, chef Nakajima is finally defeated. But what a battle he has fought! "It's been amazing, just being part of this competition," he reflects. "I learned a lot about myself, as a person, as a chef, and I'm proud to go home with my head held high." And with that, chef Nakajima is swallowed by the iron curtain. Justice is painful, and yet, much like liver ice cream, justice has also been served.