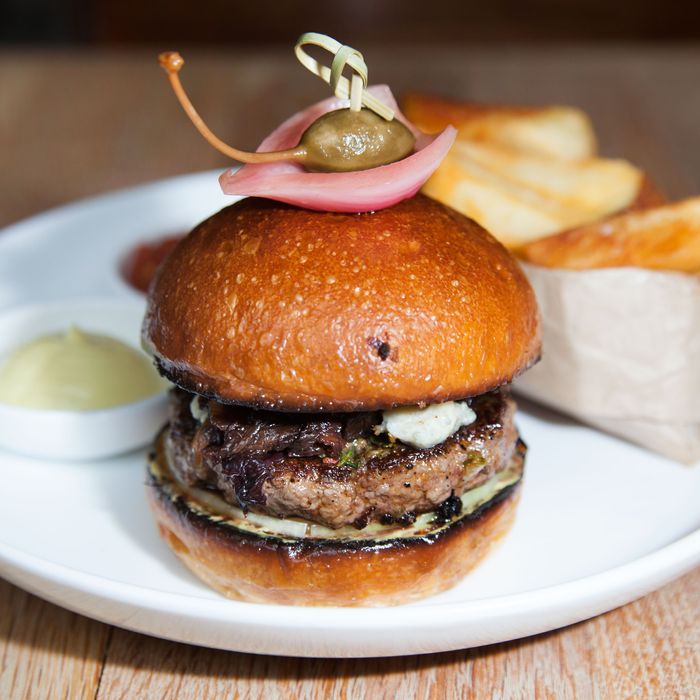 There's fish sauce, Gorgonzola, and radicchio on this burger, and it works!
Photo: Konstantin Sergeyev
Ignacio Mattos and his lieutenant, Anthony Coffey, have just expanded their lunch service to five days a week at Café Altro Paradiso, and to mark the occasion, they've added a burger. Ordinarily, this would not be a stop-the-presses moment. After all, burgers on lunch menus are a dime a dozen these days; a burgerless lunch menu, in fact, is a rare sight, like spotting a coyote in Central Park. But this is Ignacio Mattos we're talking about, the man who puts sunchoke chips in beef tartares and pairs dry-aged steaks with dehydrated beets. So if you were expecting Kraft Singles and Pat LaFrieda patties on Martin's potato rolls, you might be disappointed.
On the other hand, if you're thinking five or so fatty ounces of loosely packed house-ground beef (a blend of cuts, skirt steak and short rib among them) that gets nicely crusted while being basted, as it sizzles on the plancha with a heady mix of fish sauce, chile oil, and rosemary, then you, like us, will be delighted. In keeping with the Italian direction of the restaurant, the Café Altro burger comes on a mayo-griddled brioche bun from Saraghina Bakery. The cheese is Gorgonzola. There's a toothpicked pickled onion and caper berry holding the bun in place. But the crazy-genius part is the surprisingly great radicchio mostarda, a sweet and tangy concoction Mattos cooks down with sugar and balsamic for about four hours. For depth of flavor, caramelized onions have nothing on radicchio mostarda.
Mattos, an admitted Heinz-ketchup addict, says he came up with the mostarda as a way to add sweetness to the dish. "The whole challenge was to make the burger fully rounded and ready to go, so no one would even think about extra condiments," he says. Mission accomplished, sir.
You won't even miss ketchup with your fries: The chubby, golden, thrice-cooked marvels come with sidecars of mayo and Calabrian chile-pepper relish. All in all, Café Altro's new burger is a worthy — dare we say essential? — addition to a crowded field. The whole shebang will run you $22, and you can get it for lunch Tuesday through Saturday and for dinner at the bar.