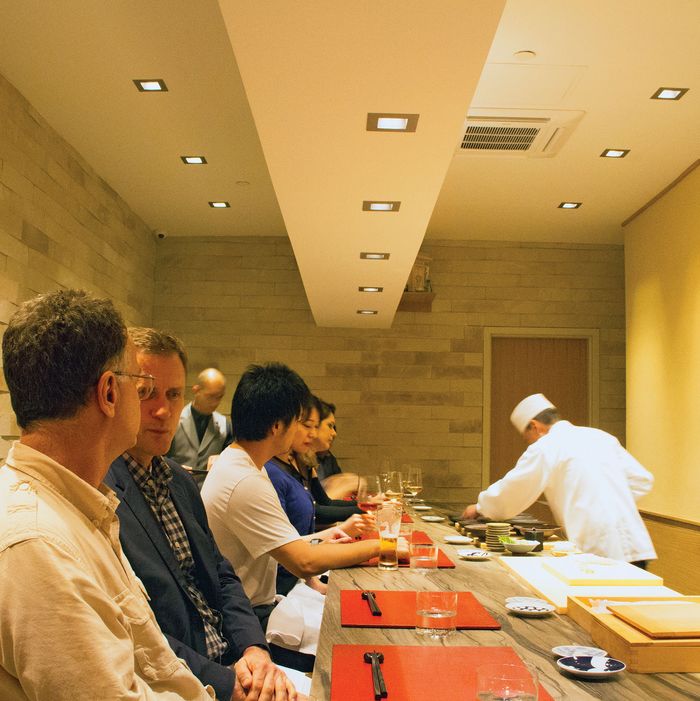 Ichimura's new digs.
Photo: Jemma Hinkly/New York Magazine
Not so long ago, Eurocentric chefs, with their haughty accents and bags of elaborate magic tricks, used to dominate the highest, most ethereal levels of the city's big-money dining scene. But these days, thanks to a new generation of globe-trotting gourmands who prefer the sinful joys of fatty tuna belly to foie gras or a good cheese soufflé (or even a first-class steak), and thanks to the growing reputations of chefs like Masa Takayama here in New York and Jiro Ono in Tokyo, the wise old sushi master is king. Over the last decade or so, no one has consistently charged higher prices per bite around town than the big-money sushi establishments (thank you, Masa). In this simpler, comfort-addled one-star era, few chefs are showered by eager critics (like me) with more glowing multi-star reviews (hello, Mr. Nakazawa), and in discreet tasting rooms from Copenhagen to Bushwick, no style of gourmet dining has been more influential, or widely imitated, than the "chef's choice" sushi omakase.
As with any trophy food in this status-hungry town, the appetite for $600 toro-and-Champagne dinners tends to rise and fall with fortunes on Wall Street, and although the market has been bubbling ever upward in the Age of Trump, there have been signs, lately, of saturation and glut. In the past year, eagerly hyped omakase chains have arrived in the city with great fanfare but mixed critical results, and the acolytes (and the acolytes of acolytes) of revered masters from Tokyo and L.A. seem to be building out their multi-thousand-dollar hinoki-wood counters around town almost as quickly as coffee shops. Some of these lavish little establishments will probably find an audience, but others, inevitably, will not, and as seafood delicacies grow scarcer, and prices (along with the collective, quietly horrifying carbon footprint) continue to rise, we may be reaching a proverbial tipping point in the great sushi-master craze.
Or so I thought glumly to myself, as I hunkered down, along with assorted other food editors and (yes, all male) expense account high rollers at Eiji Ichimura's eponymous new tasting room, which has been open for several months now, in a curiously bland little space down in Tribeca. It takes time, talent, and a certain pedigree to earn your way into the upper echelons of any rarefied cult or priesthood, and the modest, self-effacing Ichimura has certainly paid his dues. He learned his purist Edomae style of fish preparation from the old masters in Tokyo before coming to New York decades ago. He wandered for a time in the wilderness, opening his own restaurant and practicing his craft here and there like an errant samurai ronin, before David Bouley set him up with his own small, twelve-seat bar at the downtown restaurant Brushstroke, where he served chaste, highly traditional omakase dinners, which escalated steadily in price as he banked a series of glowing multi-star reviews.
The price of an Ichimura dinner topped out at $195 during the Brushstroke days, which was a relative bargain compared with Masa, who now charges $600 for a taste of his patented delicacies before you even put a sake glass, or flute of Champagne, to your quivering lips. Ichimura's new omakase now costs $300 (including tip), and the elaborate spirits list includes a lively selection of western trophy wines, along with a $1,650 bottle of sake infused with the holy water of a 1,200-year-old Japanese temple. The restaurant's spokesperson justified the markup to Eater's Ryan Sutton by comparing the experience to "sitting in front of Stephen Sondheim and watching him create his art," although I'm guessing Sondheim might have second thoughts about performing on a stage like this, which is windowless, flatly lit, and features an impersonal décor (the bar and walls are clad in a pale, tomblike quartz stone) and feels less like an intimate tasting room than the juice bar in the basement of a newly constructed luxury spa in some random office tower in Tokyo.
Unlike at Masa, or Sushi Nakazawa, or any of the other big-whale destinations, where typically only high-net-worth regulars are served by the great sushi godheads themselves, the mild-mannered Ichimura is the only person onstage here, although during the course of our meal, my expense-account colleagues and I were attended to by a hushed staff of servers dressed in gray silk vests and long, black traditional Japanese hakama skirts. Ichimura is known for his mastery of subtle pickling and curing techniques from the old, pre-refrigeration days, when raw fish was sold from pushcarts around the fish markets of Tokyo, and several examples of this — slices of cool, fried whiting soaked in vinegar; pearly, vividly orange dots of salted salmon and cod roe — are served to start off the show, along with slivers of crunchy octopus and abalone sashimi, which we all sprinkle reverently with little mounds of artisanal sea salt.
The 14-to-16-piece dinner that follows these concentrated little pleasures is more or less what I remember from my visits to the old Ichimura space, but without the sense of cozy intimacy and discovery (and at $150 for dinner in the very early days, relative value) of the original restaurant. The highlights include the tart, crunchy gari, which is house cured and chopped in neat slivers that follow the contour of the original ginger root, bites of fat sea scallops as soft and sweet as fresh litchi, and silvery, faintly salty slices of Kohada gizzard shad that taste like they've been fished directly from the seas of southern Japan. Ichimura's beautifully textured sea urchin is flown in from the chilly waters off Japan's northernmost island, Hokkaido, and the fatty blue-fin-tuna belly comes from Japan, too, and is layered by the chef in lavish portions over pats of somewhat-unevenly cooked rice, as our meal reaches its subtle crescendo.
The pleasures of this stilted, slightly off-key Ichimura reboot might be too subtle for some, however, especially given the choice and variety available to the discerning, deep-pocketed diner during the latter states of what I'll call "peak omakase." Both the meal and the setting lack the buzz and charisma of Nakazawa, in the West Village, and the next-wave inventiveness of Nick Kim and Jimmy Lau's excellent Union Square establishment, Shuko, and although the quality and range of the sushi might be better than the very satisfying $57 omakase dinner I enjoyed at the new Greenwich Village branch of the Park Slope favorite Sushi Katsuei, it's certainly not six times better. For scholarly anthropologists of the sushi experience, the Edomae techniques have their charms, but if you're rash enough to drop a thousand bucks on one of the fancy, collectible sakes in the cellar here, you may want to pocket the cash and head uptown to Masa for one last grand power-sushi blowout, before all the fish are gone from the seas, the trophy diners move on to another fad, and this esoteric dining tradition passes into history.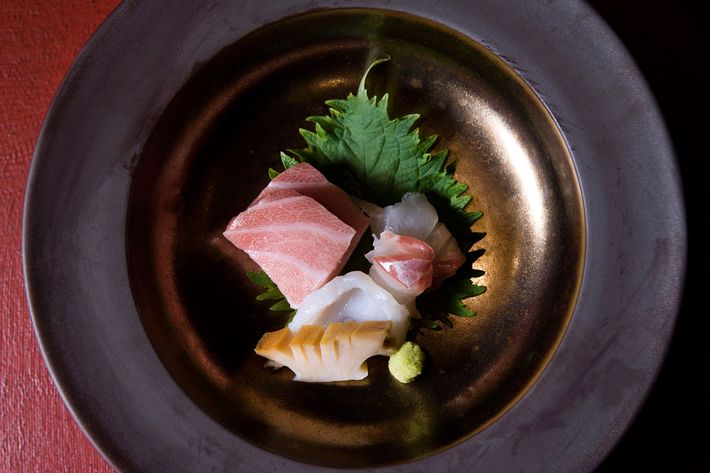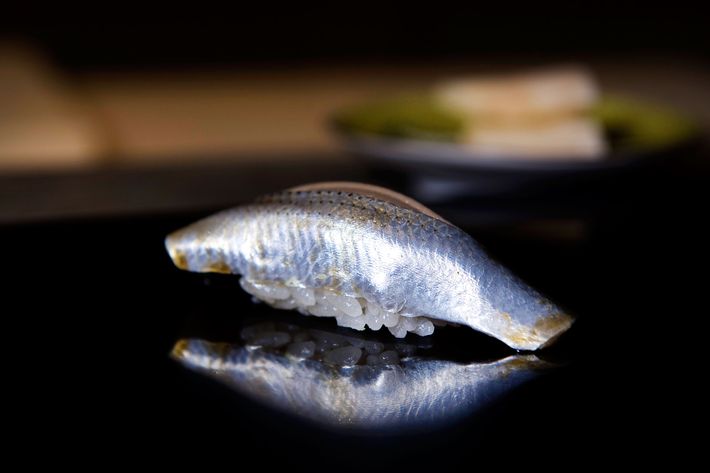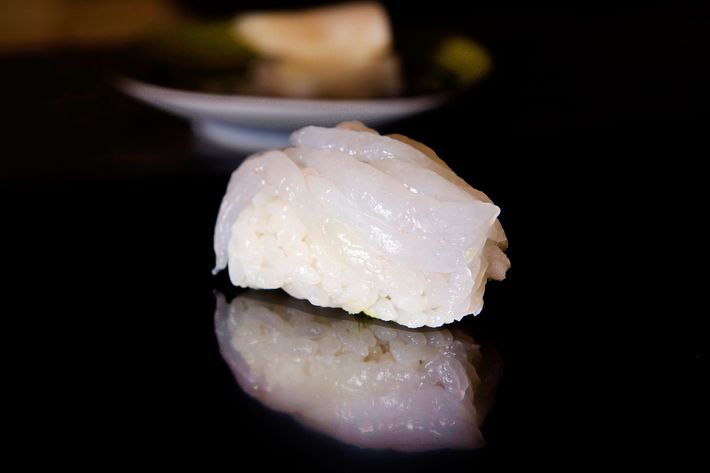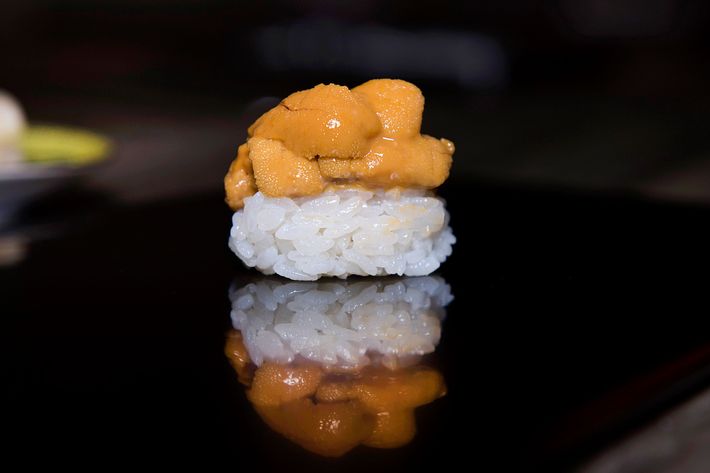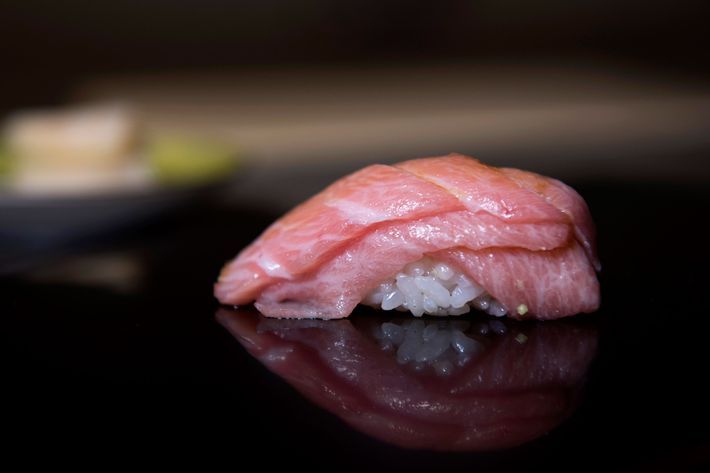 Ichimura
69 Leonard St., nr. Church St.; 212-404-4600; sushiichimuranyc.com
Open: Monday through Saturday.
Prices: The 14-to-16-piece omakase costs $300.
Ideal Meal: As with any classic chef's tasting, omakase ingredients may vary from week to week, but pay attention to those great totems of the sushi experience: silvery gizzard shad, the Hokkaido uni, and the fattiest otoro.
Note: There are only two seatings per night, each prepared personally by Ichimura. In addition to the sacred $1,650 bottle of sake, the wine list includes a smattering of more reasonably priced wines, and several grand cru Champagnes.
Scratchpad: Two stars for the quality, ingredients, and expert technique. Minus a star for the stilted ambience and the price.
*A version of this article appears in the May 15, 2017, issue of New York Magazine.