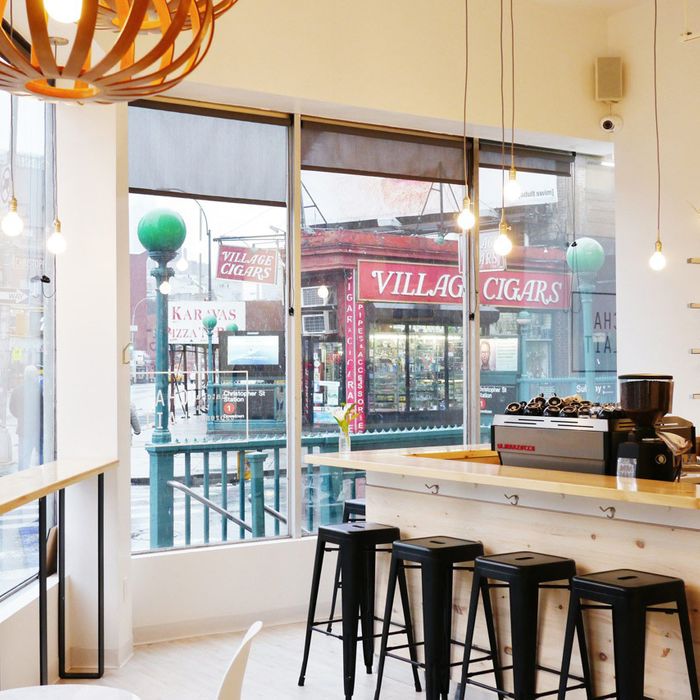 The original Chalait on West 4th Street had panoramic views and great light — making it particularly hard to lose. Now it's an (even bigger) CVS.
Photo: Courtesy of Chalait
After just hitting the milestone of its one-year anniversary, Chalait, a matcha-centric café on a picturesque West Village corner, faced every New York business owner's nightmare. The CVS next door had decided to expand into Chalait's tiny space, and because of a clause in its ten-year lease, the café was forced to move. Today, owner Michelle Puyane finally opened a new location, at 299 West Houston Street, that reflects the scale and ambition of her original spot. Here, she explains the painful lessons she learned about New York real estate during the ordeal.
When we signed a ten-year lease for our first café, we thought the West Village corner space was just so perfect for our starting-out location. But there was a buyout clause, basically letting us know that after four years, the landlord had dibs to terminate the lease and consider the option of a bigger tenant. There was a possibility that CVS, then next door, could potentially renew its lease and expand into our space.
I talked to real-estate agents, and they told me buyout clauses are becoming more and more common. At the time, we felt so confident. CVS has been there for a decade or more. We thought, It's not like it has to, all of a sudden, get corner exposure, so our risk seemed smaller. We were beginning business owners, walking in a little bit naïve that we weren't going to be triggered.
What happened was in February, I heard that CVS had decided to expand its store. I had some warning — it was in March or April that the landlord confirmed — and I thought about what I wanted to do, because we had the option to either stay there for four years, or leave after just over one year in business and renegotiate a different buyout package. Our buyout after four years was very, very insignificant. We didn't know if we'd be able to recoup a lot of the build-out costs in four years, because that West Village shop needed major renovations.
At the end of the day, we had to make a decision that was good for the business, which was to try to renegotiate a better package, leave immediately, and find another location back in the West Village to reestablish ourselves.
We were able to recoup about 50 percent of our build-out costs. We obviously lost some money throughout the whole ordeal, but we would have lost a significant amount if we had waited the four years. The comfort of knowing that we were going to get at least 50 percent back was enough. We put in the new AC, and when I left, I was thinking, What will happen to it? They ripped it out and replaced it with a new one. That was $12,000 down the drain, for nothing.
Obviously, the landlord had his own interests to look out for, CVS had its own interests, and we had our own interests. It's hard to put blame on anyone. I'll never know if staying longer would have been the better way to go, but I definitely felt that moving out quite early, when we were only a year into our business, hurt us, image-wise. After we moved, I avoided that corner for quite some time. It was just so painful.
The sad part is that we see this more often now. Landlords decide to go with more established, bigger brands because they want security. It's hard for them to take a risk, especially on a tenant with no history, which was me at the beginning.
Mom-and-pop shops make the West Village the West Village. When we found out we had to relocate, that was the first neighborhood I looked into, and after asking for the rents, especially on Bleecker — oh my gosh. There was no way. I think for a coffee shop, you really can't spend anything more than $15,000 or $16,000 per month. If you're not doing food, it's hard to even justify spending over $10,000. But it's a really tricky balance, because labor costs are going up. Rent is constantly going up. Every year, it increases by 3 percent. It's checks and balances, you know? But it's not just the West Village. It's all over New York. Everywhere is expensive.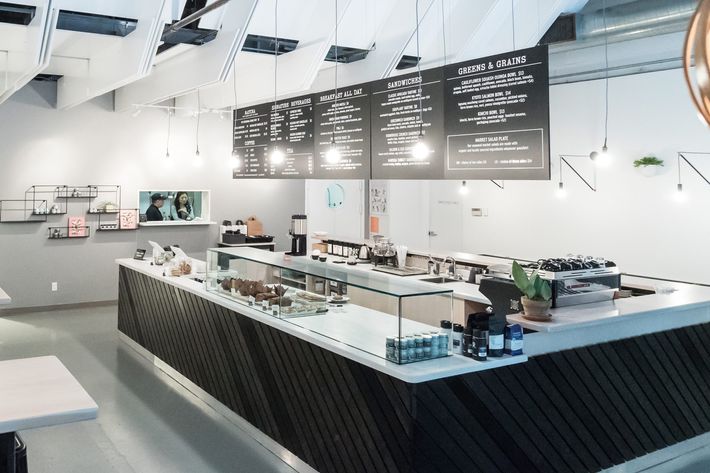 We were able to open locations in Nomad and Chelsea Market, but they're smaller spaces that aren't able to execute the full scale of what we want to do. I looked at 50 to 100 spaces before deciding on this one. Now, I've actually created a checklist of everything that I check for, from AC units to buyout clauses to plumbing. It actually eliminates a lot of properties right off the bat.
The Hudson Square area was interesting to me. I'd never really come down here. It feels different. There are more businesses, but you're still close to all the downtown stuff. You've got a lot of communications companies, agencies, and marketing firms, and we have Penguin Publishing Group here. The layout was perfect — we're able to launch a pastry program in a separate room.
At the time, I was upset, but now I understand everyone was looking out for their own interests. When you're a business owner, you understand more and more as you go along.