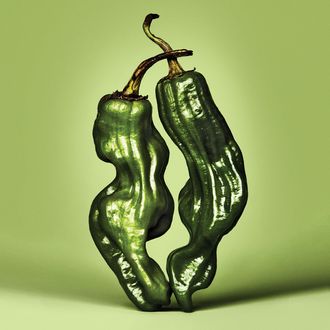 The crowd-pleasing shishito pepper.
Photo: Bobby Doherty/New York Magazine
One recent evening, as we sat in the Tapas Bar at La Sirena, we pondered the surprising journey of the shishito pepper in New York — from somewhat obscure Japanese bar snack first cited in the Times in the 1990s, to tapas-bar sensation in the aughts, to, just this past December, Bon Appétit's list of "Food Trends We Hope Disappear in 2017." We did this, it should be said, as we nibbled our way through a plate of shishitos sauced with Huancaína, Parmesan, and ­walnuts — an ingredient combo more often applied to cold Peruvian potatoes than hot Japanese peppers.
But shishitos have largely outgrown their cultural origins, becoming variably spiced fodder for inventive chefs everywhere. (See also Paowalla's shishito pakoras, Empellón Cocina's shishito tacos, Cannibal Liquor House's shishito-topped patty melt, and Lalito's shishitos en nogada, a play on stuffed poblanos.) This is all a far cry from the classic preparation of skewer-grilling or oil-blistering, the method Alex Raij used in 2004 to catapult the skinny, wrinkled chile to local fame. Familiar with a similar variety from trips to the Basque Country, she pounced on a small stash she found at Greenmarket farmer Nevia No's stand. (For her part, No started out selling them under their Korean name, with little success, until a customer asked if they were shishitos. "I changed the sign right after she left," says No.)
Raij, who went on to open three Spanish restaurants, became the pepper's foremost ambassador. "My bike broke under the weight of shishito peppers," says the chef, who lugged home 40 pounds every three days. Inevitably, competition for the limited supply grew so heated, according to Raij, "I was showing up at the market at, like, five in the morning to make sure I got them." Appetite for the chiles, which are known for their arbitrary, one-in-ten-peppers spiciness, has only increased with the rise of small plates and vegetable mania, and they can now be purchased at Whole Foods, Costco, and FreshDirect, largely through the efforts of savvy specialists like Ark Foods, a four-year-old commercial grower. The shishito is such a crowd-pleaser it's easy to understand why some have come to consider it a cliché. But despite its adaptability, Raij eschews overly creative interpretations. "That's when it becomes about you and not the pepper."
*A version of this article appears in the May 15, 2017, issue of New York Magazine.