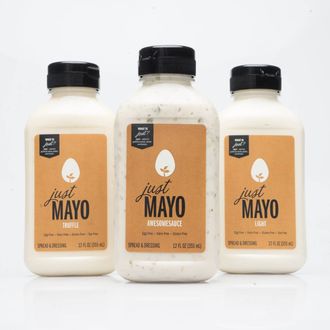 Getting spread pretty thin.
Photo: Hampton Creek
Most people who know the name "Hampton Creek" likely recall one of two things about the vegan-mayo-maker: (1) For a while, the FDA didn't think its eggless Just Mayo should be considered mayonnaise, and (2) the start-up once had contractors buy the spread in bulk from retailers to create artificial demand. Unsurprisingly, neither of those does a bang-up job of attracting new investors, which Bloomberg reports is now becoming a big problem for the company.
The buyback scandal peaked last fall with the news that the SEC was investigating if Hampton Creek actually broke the law. (The Feds decided it hadn't, CEO Josh Tetrick announced in March.) Around that same time, the company said it had reached Silicon Valley's coveted billion-dollar valuation, and wanted to raise another $150 million. But in the months since, it's only nabbed about $7 million toward that goal, insiders tell Bloomberg. Also, the management "is in turmoil." Since the money's drying up, Tetrick is reportedly trying to cut costs, and he fired Hampton Creek's CFO, its COO, and its HR chief last week. The heads of finance and logistics were also recently dispatched, and "at least" 11 other senior members of the leadership team have departed in the past year, further questioning Tetrick's management style.
A spokesperson disputed Bloomberg's $7 million figure, but wouldn't elaborate beyond saying the company "isn't struggling for financing." They did get to exact one small amount of revenge, though, on Bloomberg's start-up reporter, Olivia Zaleski, who originally exposed the buyback program last August. She wrote this follow-up story, too, and asked Hampton Creek for comment on Monday. Instead, the company gave Fortune an interview with Tetrick, who tells the publication they've recently added several new executives "amid a wave of departures."