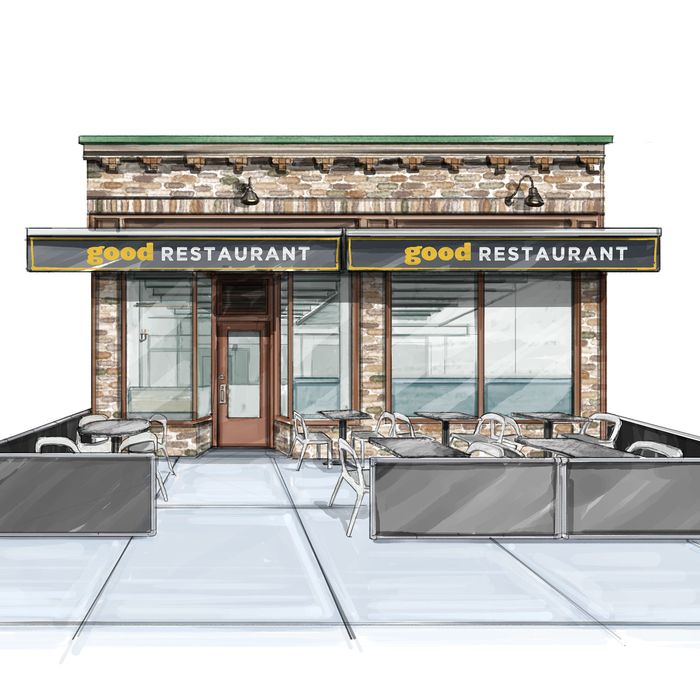 Good in the West Village closes this month.
Illustration: Ellaphant in the Room
Over a lifetime of professional eating, I've seen more than a few favorite restaurants shut their doors. But never has news of an imminent closing hit harder than that of Good, the delightful West Village standby around the corner from my house that has functioned, by virtue of reliability and proximity, as my go-to place for lunches, dinners, and send-out when weather made even that brief trek seem like too much. After nearly two decades building a loyal local following with inventive comfort fare and an always-bustling sidewalk café, chef-owner Steven Picker has decided to call it quits this month after serving his last Mother's Day brunch.
"As my second ten-year lease came up for renewal, I decided I was at a crossroads," says Picker, 57. "Even though the rent increase was only 20 percent, what with rising pay and other random costs, it seems too much to cope with," he adds, citing fees to restaurant websites such as Yelp and OpenTable plus wages to bicycle deliverymen. "The whole business model is changing." More specifically, Picker saw his segment of the industry — that independent mid-priced neighborhood joint that's neither special-occasion expensive nor focused on fast-casual volume and growth — increasingly squeezed out by market forces. Without the resources of a major restaurant group behind him, or the cost-saving structures of a counter-service chain, he struggled with charging enough to stay profitable but not enough to drive away repeat customers.
A veteran of the kitchens of the Quilted Giraffe and Sarabeth's, Picker made his name with fusion accents borrowed from the South and Southwest. As good as Good's food is — chile corn bread on every dinner table, fish tacos with basil creamed corn, rigatoni jambalaya, nice juicy burgers not only of beef but also of goat-cheese-accented lamb served with crackling chickpea fries — I wonder if such restaurants can be ramped up to a cutting-edge level that would justify much-needed higher prices, not to mention regular press and social-media attention. After all, longevity can be a detriment, especially when young diners with no restaurant history or loyalties only want to try what they're reading about, buzz being their favorite seasoning. And if what they're reading is a restaurant obituary, then it's already too late.
*This article appears in the May 1, 2017, issue of New York Magazine.